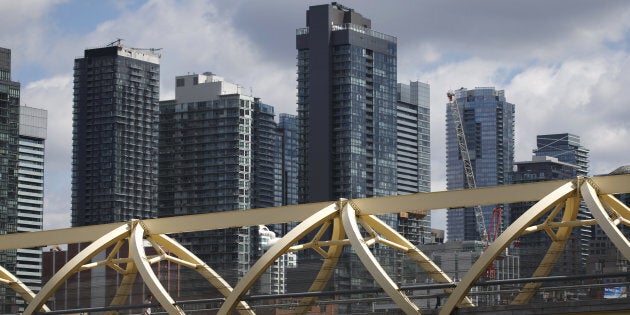 Be careful if you're planning to jump into the condo market in Toronto, Vancouver or nearby areas: The Bank of Canada says condos have become the latest target of real estate speculators, making them a more risky investment.
In its financial system review released last week, the Bank noted that the housing markets in many Canadian cities have reversed themselves. After years of single-family homes rising in price faster than condos, condo prices are now rising rapidly even as the detached home market cools.
"This greater activity — even as carrying costs (including mortgage payments, property taxes and maintenance fees) have increasingly exceeded rental revenue — suggests that investors have been counting on a continuation of large price increases," the bank wrote. In other words, the condo market is now in the thrall of real estate speculators.
Watch: Brantford, Ont., is the best place in Canada to buy real estate (story continues below)
Even as foreign buyers' taxes and new mortgage rules have reduced demand, condo prices have continued to rise, clearly showing that something other than market fundamentals are driving them forward.
The bank's report noted that in B.C.'s Fraser Valley, condo prices have been soaring at an annualized rate of 60 per cent in recent months. Condos there are more than 40 per cent pricier this spring than last, according to the local real estate board.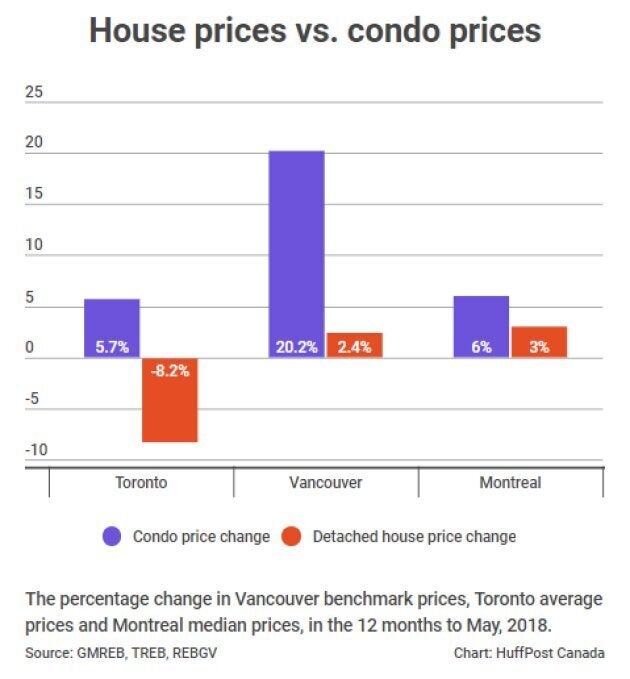 The benchmark price for a resale apartment in Greater Vancouver has jumped by 20.5 per cent over the past year, compared to 2.4 per cent growth for detached homes. In Toronto, condo prices have softened in recent months, but they are the only type of residential real estate to record a price increase over the past year — up 5.7 per cent in the past year, even as detached homes fell by 8.2 per cent.
Markets that are driven higher by speculation are at greater risk of a bust, the Bank argued.
"Prices that are inflated because of these types of expectations tend to be more sensitive to adverse shocks. If expectations reverse and prices recede, speculators may quickly sell their assets, which could lead to large, rapid price declines, with adverse consequences for the rest of the market."
To prove its point, the Bank cited data compiled by real estate blog Realosophy, which showed that the largest declines in detached-home prices in Greater Toronto took place in the areas that had the most speculation.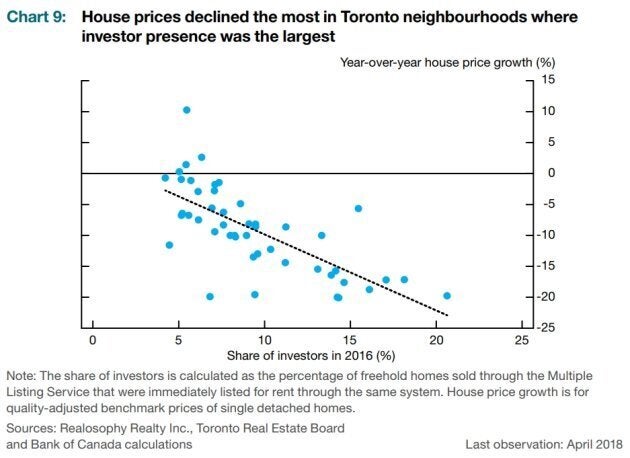 The Realosophy data showed that prices fell the most in places where houses were most likely to be listed for rent immediately after purchase.
And those numbers don't even take into account the pure speculators, those who don't even bother renting out their homes, instead expecting to make money off future price growth, notes Bank of Montreal senior economist Robert Kavcic.
"They'd only increase if the data also accounted for flippers," Kavcic wrote in a recent client note.
He said the "speculative psychology" is now "cooling" in Toronto, thanks to recent measures like the new mortgage stress test and a non-resident speculation tax put into place last year by the previous provincial Liberal government.
The be sure, the Bank of Canada isn't predicting a bust-out for condo markets — it's simply saying the risk is heightened. But it is predicting that the rapid price growth seen over the past year will not continue.
"The number of condominiums under construction is at or near record highs in both (Toronto and Vancouver), suggesting that it may be difficult to sustain the recent pace of price gains over the longer term," the Bank's review stated.
Overall, the bank found little change in the risks to Canada's financial system since its last review in November, reiterating that high household debt, housing market "imbalances" and the threat of cyber attack are the three areas keeping the Bank's policymakers up at night.
"But the Canadian financial system is resilient, and its ability to manage negative shocks is being further improved by new policy measures," the Bank stated.