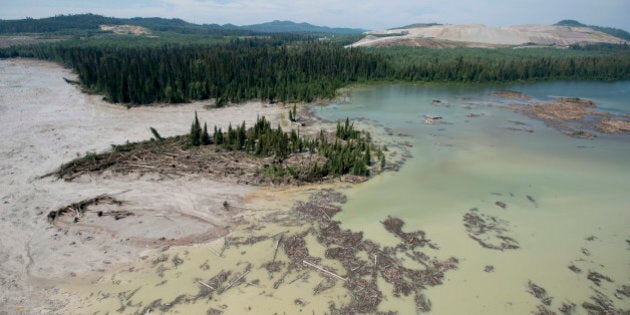 Recently, Conservative B.C. MP John Weston wrote that he "disagree[s] with the motion" passed by West Vancouver council to ban the passage of LNG tankers in Howe Sound.
No doubt following instructions from Prime Minister Stephen Harper himself, keeping the thumbscrews on the B.C. fiefdom probably has Weston also crabbed about the opposition to the Woodfibre LNG facility here in Squamish.
While I am but a mere citizen in this fragile democracy, I agree with him on one point. And it turns out to be astonishingly prescient on Weston's part, as he went on to muse: "At this time, we have not heard of the council investigating the matter thoroughly or interviewing the proponent, Woodfibre LNG in Squamish."
Well said, sir! My sentiments exactly.
As it turns out, we are are both quite content to continue with the "investigation" into Woodfibre LNG, because the more we look into it, the more bawdy it appears.
With the curtains slowly opening around politicians and corporate owners, the sordid, unholy bedfellow goings-on would make Ron Jeremy blush. (Cover your eyes now children and those pure of heart.)
Indeed, could the ongoing "investigation" be so easy, so simple? Consider that Byng Giraud is the vice-president of Woodfibre LNG. But guess for whom he used to work, beginning in 2010 as vice-president for "corporate affairs including government relations, community relations, aboriginal affairs and communications"? Does Imperial Metals, the company that owns the Mount Polley mine, ring a bell?
That's right, the mining company that has just poisoned Quesnel Lake, Polley Lake, Hazeltine Creek and Cariboo Creek, the entire Quesnel and Cariboo river systems right up to the salmon-bearing Fraser River.
The natural question is now (one that the investigation into this tragedy up north will hopefully pursue): What responsibility does Mr. Giraud share in this environmental catastrophe?
(At the time of this writing, the proposed fine for this gross maleficence is $1 million. No, it's not a typo. And yes, it does sound like Dr. Evil from Austin Powers. But that's just how our government rolls these days.)
For those of us back in Squamish, Howe Sound, and North Vancouver -- facing the irascible Mr. Weston -- we have every right, politically and morally, to scrutinize Mr. Giraud's track record.
Yet, in the world of politics -- especially the sort that Harper and his lieutenant, Mr. Weston imbibe -- it's not at all surprising Weston now gives a shoutout to Giraud in his new capacity of vice-president at Woodfibre LNG.
But, dear reader, you ask, "Why would the federal Conservative Party be so interested in a vice-president of an aspiring BC LNG facility?"
Again, as Mr. Weston wishes, as more time is allowed for investigation, the grainy image is getting clearer. But not in Mr. Weston's favor.
Does it also surprise you Mr. Giraud has close connections to Harper's Conservative government? How close?
Again from his bio: "Byng has extensive political experience at the national, provincial and municipal level, serving in senior advisory roles to provincial MLAs, federal MPs, senators and with B.C. ministers. He has managed or participated in over 20 federal, provincial and local elections across Canada. He has served as a director and vice-president, Western Canada on the governing council of the Conservative Party of Canada with Prime Minister Stephen Harper."
Astonished? Why? We shouldn't be. Really. Most of us are adults and not political rubes. Not in British Columbia.
But we should still be outraged.
Multiple questions now arise. If you were wondering how interested Harper and the federal Conservatives are in B.C. Premier Christy Clark's LNG aspirations, you now have your answer.
But the real question is, just how "Liberal" is a provincial government like B.C.'s, that saddles up so cuddly with the federal Conservative Party? Don't forget too, that B.C. Liberal MLA Jordan Sturdy also thinks industry like this and tourism can co-exist, and takes every opportunity while in Squamish to say so.
The more the people of B.C. understand the connections between Harper's Conservative party, Premier Clark's LNG aspirations, and the players in the Woodfibre LNG proposal, the more foul it looks. Whether for us in Squamish or surrounding communities like West Vancouver.
So quite right, Mr. Weston. Let's just wait and see what other interesting facts come up over the next few months. Indeed, let's take our time. Because, as we know, time doesn't help suppuration.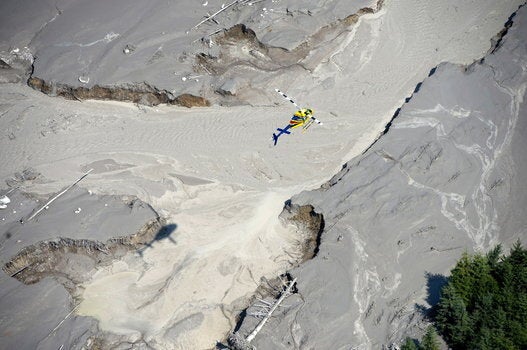 Mount Polley Mine Tailings Pond Breach
Popular in the Community