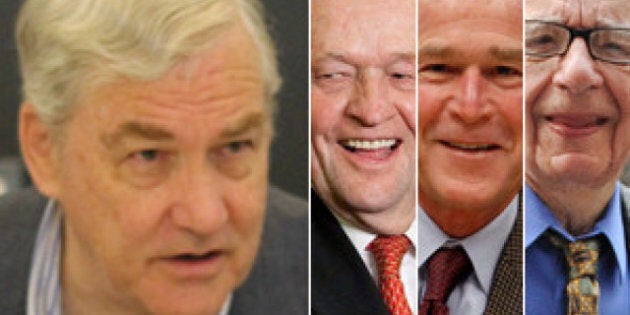 While he generally supports the Conservative government, Conrad Black said he has problems with a number of key Conservative policies, including the party's tough-on-crime agenda and its stance toward Omar Khadr.
In an editorial board meeting with The Huffington Post Canada last week, Black was defiant about his own legal saga, maintaing that he did not commit any crimes. The former media baron spent a total of nearly four years incarcerated in the Unites States after being convicted of fraud and obstruction of justice. He described the American justice system as a "gigantic and evil fraud" and said lawyers in the U.S. are part of an abusive cartel. The Tory crime bill doesn't quite go that far, Black said, but is a move in the wrong direction.
Jail is a "ridiculous and horribly expensive and counter-productive way to treat non-violent criminals," Black told HuffPost. White collar criminals should be put to work instead of placed behind bars and the mentally ill should be cared for in hospitals and asylums where they belong, he said.
Black also said it was "nonsense" that his U.S. convictions at a "shabby trial" should be used as grounds to strip him of his Order of Canada. He said he plans to apply for his Canadian citizenship – which he forfeited after "that sleazeball (Jean) Chrétien," then Canada's prime minister, made Black pick between his birthright and a British peerage. But he may wait to reapply until public "antagonism" against him has subsided, Black said.
Here are Black's responses to some of the best questions submitted by HuffPost readers, on everything from George Bush's presidency to his feelings about Rupert Murdoch.
Q: What argument will you make in fighting to keep your Order of Canada and what do you make of the thesis that you should lose it based on your lack of citizenship?
"I did not commit any crimes. No Canadian court would have concluded on the piffle of what was produced as evidence in that shabby trial that any one of the co-defendants had committed any crimes."
"Hogwash! They give it to non-citizens all the time — take away Nelson Mandela's, take away the Duke of Edinburgh's."
"You know it has been misportrayed as me throwing over my birthright to go and hobnob with a bunch of fox hunters and dukes of weak chins, but the fact is it was just not to confer an underserved victory on that sleazeball Chrétien."
"By the way calling him a sleazeball is a reference to his actions in that regard (Black's citizenship) and some others. It is not an overall judgment of Chrétien. I mean he had his moments in his public life and I wouldn't try and deny him that. But in that particular matter his conduct was absolutely disgraceful. But I accept it is a very secondary matter, and who cares really?"
Q: You were quoted in 2010 as saying the prison system is home to an "ostracized, voiceless legion of the walking dead." You also said many of the inmates had been grossly over-sentenced as a result of the failure of the U.S. War on Drugs. Could you give your thoughts on the Conservatives' omnibus crime bill and whether it is sending Canada in the U.S. direction?
"I don't think (the crime bill) will take it to such subterranean levels of injustice as the United States, but I think it is in some respects a step in the wrong direction."
"On the particular case of this crime bill, what worries me — and I am not for a variety of reasons going to slag off the government because I think in fact this government is a good government — but we are getting a inordinate number of native people in prisons and it is not the right way to treat them."
"The United States has five per cent of the world's population, 25 per cent of its incarcerated people and 50 per cent of its lawyers. The legal profession in general in the United States, and to some extent in this country, is a cartel. It is an abusive cartel and the court system is essentially, on the criminal side in the United States, just window dressing to confer a veneer of a society of laws on the executable whims of prosecutors who win over 90 per cent of their cases, compared to 65 in this country. And more than 90 per cent of the cases they win are without a trial."
"I spent over $30 million paying off these American lawyers."
Q: Do you have doubts you will get your citizenship back?
"I would have to be brain dead not to notice that there is a certain amount of antagonism out there. I wouldn't have thought that it would be durable and I don't expect to do anything that would stir it up, so at least things normally subside over time. So I would say I think it is probable (that I'll get my citizenship back) but I've said I won't try to do it if it is going to be controversial, and I think it would be right now. But I assume the time will come when it will not be."
Q: Much has been made, including by NDP leader Thomas Mulcair, of the fact that you have been admitted to Canada while Omar Khadr has not. Could you share your thoughts on the matter?
"I think Mr. Khadr. should be repatriated and I think the treatment of him has been unfair."
"I thought for the leader of the opposition to say what he did was just completely irresponsible. He implied that the government had acted improperly and there had been undue political influence. That has been proved to be totally false, without foundation, he owes all of us an apology. He hasn't made it, but he owes it. His comments were disgraceful in my opinion. I knew Dave Lewis and Tommy Douglas and Audrey Mclaughlin and Ed Broadbent, they never would have stooped to that sort of thing. I thought it was just a disgrace. And they weren't leaders of the Official Opposition."
Q: As a historian of American presidents, how will the world judge the George W. Bush presidency?
"He had certain qualities of leadership and he did quite well fighting the terrorists, but in other respects he was not competent. He was a below-average president, but so is the incumbent. This man is not a good president either."
Q: Any schadenfreude over the recent misfortunes of Rupert Murdoch?
"No. I so detest the spirit of schadenfreude ... One of the few claims I would make for myself in this kind of area is that I never resent anyone's success and I almost never rejoice in anyone's setbacks."
"What I do welcome is that the rock has finally been lifted on the ethos of that corporation (News Corp.) ... My biggest target in these things is not Murdoch, it is the hypocrisy of the British establishment which did nothing but kiss his undercarriage for 40 years and they knew perfectly well how he ran his company and what he did with it. Who do they think was hacking into the cellphone of the Prince of Wales?"
"Rupert's Rupert, he does what he does, and he's probably the greatest media proprietor in the history of the world in terms of his success. And he is in some ways a genius and a very bold company leader. I think he is a terrible man in many ways, but that's another matter."
This interview has been edited and condensed.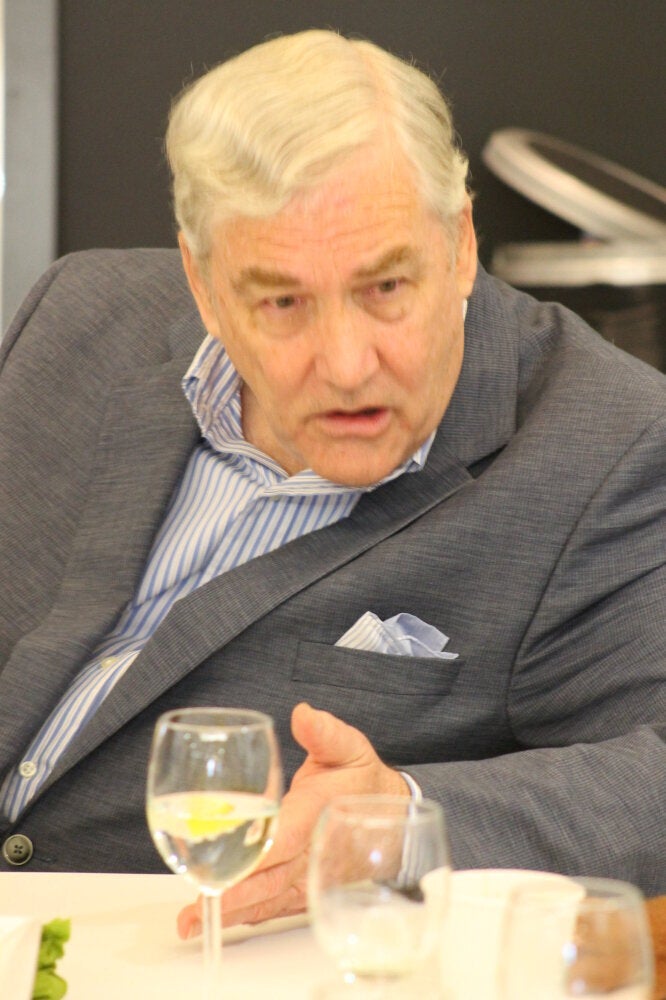 Conrad Black Visits The Huffington Post Canada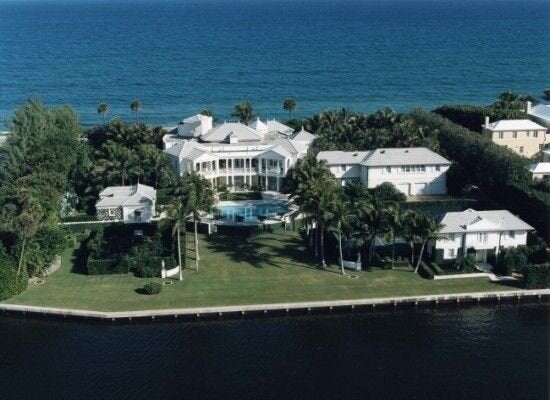 Conrad Black's Former Mega Mansion
If you could ask Conrad Black one question, what would it be?

What do you want to know?

Conrad Black will join The Huffington Post Canada for an editorial board meeting on Thursday, July 26, where we will present him with a handful of your best questions, as chosen by HuffPost editors. Leave them now in the comments section on this page, then check back to read the answers.

While we expect tough questions, you'll be more likely to get an answer if you keep things respectful.

Lord Black of Crossharbour is an historian, author and columnist. He was once the world's third-largest-newspaper magnate and was instrumental in the founding of the National Post in 1998.

Starting in 2005, Black became the subject of a heavily-publicized prosecution in the United States. He was convicted of three counts of fraud and one of obstruction of justice stemming from his time in control of Hollinger International.

In 2010, however, a ruling from the U.S. Supreme Court led to two of the fraud convictions being overturned. Ultimately, Black served nearly four years in prison during two separate terms of incarceration.

He has maintained his innocence throughout the legal proceedings.
Popular in the Community