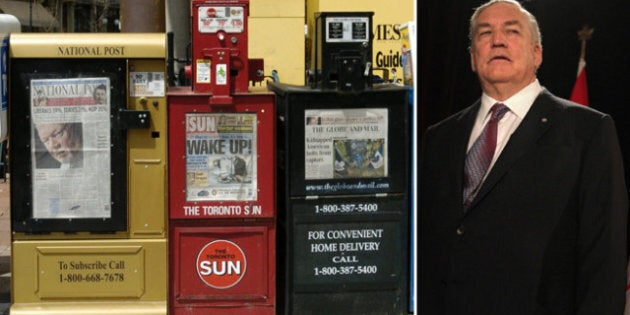 Conrad Black has been out of the Canadian newspaper game for some time, but he may not be gone for good.
Just months after his return to Canada after serving some four years in a U.S. prison, the former media baron said he sees investment potential in this country's newspapers and he'd consider buying in again if the right opportunity presented itself.
In an editorial board meeting with The Huffington Post Canada, Black said that as new media present an ever-increasing number of ways to consume news, there is untapped value in some of Canada's legacy newspapers.
"There is a great premium to be placed on the editorial function and on the goodwill of a famous trademark like a respected newspaper," he said.
But how serious the 67-year-old is about re-entering Canada's media industry – and in what capacity – is more difficult to decipher. Although Black maintains he is not actively looking for an opportunity to invest in newspapers, he said some of the legacy titles are leaving money on the table. And at times his guarded responses and unwillingness to provide detail suggested a man planning a comeback as opposed to a retiree content to fade into the background.
Most tellingly, perhaps, Black declined to respond to questions about how he would leverage the cache of a well-known newspaper to better adapt to and thrive in the new media landscape, lest he reveal too much about his intentions.
"It's not that I don't have an answer, but I'm not going to answer because it might be an untimely and excessive disclosure, and compromise what I might actually do," he said.
Black, who founded The National Post in 1998 before selling it along with the other titles in the Southam chain to CanWest Global in 2000, would not say which newspapers – if any – have caught his eye.
"Any good title that's grossly underpriced could be interesting," he said.
When it comes to Canada's legacy print media companies, the debt-laden Postmedia Network, which acquired CanWest's print products — along with The Post — in 2010, appears to best fit that description. Now servicing an estimated $516 million in debt, Postmedia continues to post quarterly losses as the company mounts a significant restructuring effort that has already seen it cut staff, centralize production and eliminate the Sunday editions in some markets.
But when asked specifically about whether he would consider buying Postmedia, Black said that prospect is "not in contemplation."
"The stock at its present price is a buy but that doesn't mean I'm buying it," he said.
And as Black pointed out repeatedly during his conversation with HuffPost, he is no longer a Canadian citizen — a distinction that would prevent him from making such a transaction.
Foreigners aren't actually banned from owning newspapers in Canada, but unless a paper qualifies as Canadian under the Income Tax Act, advertisers cannot receive the full tax deduction. That write-off is considered a necessary precondition to attract advertisers — and keep the presses running.
In May, Postmedia CEO Paul Godfrey spoke out against those rules, which he said were not being applied evenly across the media industry. He said he would lobby the Heritage Department to do away with the 60-year-old regulations, or demand that it hold US-based online publications that have come to Canada, such as HuffPost and AOL, to the same foreign ownership standards.
In an interview with HuffPost, Godfrey said he doesn't favour one option over the other, as long as the outcome creates "a level playing field for all participants in media."
He would not reveal whether he had been approached by any interested foreign buyers or if he had any specific foreign buyers in mind, but suggested he would be open to a potential acquisition.
"When the rules change, we would consider everything," he said.
Black revoked his Canadian citizenship in 2001 to accept a British peerage, but has recently said that he would consider applying to have it reinstated. He returned to Canada on a temporary residency permit in May following his release from a Florida prison, where he served time for fraud and obstruction of justice in relation to his activities at now-defunct Hollinger International, the Chicago-based firm he used to run.
And if Black were to get back into the newspaper game, he would find some legal obstacles standing in his way. The Ontario Securities Commission still has proceedings open against him, dating back to 2006, when the allegations around Hollinger surfaced.
Though the OSC hasn't set a date set for further proceedings, in the interim Black is barred in Ontario from being a director or officer of a publicly held company, trading in Hollinger and soliciting investment funds from the public — all of which could make a play for a major media company considerably more difficult than it would otherwise be.
Yet Black has clearly given thought to the future of the newspaper business. Speaking in general terms, Black offered two possible ways for an investor to capitalize on currently "undervalued" titles.
"You can either translate the title into something that will attract eyeballs to a genuine Internet newspaper … or [in the] worst case you can strip these places and make a lot of money," he said.
"Now I wouldn't do it, but some people would, and you can do it. You can get the cost reductions ahead of the revenue decline and just pocket the cash."
In recent years, Black has often been vague about his desire to re-enter the industry, telling the BBC in 2010 that he would consider jumping back in but "not as a chief occupation and not in a public company."
All of which has helped stoke the fires of a will-he-won't-he debate among those who remember — for better or worse — the transformative power he once wielded in Canadian media.
But while some industry watchers say they would welcome his return to newspapers and any investment he might make in print media, others wonder how much he has left to offer.
"At one time he controlled resources, he controlled capital. I don't know how much is left, but it's certainly a shadow of what used to be there," said Ryerson Journalism School professor Paul Knox.
"So whatever he brings to the table, it's his knowledge of media landscape and the political environment, whatever connections he has left and his marketing value, and I'm not sure who would find that particularly valuable."
Although Black "drove a transformation in Canadian media in the late-1990s," Knox said those powering that change today are half his age, and have grown up in the digital media age.
"Whether he can be anything more than an adjunct to that change at this point is a fair question," he said.
In his conversation with HuffPost, Black said he would be most interested in a proposal to enable the newspaper "to change [its] circumstances, and not just ... to try and sustain the overheads created by these huge investments in presses and the physical delivery system."
But when it comes to how he gets his news, Black said the current functionality of online editions is such that he'd "rather just take physical paper and read it."
Yet if Black were to find a willing partner at one of Canada's national titles, his options appear limited — not only by regulatory hurdles, but also his personal proclivities.
Black, known as a voracious consumer of newspapers, said it's been 10 years since he's read a copy of The Toronto Star.
"I personally can't read one paragraph of The Star without getting glottal stops or apoplexy," he said.
As for the The Globe and Mail, Black said it appears to have benefited from the latest redesign and has become "less ashen" in the years since he launched The National Post.
But that's where the compliments end.
"I still find it terribly grim and earnest — what I identify with old fashioned, low church, southern Ontario protestantism, though not religious at all," he said. "But I don't read it all that often."
As for his opinions on journalism, little has changed since the 1969 Davey commission on mass media, when he infamously submitted that the journalism profession "is heavily cluttered with aged hacks toiling through a miasma of mounting decrepitude and often alcoholism, and ... arrogant and abrasive youngsters who substitute 'commitment' for insight."
"I don't think the media is very good," he told HuffPost. "I don't think its integrity is high and I don't think its professionalism is high. And it often masquerades like a learned profession, which it is not, but conducts itself like an irresponsible trade union, which it isn't either."
With files from The Huffington Post's Althia Raj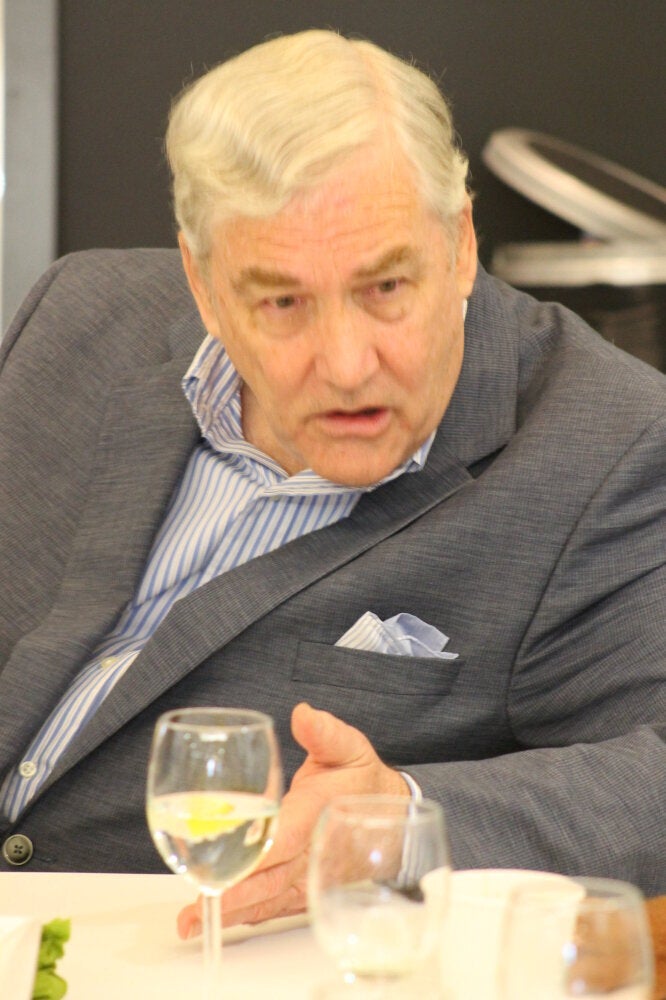 Conrad Black Visits The Huffington Post Canada
Popular in the Community