GREELY, Ont. — Global warming is apparently up for debate in the Conservative leadership race, judging by the clear differences in how candidates were received Sunday when one explained his support for a carbon tax and another declared he didn't believe climate change was a real threat.
The distinction arose during a question about corporate subsidies at an unofficial leaders debate featuring nine Conservative candidates assembled in a wedding and conference venue about 30 kilometres from Parliament Hill.
Some of the largest corporate welfare programs are green subsidies and green programs, Ontario MP Michael Chong told the audience of approximately 250 people.
"That is not the Conservative way to reduce emissions," he said. "I believe that climate change is a real threat and that we have to have a credible market-base conservative solution to reduce emissions."
Chong continued as some in the crowd began booing, and shouting "No!"
"So what that means is putting a price on carbon using all the revenues to introduce one of the largest income tax cuts in Canadian history and getting rid of all the green regulations, green subsidies and green programs," he said. "That is the Conservative way."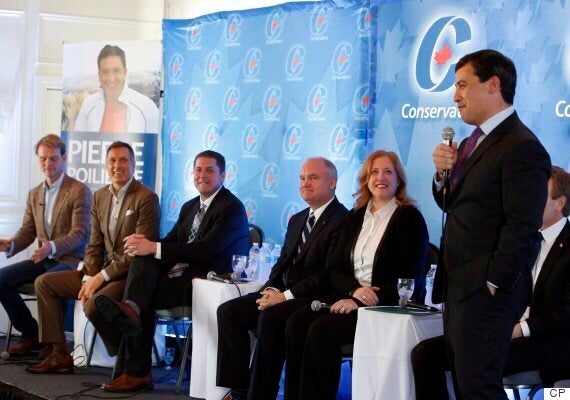 When he was done, there was polite applause and more boos. Ottawa MP and debate host Pierre Poilievre was forced to intervene. He noted the "liveliness of the audience" and requested that people wait to ask a question if they had something to say.
Then Saskatchewan MP Brad Trost and leadership candidate took his turn.
"I don't believe climate change is a real threat," he said, eliciting applause and laughter.
The biggest subsidy that needs to go, Trost said, was the $1.2-billion allowance to the CBC. The audience responded even more enthusiastically by cheering.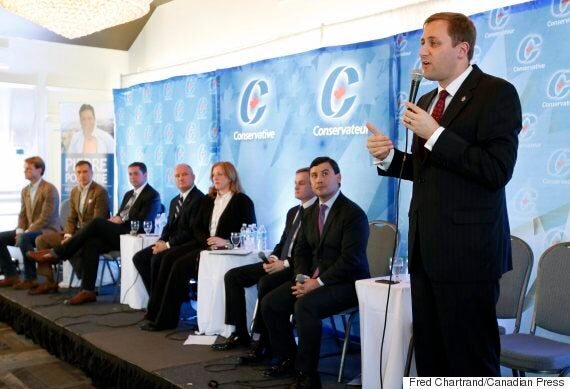 Catherine Adams, a self-employed grandmother from Lanark, Ont., told The Huffington Post Canada she is unsure about climate change.
"I find the left are bullies," she said. Environmentalist David Suzuki keeps calling skeptics "climate change deniers," which she finds is "very negative."
"The word 'denier' is associated with the Holocaust, a Holocaust denier. So you are that evil. And I object to being called that," Adams said.
A self-described environmentalist, she has an organic garden and avoids burning gas by working from home. "I believe in having a light footprint on the planet but, at the same time, I have not seen the evidence of global warming."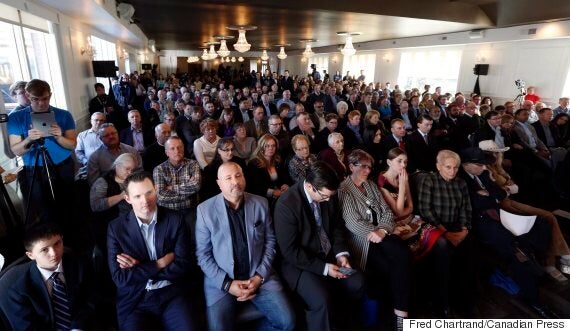 Stittsville, Ont. resident Nancy James told HuffPost she doesn't think climate change is the issue that politicians think it is.
"I don't believe in climate change at all either," she said. "It's almost become a religion to people. It's gone too far. Yeah, we have to protect what we have. Recycling, and all that other stuff. That's fine, but the billions of dollars that we are pouring into this, it could be spent somewhere else."
Trost's message might not be welcomed throughout the country, James said. "But that doesn't mean it's wrong."
Shane Brownlee, who lives in Carleton Place, Ont., thinks Trost and Chong are both presenting positions that are unsellable.
"For Trost, wrong position to take," Brownlee said, after the debate. "He's going to alienate a lot of the younger millennials right off the bat when you say that."
"I don't believe in climate change at all either. It's almost become a religion to people. It's gone too far."

— Nany James, Conservative supporter
Brownlee agrees with Chong that climate change is a problem, but he doesn't support his plan to tax individuals for it. "The carbon tax no, but more measures need to be taken for the environment, I think."
Most of the other leadership candidates agree.
Former Ontario MP Chris Alexander told reporters after the debate that only Trost dismisses climate change.
The new Liberal government adopted the previous Conservative government's targets for greenhouse gas emissions, Alexander noted. "The debate is over how we achieve those goals."
The Liberals' carbon tax will generate revenues but it likely won't reduce emissions that much, he said, and it will hit lower-income and elderly Canadians the hardest, and affect the country's competitiveness vis-a-vis the United States.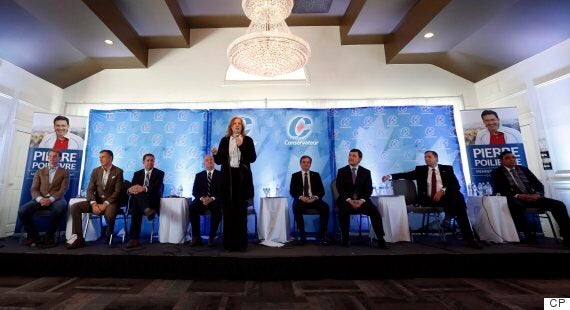 Ontario MP Lisa Raitt said she believes the party membership will choose a leader who they believe can beat Prime Minister Justin Trudeau in the next election in 2019. If members want a leader who doesn't believe in climate change or one who supports a carbon tax, Raitt said those are not her views, but she'll let the grassroots decide.
Raitt said her brother died of workplace-related hazard after breathing in PCBs and dioxins — and it pushed her to complete a masters degree in environmental toxicology. She believes in using science to help solve problems, she said, but doesn't think a carbon tax will work.
"It [wouldn't have] saved my brother. It's not going to save people who are working in environmentally contaminated areas right now."
'Climate change is a reality'
Alberta MP Deepak Obhrai said he has visited the Pacific Islands, where lives and livelihoods are being threatened by a drastic sea-level rise.
"Climate change is a reality. If you are to deny this reality, you are not living up to the time," he said. Obhrai also opposes a carbon tax but suggested Canada focus on recycling nuclear material as a source of carbon-free electricity.
Former British Columbia MP Andrew Saxton said he also believes "climate change is a reality" but opposes a carbon tax. "The science is out, it is no longer a discussion," he said, without proposing an alternative environmental plan.
Some folks at Sunday's debate were hoping for more details.
"Climate change is an issue and every government should do something," Alex Fan told HuffPost. "In some ways, I agree with Michael Chong …if putting a price on carbon can solve the problem, then maybe it is policy we can adopt."
Allowing non-paying members to join the party
Communicating with the media
Increasing defence spending
Giving gun owners more say in federal government policy.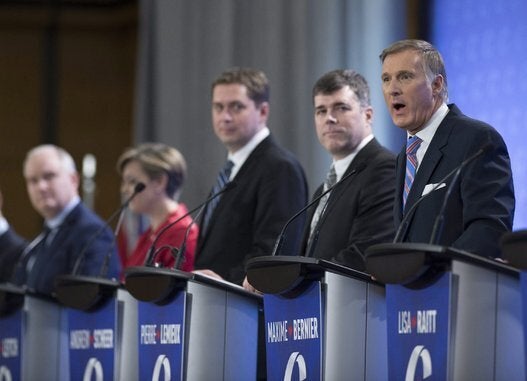 Conservative Leadership Candidates