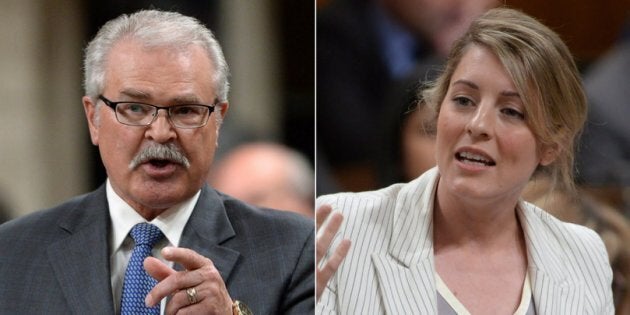 In the twilight of his career as an MP, Gerry Ritz is seemingly giving less of a hoot about what he says in public.
Not even a week after he was engulfed in controversy for referring to a federal minister as "climate Barbie," the veteran Conservative linked Shariah law to the Liberals' handling of ongoing NAFTA renegotiations on Monday.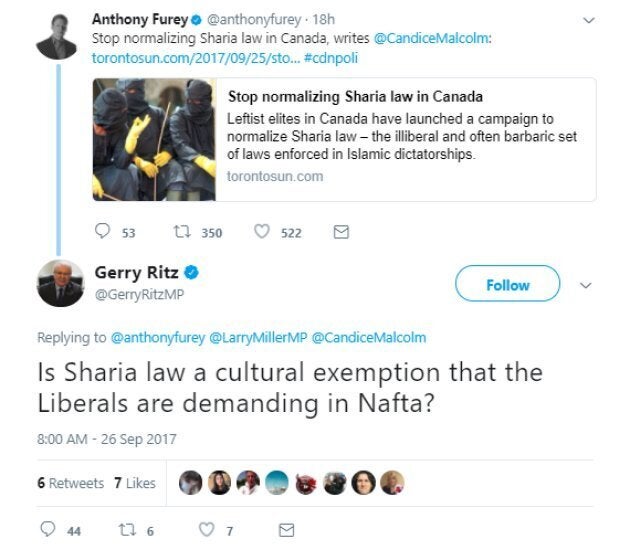 Ritz's remark was an apparent jab at the Liberal government's demand to maintain NAFTA's cultural exemption, a provision that protects Canadian arts and culture, broadcast and publishing industries.
His comment didn't impress the minister responsible for those files.
"I am surprised that Mr. Ritz hasn't learned his lesson about making inflammatory comments," Heritage Minister Mélanie Joly told HuffPost Canada.
"We are firmly dedicated to the protection of our creative sector and that includes the defense of the cultural exemption in the NAFTA negotiations, a provision that allows Canada to continue to support our domestic cultural industries," she said. "We have and will continue to stand for our artists and creators."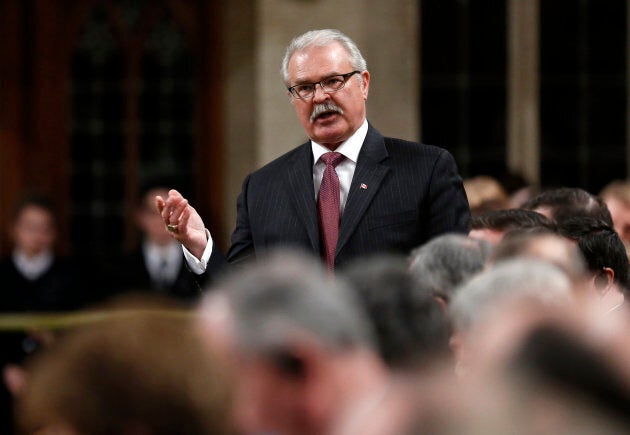 The column Ritz was responding to was written by Candice Malcolm. Her argument cited the Liberal government's admission its efforts to curtail Islamophobia — passing M-103 — would have "no legislative impact."
Malcolm continued by claiming that "Shariah law replaces Canadian law, it doesn't live alongside it — but that's not where the trouble with Shariah ends." She also went after the public broadcaster for a story quoting spiritual leaders saying Shariah and other religious laws are not to be feared.
Malcolm wrote that Shariah is "not consistent" with Canadian life "despite what Liberals and the CBC want us to believe."
Ongoing debate around M-103
Shariah law is synonymous with Islamic law. They're two terms used to refer to a system of rules derived from Islamic scripture and teachings. It dictates a code of behaviour for observant Muslims to follow (rules around prayers and fasting) to guide their personal relationship with God.
Its rules regarding punishments, which includes caning and amputating hands, have been widely criticized as being harsh.
The United Nations has previously warned that more extreme penalties for certain crimes, such as death by stoning, violate international law. It called the methods cruel and inhuman.
In the spring, the House of Commons passed M-103 to condemn Islamophobia. The House clashed over the motion, with Tories saying they couldn't support it without a clear definition of what "Islamophobia" is.
Fringe voices claimed M-103 was an affront to freedom of speech and would bring Shariah law to Canada, an argument repeatedly dismissed by the federal government.
Scheer apologizes for 'Barbie' tweet
Shortly after he referred to Environment Minister Catherine McKenna as "Climate Barbie," the Saskatchewan MP apologized for his remark and said on Twitter that his words are "not reflective of the role the Minister plays."
Two days after Ritz's tweet, Conservative Party Leader Andrew Scheer called McKenna to apologize.
Ritz's office did not respond to a request for comment by publication time. Neither did Scheer's.
Last year, Ritz's words got him into some hot water after he accused then-international trade minister Chrystia Freeland of having a "meltdown" during trade talks. The next day, he suggested Freeland needed "adult supervision."
Freeland responded by confirming to Ritz that she is in fact an adult, saying, "I am 48 years old — I think I have the wrinkles and the grey hair to prove it."
CLARIFICATION: An earlier version of this story has been updated to clarify that Malcolm wrote that Shariah law is "not consistent" with Canadian life and was not suggesting she felt that way about the CBC.
Popular in the Community