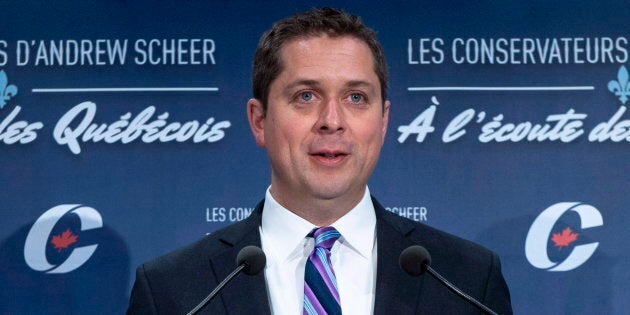 OTTAWA — The Conservatives are scheduled to release their immigration policy Wednesday morning in Ottawa, HuffPost Canada has learned, just as former leadership candidate Maxime Bernier says he'd like to see fewer immigrants accepted into Canada.
Conservative immigration critic Michelle Rempel and Quebec MP Gérard Deltell will speak to reporters as Tory delegates prepare to meet in to Halifax on Thursday for the party's biennial convention.
For more than a week, Tory members have been thrown into an explosive debate on diversity — led by Bernier's controversial tweets — and now the Conservatives' own response to Prime Minister Justin Trudeau telling a woman with clear ties to white nationalist groups that her comments were racist.
Several Conservative MPs suggested Trudeau had gone too far in calling the woman a racist. They said that she was simply asking a question about the millions spent on border crossers and that it was no way to treat an elderly citizen.
Former public safety minister Steven Blaney, for example, tweeted in French that: "The arrogant attitude of Justin Trudeau, to treat as racist a citizen that was asking a simple question is inadmissible. He must apologize!"
Conservative Leader Andrew Scheer tweeted on Tuesday that "this is not the first time Trudeau has responded to criticism with demonizing attacks."
"By sweeping away legitimate questions on his failed border policy with vile personal insults, it is Trudeau himself who is guilty of polarizing the debate. No one has done more to divide Canadians than he has," the Tory leader wrote.
Internal debate among senior Tories
Last Thursday, Diane Blain asked Trudeau at a Liberal corn roast whether he would give Quebecers back the $146 million he'd spent for his illegal immigrants. He told her intolerance wasn't welcome. Later, when she demanded to know if he was intolerant towards "Québécois de souche" — roughly translated as old-stock Quebecers, the prime minister told her that her comments were racist and not welcome at a Liberal event.
The term "Québécois de souche" refers to white French Canadians who consider themselves descendents of the first arrivals.
A senior Conservative said the party wanted to address the immigration issue before 3,000 Tories gather, lest the issue dominate the convention.
They have to pull it back as quickly as possible.
Another Tory told HuffPost that there was an internal debate among the senior team about the tone the discussion has taken — that they don't want to be associated with condoning any racism.
"They have to pull it back as quickly as possible. That's why they are doing it, so the convention isn't all on immigration."
"Successful immigration depends on social acceptability and the maintenance of social harmony," Bernier wrote. "Many people have asked how do I know that there is "too much diversity." When I see that half of Canadians believe immigration levels are too high, I know we've reached that point."
Calling "too high" levels of immigration, a big government "social engineering" plan for ideological and electoral purposes, Bernier outlined in series of tweets what he'd like to see in his party's policy: