OTTAWA — Graphic details about the murder of eight-year-old Tori Stafford dominated question period Wednesday, as Conservatives expressed outrage over news that one of her killers was moved from a maximum-security prison to an aboriginal healing lodge.
Terri-Lynne McClintic is serving a life sentence for the first-degree murder of Stafford in 2009. Her ex-boyfriend, Michael Rafferty, is also serving a life sentence for kidnapping, sexual assault causing bodily harm, and first-degree murder.
On Wednesday, Conservative Leader Andrew Scheer started question period by asking Prime Minister Justin Trudeau to reverse the decision to transfer McClintic to the Okimaw Ohci Healing Lodge in Maple Creek, Sask. in December.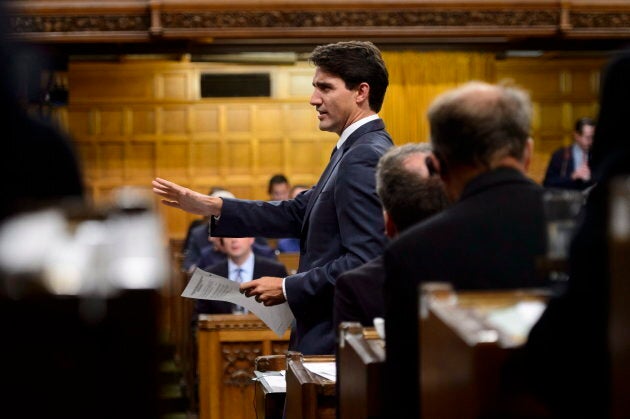 Trudeau told the House the public safety minister "has asked Corrections Canada to examine this decision, to make sure it is adequate and in keeping with policy."
Earlier, Public Safety Minister Ralph Goodale told reporters that he does not have the authority to reverse the decision.
Canadians "aren't looking for a review, they're looking for action," Scheer responded.
From there the debate grew increasingly uncomfortable as Tory MPs Lisa Raitt, Alain Rayes, and Tony Clement continued to press the government for accountability, sharing more details of Stafford's murder with each successive question.
Trudeau repeatedly stated that McClintic was transferred to the medium-security facility in 2014, under the watch of the former Conservative government. Trudeau used the repeated Tory attacks as an example of "populism that's creeping into our discourse."
"This individual is still in a medium-security facility today," the PM said. He accused Conservatives of adopting a "polarizing" style and tone, saying it's the kind of behaviour that "needs to be noticed by Canadians."
Tory use of girl's murder 'sickening': NDP MP
Jeers were exchanged on both sides of the House throughout question period. Conservative MPs were dissatisfied with the prime minister's response, while others expressed displeasure over hearing details about an eight-year-old girl's murder.
NDP MP Sheila Malcolmson stood and condemned her Tory colleagues' attacks that were filled with horrific details.
"The Conservatives' exploitation of this little girl's death is sickening," she said, prompting MPs in Liberal and NDP benches to rise and give a brief standing ovation.
This is not something we want to politicize this way.Prime Minister Justin Trudeau
Trudeau pleaded with his Conservative colleagues to refrain from reading graphic details about Stafford's murder into the official record.
"This is not something we want to politicize this way. This is not the way this House should be engaging," he said. "Please maybe not read the words on the pages in front of them."
Inside the chamber, a voice from the Tory bench cried out, "Sanctimonious!"
Despite Malcolmson's comment and Trudeau's request, Conservative MPs Dave MacKenzie, David Anderson, Karen Vecchio, and Michelle Rempel continued to press the prime minister to "right his wrongs and reverse this decision."
Graphic warning: Tory MP asks gov't to reverse killer's transfer
After question period, Scheer defended his party sharing such graphic details.
"If the details of this horrific case are so awful that the prime minister can't stand hearing them, then he should do the right thing and make sure that the killer is behind bars," he told reporters.
When asked if it was appropriate for his MPs to publicize gruesome details about Stafford's murder when 10- and 11-year-olds were visiting in the public gallery, Scheer remained resolute.
"These are the types of details that you and every other journalist have put in your papers to inform the public about the nature of these crimes because this person who perpetrated them is such a danger to our society," he answered.