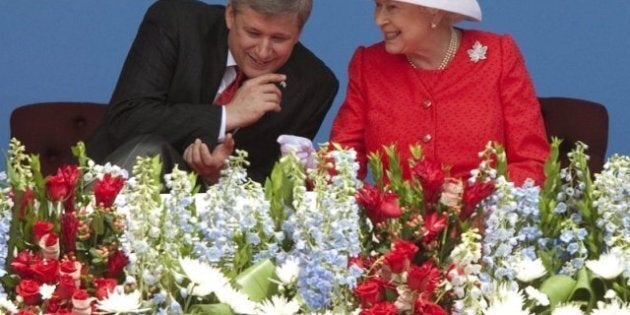 HANG THE QUEEN: TORIES TELL DIPLOMATS
UPDATE: The request was for missions to reply back by September 15, 2011 to confirm that all official portrait photographs are displayed at missions.

"Queen Elizabeth II, the Queen of Canada and our head of state, has proudly served us with honour and grace for almost 60 years.

It is a distinct honour and pleasure for Canada to have our head of state's photograph displayed at our missions abroad.

The Minister is thrilled that her photograph has already adorned the vast majority of Canadian missions abroad for many years, and that shortly, all missions abroad will meet the same standard." Baird's office said.
The Conservative government has sent an email to all its missions abroad telling them they must hang a portrait of the Queen.
"Like virtually every other country in the world who display pictures of their head of state in their missions, we expect all Canadian missions abroad to display pictures of Canada's head of state, the Queen; along with the Governor General, the Prime Minister and relevant Ministers," Foreign Affairs Minister John Baird's spokesman Rick Roth told Huffington Post Canada.
Two officials told The Huffington Post Canada the practice is the norm in most of the country's diplomatic posts. Roth would not confirm whether the note had simply been a reminder advising missions what the standard list of approved photographs were.
GENERAL'S AMBITIOUS REPORT SLAMMED BY FORMER BOSS
Rick Hiller, the former chief of defence says new recommendations to slash $1 billion out of the National Defence budget would destroy the Canadian military.
Speaking to CTV's Don Martin Tuesday, the retired General said if Lt.-Gen. Andrew's Leslie's transformation report was put in place it would compromise military effectiveness.
"You try to implement that report as it is and you destroy the Canadian military," Hillier told CTV's Power Play on Tuesday. "You simply can't take that many people out of command and control functions."
The transformation report has yet to be officially released, but leaked copies to several media outlets, including The Huffington Post Canada, suggest 11,000 military and civilian jobs could be affected by a cost-cutting drive. Leslie suggests cutting the bureaucracy rather than affecting operations on the front lines.
TORY SENATORS ARRIVE TO WORK EARLY
The Conservatives' three-hour national caucus meeting will begin Thursday morning, but Tory senators are already on Parliament Hill.
Their two-hour Senate caucus meeting on Wednesday will be an opportunity for "people to get together after the summer, discuss what happened over the summer and plan what's going to happen this fall. It's more an opportunity for members to get up to speed," said deputy leader Claude Carignan.
Carignan refused to dish any details, but he said he expects senators will discuss a few hot topics on the agenda.
"We will certainly speak about the important bills that will be tabled this fall," he said.
That means Senate reform, government budget cuts and crime bills might be discussed.