 The Tories have cause for concern, according to a new poll.
Support for the NDP has also slipped since the election, falling from 30.6 per cent to 26.3 per cent. The Liberals, on the other hand, grew support from 18.9 per cent in May 2011 to 24.6 per cent in the poll.
Liberal leadership race front-runner Justin Trudeau had the highest approval rating in the survey at 33 per cent. Prime Minister Stephen Harper was tied with NDP leader Tom Mulcair at 28 per cent.
However, Liberals shouldn't get too excited. When considering only 'likely' voters, meaning those who voted in the 2011 federal election, Liberals earned only 21.2 per cent, with the Conservatives at 33.7 per cent support and the NDP at 30.1 per cent.
However, the poll indicates the Tories face other challenges besides a Trudeau-led Liberal Party. Slightly more than 51 per cent of those polled believe the country is headed in the wrong direction, compared with 35.4 per cent who think it's headed in the right direction. "Levels of economic optimism also continue to decline to historical nadirs," according to EKOS.
The numbers suggest the Liberals have an opportunity to at least return to second-party status, but only if the party can generate the excitement necessary to pull in voters who stayed home last time around. Victory for Trudeau in the leadership race, combined with discontent about the country's direction, could very well do just that.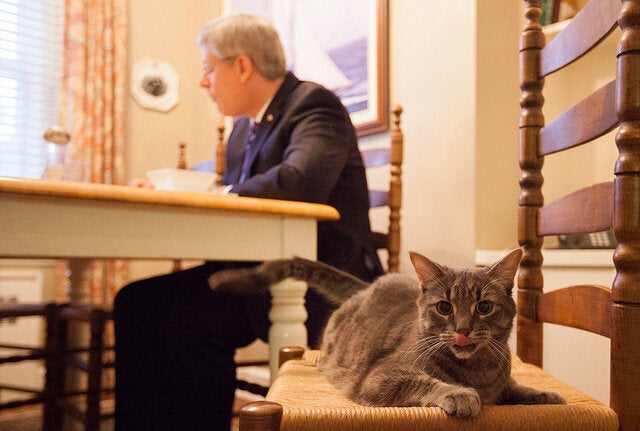 Day In The Life Of Stephen Harper