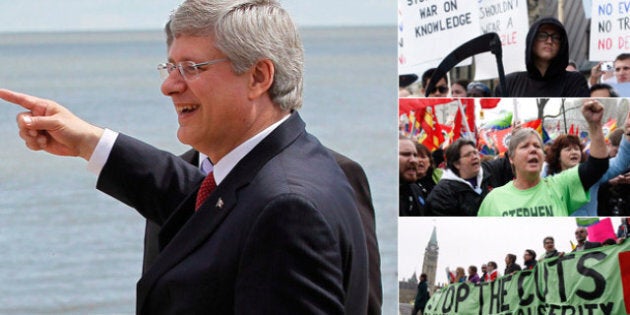 The war drums of a Tory-led campaign against Big Labour beat louder each day, with calls to make union dues optional and financial disclosure mandatory.
Behind the rhetoric about "union bosses" and "transparency" lies a strategy, political observers say, that stokes controversies and throws up red herrings in order to force key opponents on the defensive — in this case, Canada's labour movement and the NDP.
"The whole approach is not to push your guy but to totally demean and to discredit and to vilify your opponent so that the only person left standing in the ring is your own person," said Nelson Wiseman, a political scientist at University of Toronto.
The Conservatives are "Canadian masters" of the strategy forged by Republican strategist Karl Rove during the George W. Bush years, Wiseman said. They used it against Liberal leaders in the past and have extended it to other interest groups, such as unions, he said.
This fall, two anti-union proposals are making waves on Parliament Hill at a time when the Public Service Alliance of Canada and the Professional Institute of the Public Service of Canada would rather be talking about Ottawa's deep cuts to the federal workforce. (In the past few months, more than 26,000 government workers have received "affected notices" telling them their jobs could be on the chopping block. The federal government said this spring that it would slash some 19,000 positions by 2015).
If passed, the bill would require all private- and public-sector unions in Canada to publicly disclose any transaction or payment over $5,000, including contracts, donations and investments. Unions would be forced to disclose who got paid, with names and addresses detailed, along with the purpose of each expense.
Investors who manage the unions' billion-dollar pension funds would also have to disclose hundreds of thousands of transactions, though Hiebert has indicated that he will narrow the bill's scope amid privacy concerns. He was also lobbied by the investment community.
STORY CONTINUES BELOW SLIDESHOW
Hiebert insists the bill will ensure financial transparency, but unions say it's a heavy-handed intrusion into their operations that will undermine their bargaining power and drain scarce resources with onerous reporting requirements.
At the same time, Conservative MP Pierre Poilievre has mused openly about making union dues optional for organized workers.
Critics of the government, such as Sierra Club of Canada executive director John Bennett, see a wider game of political distraction at play — the kind the Tories perfected last winter when they accused environmental groups of being radicals backed by foreign interests.
For months, environmentalists were forced to explain their activities and funding sources while the Harper government crafted a budget that scrapped decades of environmental legislation the groups had fought for.
The campaign began in January, when Natural Resources Minister Joe Oliver suggested "radical groups" were out to destroy Canada's economy. Environment Minister Peter Kent raised the spectre of charitable groups "laundering" foreign funds in Canada. And Conservative senators launched an inquiry into the "interference of foreign foundations in Canada's domestic affairs and their abuse of Canada's existing Revenue Canada charitable status."
"It was a total distraction," Bennett said. "I think that is what they wanted us to do — to be messaging not the vision of a sustainable future but rather the complaints of an interest group.
"And I think they are doing the same thing to the unions," he said.
"It was a smokescreen," added Peter Robinson, chief executive officer of the David Suzuki Foundation, of the Tory campaign against green groups.
"It wasn't about us or the environment …. It was about shutting down voices" before core pieces of environmental legislation were changed, he said.
When the smoke cleared, the Conservative government had pushed through an omnibus budget bill that drastically reduced the number and scope of federal environmental assessments, shrank timelines for those assessments and gave cabinet the final say. The federal government moved to protect fish only in cases where commercial, recreational or aboriginal fisheries were at risk and the budget made it easier for pipelines and powerlines to be easily approved without concerns for species at risk or waterways.
As for the tough legislation that environmental charities feared would silence them with limits on political activity and funding? It never materialized.
In the case of unions, Wiseman said he believes the government has no intention of passing Hiebert's financial disclosure bill in its current form, but is "throwing it out there" for political purposes.
"They'll try to tie it to the NDP and say the NDP is run by big union bosses," Wiseman said.
The federal government's first perceived attack against labour groups occurred in June, 2011, after the Conservatives had won a majority government and faced-off against the NDP as the Official Opposition. That month, Harper's team moved swiftly to impose back-to-work legislation on locked-out Canada Post employees, something they did again against Air Canada workers and striking CP Rail employees — all three private companies.
Conservative strategist Tim Powers said Hiebert's bill highlights the NDP's self-interest in protecting its union base, but he also sees it as a first step in a series of incremental moves to permanently change the public service.
"I don't think it is about one private member's bill. I think the government is serious about having a discussion about how, at least when it comes to the public sector, how it can work more efficiently and effectively and deal with the economic realities of the time," Powers said.
Hiebert said Canadians deserve a clearer picture of what labour organizations do with their money, since union members receive substantial public benefits: unions are tax-exempt, membership dues are tax deductible and strike pay is tax-free.
"Dues deductibility alone costs the federal treasury approximately half a billion dollars annually," Hiebert said. "My bill simply proposes that the public be informed how the benefits they provide are being used."
But Hiebert's bill will have serious ramifications for the labour movement if it is not substantially amended. As Wiseman notes, the auditing and paperwork demands would "end up making unions not economically viable."
Bill C-377's reporting requirements are costly, discriminatory and only meant to target the political activity of labour organizations, said PIPSC vice president Don Burns.
"The government wants to see how much money the unions are directing to political parties," he said.
Meanwhile, Poilievre would like to see union dues made optional so that workers don't have to pay to join a group that advances political positions they don't hold. He said he was particularly troubled by PSAC's endorsement of Parti Québécois candidates and the union's support for the Montreal student protesters last spring.
"Union bosses" would have to justify their existence, resulting in better services for members, he said, noting the impact of his proposal on the federal government would be relatively minor. (He played down the possibility that things would get chaotic with non-unionized workers negotiating their own deals with employers.)
As Harper's parliamentary secretary, Poilievre can't introduce a private member's bill, but he said he hopes one of his caucus colleagues will take up the cause.
Anyone who tries is likely to face significant legal hurdles.
In 1946, in what's known as the Rand formula, Supreme Court Chief Justice Ivan Rand ruled that workers in a unionized shop must pay union dues, whether or not they choose to belong to a union, because they benefit from the same services.
The Rand formula was upheld in 1991 when Francis Lavigne, a community college instructor, failed to convince the Supreme Court that he should not be forced to pay dues to help support causes his union championed.
Despite the legal precedents, Poilievre said nothing precludes the federal government from introducing legislation that nullifies past practices.
He is not alone in suggesting "right-to-work" legislation, the type that crippled the labour movement in many U.S. states. Earlier this year, Ontario Progressive Conservative leader Tim Hudak unveiled a white paper proposing that union members be allowed to opt out of paying dues. The Government of Saskatchewan also proposed this spring to allow minors, students and people experiencing financial hardship to opt out of paying the dues.
Optional dues would result in a huge financial blow to unions, said Mike Patton, a spokesman for the Canadian Centre for Policy Studies, a Conservative-friendly think tank.
But dues are out of whack, he said, noting that PSAC, the largest federal public service union, collected $153 million in dues in 2011.
"Assuming that 50 percent of PSAC's membership opted out, that would (still) leave PSAC with about $78 million with which to conduct collective bargaining," said Patton, whose organization recently launched a separate 'right-to-work' campaign.
Chris Aylward, PSAC national executive vice president, said Poilievre has raised the union dues issue now "to try to distract from the very fact that the Conservative government has been cutting valuable services and jobs in Canada without being transparent."
Indeed, Andrew MacDougall, spokesman for the Prime Minister, said the government has "no plans" to introduce legislation to make union dues optional.
As for Hiebert's bill, MacDougall said it would be voted on like all others.
Poilievre said he is a realist and knows his plan will take time. "It is a bold proposal to champion worker's freedom, and I am going to spend some time educating the public and building support for the idea."
The government's aggressive approach to unions comes at a time of declining enrollment and low public support for Big Labour.
One in three workers in Canada are union members and the vast majority are concentrated in the public sector. Seventy-three per cent of public service workers are unionized, compared with 17.7 per cent of private sector employees, 2012 figures from Statistics Canada indicate.
Mario Canseco, a vice president with Angus Reid Public Opinion, said most Canadians surveyed last May believed unions wield too much power, a sentiment that crossed all age groups and gender.
Forty-nine per cent of those surveyed said unions had too much influence, while 26 per cent felt unions had just the right amount of influence and 16 per cent said unions had not enough influence, according to the poll of 1,003 Canadians, with a margin of error of plus or minus 3.1 percentage points.
Canseco said he believes the Conservative campaign against unions is directly related to the ascendancy of the NDP as their primary opponent. The New Democratic Party's close connection to organized labour is viewed skeptically by most Canadians, he said.
Ken Georgetti, the president of the Canadian Labour Congress, agrees the attack against labour groups has much to do with the NDP.
"The NDP was nowhere as much of threat to them as they are now," he said.
Powers said the Harper government believes there is a public appetite to "even the playing field" between private and public sector workers when it comes to salaries and pensions, and he expects broad pension reforms for government workers will be tabled as early as this fall.
Georgetti said unions will have to fight hard to explain to Canadians what the "union advantage" is and how they've supported the middle class, raised wages and improved conditions for non-unionized workers.
But that's a tough sell if the membership itself doesn't believe in the cause.
Bob Dale, former chief economist of the National Union of Public and General Employees, told HuffPost he quit his job because he was appalled by what he saw as organized labour's anti-Israel stance. Now a professor at Ottawa's Algonquin College, Dale said he is convinced that public sector unions have outlived their usefulness.
"I belong to a union and pay $1,700 a year and I get all this garbage from these people about how badly we are treated. Well they should know what a real job is like, like my friends who got laid off at Nortel," Dale said.
It is that type of sentiment that makes unions "a convenient target" for the Conservatives, said Paul Moist, the national president of the Canadian Union of Public Employees.
"We are low-hanging fruit," he said. Not only does labour's relationship with the NDP draw the ire of the Conservative government, but targeting unions proves popular with certain groups who feel public servants do not deserve pension plans if most Canadians go without, Moist said.
While he believes Hiebert's bill will not pass without significant amendments and Poilievre has floated a trial balloon, both men have been successful at throwing unions "off their game," Moist said.
"It does occupy airspace to the detriment of real issues like pension and unemployment," he said.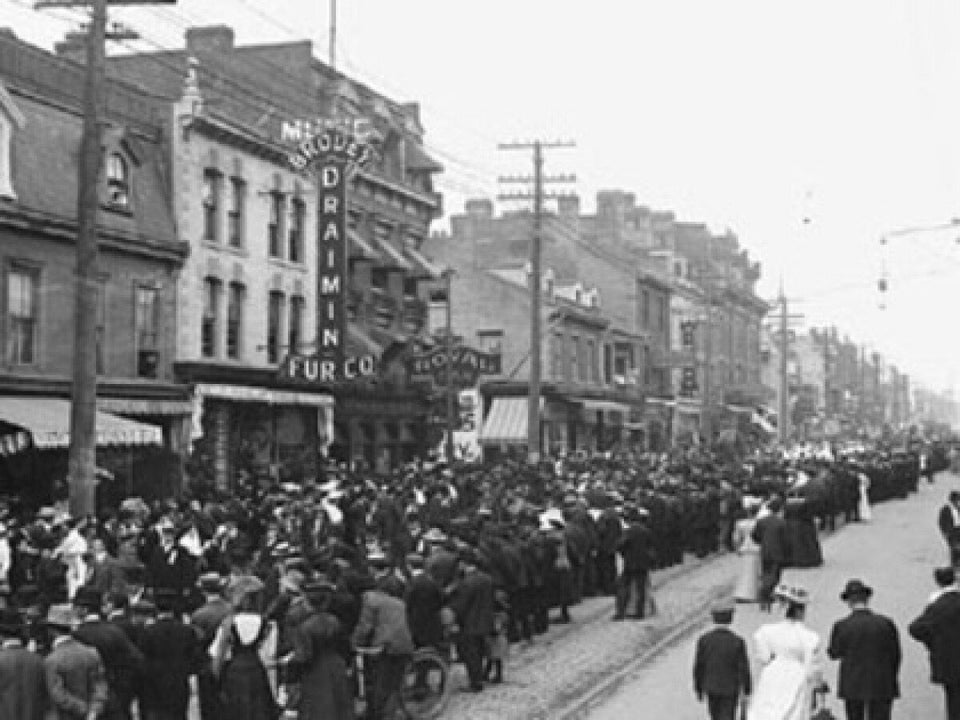 Flashpoints In History Of Canadian Labour
Popular in the Community