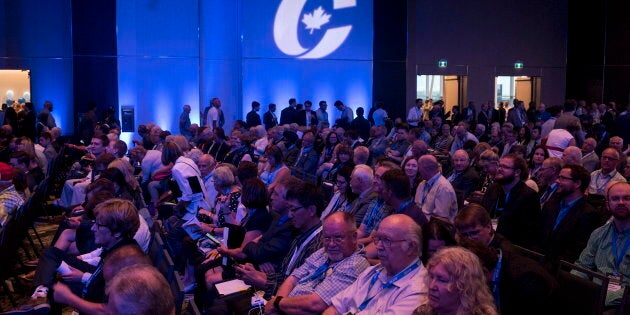 HALIFAX — Birthright citizenship should be barred to anyone who doesn't have a parent who is a Canadian citizen or is a permanent resident, Tory delegates said in a vote Saturday at their party's policy convention.
Currently, anyone who is born on Canadian soil receives Canadian citizenship, something that has spurred concerns about so-called "birth tourism."
Ahead of the vote, British Columbia MP Alice Wong spoke in favour of the motion, saying "passport babies" take away the resources of our system, which endangers Canadian mothers.
Tory MPs speak for and against proposal
"We should fight for our own babies," Wong told the crowd of 3,000 gathered at the Halifax Convention Centre for the biennial convention.
A Quebec lawyer told delegates that the proposal would involve "extreme" measures for a "so-called problem." He warned it would create "stateless children" in Canada.
Alberta MP Deepak Obhrai urged delegates to stick with the status quo.
"This is a fundamental question of equality out here. Any person who is born in Canada, by law, is entitled to be a Canadian," Obhrai said. "We cannot choose who is going to be a Canadian and who is not going to be a Canadian."
Obhrai told HuffPost Canada after the vote that he spoke out because he has a "fundamental belief" that a Canadian is a Canadian.
"We have seen, around the world, governments take citizenship away from people they don't like," he said. "We should stick to the law, and the law states anybody born in Canada is a Canadian."
The veteran MP said he is not bothered that many Tories feel differently than him on the issue.
"I'm a Conservative, too," Obhrai said. "I stand with my convictions very strongly."
The resolution, which is non-binding, was supported by a slight majority of delegates from across the country. It amends the party's policy book to state: "We encourage the government to enact legislation which will fully eliminate birthright citizenship in Canada unless one of the parents of the child born in Canada is a Canadian citizen or permanent resident of Canada."
NDP Leader Jagmeet Singh took to Twitter to condemn the idea, saying it is something that "even Trump has resisted."
Marc-André Leclerc, Scheer's chief of staff, told HuffPost that he expected the other parties would be quick with their criticisms.
"Our opponents will do some stuff against this but, you know, right now...we don't have any position on this as a caucus," he said in an interview recorded for an upcoming edition of "Follow-Up," HuffPost's politics podcast.
In the coming weeks, Scheer's advisors plan to huddle with their leader and look at the policies the delegates had passed and their level of support. "You know, it's one thing to add something in the policy book but it is also one thing to have a policy in the platform in 2019...
"The leader and the team will need to make a decision about what we are going to do and if this is the kind of issues or policies that we want to push forward for the next campaign."
Leclerc said Scheer's team was "of course" aware of the lessons of the 2015 election when the Liberals successfully attacked the Tories for a bill that stripped dual citizens of their Canadian citizenship if they were convicted of terrorism, treason or espionage.
"In 2019, we have a new approach," Leclerc said. With their new leader, the Tories will focus on issues "that will unite Canadians," he said.
Abortion resolution defeated
Delegates also narrowly rejected a proposal to scrap wording in the party's policy book stating that a Tory government would "not support any legislation to regulate abortion."
The resolution from Newfoundland and Labrador delegates received enough support in earlier breakout sessions to face a full membership vote Saturday, putting the politically charged issue in focus at the convention.
Tory Leader Andrew Scheer, who has pledged not to reopen debates on reproductive rights, reaffirmed that position ahead of the vote.
A Newfoundland and Labrador delegate told the crowd that the resolution would not mean that Tories would bring in abortion legislation, but rather that the party would be officially neutral on the issue. He compared it to how Tories removed words opposing same-sex marriage from their policy book at the last convention in 2016.
A Quebec delegate scored applause for saying Conservatives believe "big government should stay the hell out of people's private lives."
Saskatchewan MPs Rosemarie Falk and Cathay Wagantall spoke in favour of the resolution. Falk said that Tories should not place a "values test" on their own members. Wagantall urged delegates to "get some guts" and take a stand on the issue.
Deputy Tory Leader Lisa Raitt, however, spoke out against the resolution, saying Scheer promised clearly during a "very long leadership" race that he wouldn't bring in legislation on abortion.
Delegates did pass a resolution stating that "abortion should be explicitly excluded from Canada's maternal and child health program in countries where Canadian aid is delivered," as was the approach under former prime minister Stephen Harper.
Resolution to prevent pornography addiction defeated
A resolution stating that Tories support legislation that "any child born alive shall receive the full benefits of life-saving care" also carried.
An eyebrow-raising proposal calling on the party to support the development of laws and programs to "prevent pornography exposure and addiction" was defeated in a close vote.
Party members also passed a number of resolutions in line with positions the caucus is already championing, including recognizing Jerusalem as the capital of Israel, opposing a federal carbon tax, championing interprovincial trade, and renegotiating Canada's Safe Third Country agreement with the United States.