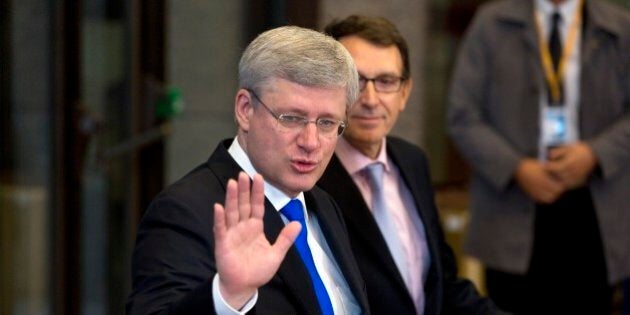 Our Prime Minister is deeply Conservative. He won the last federal election in a majority landslide.
Of the ten provinces and three territories, we have only one NDP premier, five Liberal premiers, three PC Premiers, and a variety of generally right-wing leaders (this includes Saskatchewan; once an NDP stronghold, and the Yukon Party - formerly known as the Yukon Progressive Conservative Party).
Municipally it's a mixed bag, but as somebody born and raised in what was once seen as a cosmopolitan and progressive metropolis and is now seen as a global joke, I can't say I'm too optimistic. Toronto is riding a wave of Conservatism like I've never seen, and it's unbelievable. An obligatory note here: I wish Rob Ford and his family the best, even though I disagree vehemently with his politics.
In Toronto's current election, polls have Conservative former talk show host John Tory hovering around the 40 per cent mark, Doug Ford at 28 per cent, and former NDP MP Olivia Chow around 29 per cent. When Olivia entered the race, she had incredible support and it was widely believed that it was her race to lose. Now polls are often wrong. Look at the last B.C. election, where the NDP were supposed to sweep. Didn't happen. Nonetheless, even some of the self-identified progressive people I have spoken with (full disclosure: I spent a few hours canvassing for Olivia Chow last week) are holding their noses and voting for John Tory in this election, afraid of a Doug Ford victory.
The values we used to be most proud of as Canadians are slipping away. We used to differentiate ourselves from the States because of our kindness. Our compassion. Our politeness. Our open-mindedness. Socialized medicine. A strong public school system. Our Charter of Rights and Freedoms. Environmental leadership and scientific progress. The CBC, that brings us in-depth news reporting and have supported countless artists, musicians, and comedians.
These are progressive values. These are Canadian values. Or so I thought.
Our heros have been fighters for the underdog. Tommy Douglas. David Suzuki. Jack Layton. Nellie McClung. Terry Fox.
The musicians we love -- Neil Young, Buffy St. Marie, Joni Mitchell, the Tragically Hip -- have been social activists, folkies, or just general rabble-rousers.
Yet somehow, most Canadians seem to be saying that progressive values don't speak to them anymore. They aren't interested in what progressives are selling. Sure, the NDP is the major opposition, but look at who is making decisions federally. Provincially. Municipally. Progressive people are a minority in this country.
What is most remarkable is that many Canadians don't see progressive leaders as relatable. Progressives are seen as urbane, elite, Concerned with special interests. Isn't that incredible? The NDP started as a farmers' party! Progressive politics are behind social welfare for the poor, diversity, protecting immigrants, and building low-income housing.
But if you ask the average Conservative Canadian, they'll tell you: "I don't like these city environmentalist types sticking their noses in our communities. They don't know what we go through. These guys want to tax and spend, but where's the money going? The unions don't work anymore -- the fact is, it just gives lazy people more of an excuse not to work while getting paid a huge salary. Meanwhile, I'm just trying to provide for my family and keep my taxes down so I can put food on the table. A Conservative politicians understands that. He gets me. I'd like to have a beer with him someday."
I'm paraphrasing, but I've heard each of those arguments before on numerous occasions. And...I get it. Maybe progressives in this country have lost the plot a little bit. Maybe we've stopped connecting with average Canadians. Maybe the issues we are supporting, the hills we're metaphorically dying on, are not resonating.
Whatever the case, Conservatism in Canada is no longer a trend or "on the rise." It has absolutely and definitively taken over from coast to coast. As a progressive person, I miss the days when we, as Canadians, looked out for one another. When our values reflected our compassion for our community, not just our self-interest.
Progressive people of Canada: we have a very difficult job to do. And it starts at the ballot box.