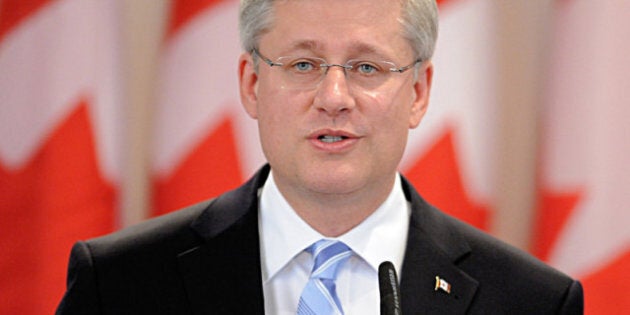 The Conservative government will introduce sweeping justice reforms Tuesday with a massive omnibus bill it hopes to pass early in the new year.
The bill, entitled "Safe Streets and Communities Act," covers everything from giving victims of crime the ability to sue perpetrators and supporters of terrorism; tougher sentences for drug offenders; tougher restrictions on house arrest; youth criminal justice reforms and as well as changes to the immigration and refugee protection act.
Government House Leader Peter Van Loan told The Huffington Post Canada Sunday that the government's most important priority was the economy, but tackling crime is second in line.
"The cornerstone of that is the comprehensive combating crime bill that was committed to being passed during the election, the one that we will get done within the first 100 sitting days," he said.
"We are looking to having that done through the House of Commons before Christmas so that it could go to the Senate in time for us to meet that commitment we made to Canadians."
According to a memo sent by the Prime Minister's Office to its majority Conservative caucus on Sunday, the bill will "tackle crime and make our streets and communities safer."
"These tough new actions will hold criminals more accountable, help improve the safety and security of individuals, and extend greater protection to the most vulnerable members of society and victims of terrorism," said the memo, which was also distributed to media.
Many of these reforms were previously introduced in the House of Commons but were not passed in to law, in part, because of opposition concerns.
NDP deputy leader Thomas Mulcair told The Huffington Post Canada his party fully expects the Conservatives to bring forward draconian legislation that the NDP cannot support.
"We have very reasonable expectations that … [this] bill will start dismantling some of the safeguards in the checks and balances in our system that ensure that people are presumed innocent," Mulcair said.
"[The Conservatives] will start waving the spectre of criminals being let free, like they did on other issues in the past, and stoke the fires of division as they so often do. They will go at this not with a scalpel but with a rusty machete and they are going to try to score points with their ideologically right-wing base, so we are expecting a rather tough fight on this crime bill."
Now that the Tories have a majority of MPs in the House of Commons, the most sway the opposition can hope to have is a delay in the legislation and a public airing of their concerns.
The Prime Minister's Office justified the crime legislation by providing statistics saying some 440,000 people in Canada had been victims of violent crimes in 2010; 225,000 had been assaulted including 22,000 sexual assaults and 200,000 people who had experienced break and enters.
"These are just the crimes that are reported," the memo noted. "In 2009, Statistics Canada reported that 1 in 4 Canadians reported being a victim of crime. However, only 31 per cent reported their crimes to police. Quite simply, people are not reporting to the police that they are a victim of crime. More needs to be done," the memo said.
Statistics Canada figures, however, show that on nearly every indicator crime is down in Canada.
"There were approximately 77,000 fewer police-reported crimes in 2010 than in 2009. Decreases among property crimes — namely theft under $5,000, mischief, motor vehicle thefts, and break and enters — accounted for the majority of the decline. Police also reported decreases in homicide, attempted murder, robbery and assault," authors Shannon Brennan and Mia Dauvergne noted.
Although the severity and rate of youth crime dropped and incidents of drunk driving and homicides also declined, Statistics Canada said drug offences — mostly due to a high number of cannabis offences — had increased as well as rates of child pornography offences, firearms offences, criminal harassment and sexual assaults.
Despite that, the 2010 crime rate had reached its lowest level since the early 1970s, the report stated.
The memo sent to the Conservative caucus: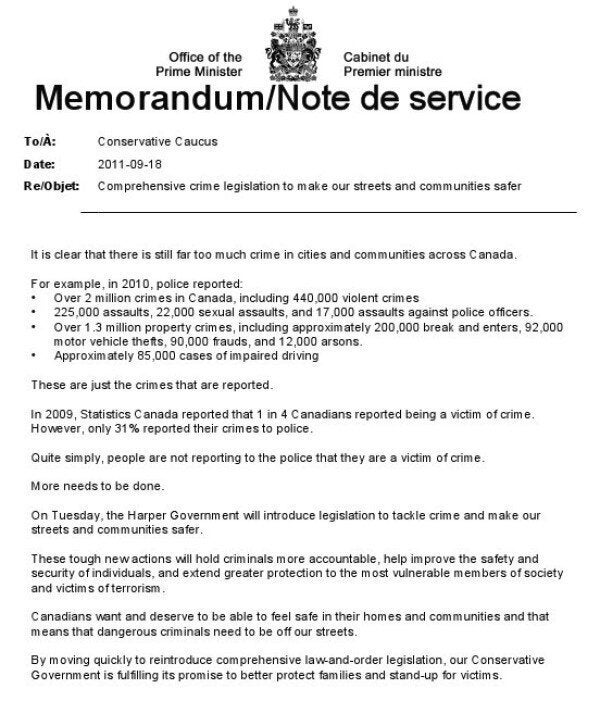 Popular in the Community