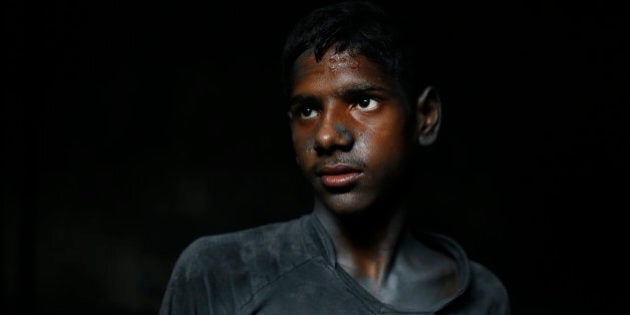 My kids love Canada Day -- the parades, the picnics and the fireworks. But like many adults, they can't really appreciate what it means to grow up 'glorious and free.' They have no basis for comparison.
What my kids do know is that they're free from school, which wrapped up just two days ago. They're delightedly (and repeatedly) sharing their joy over nine whole weeks without the daily routine of classroom learning.
As a mom, however, school is one of the things I'm most grateful for this Canada Day. In my travels with World Vision, I've met children who work in factories and sweatshops overseas. And I see my kids' school years as part of the wonderful freedom they enjoy.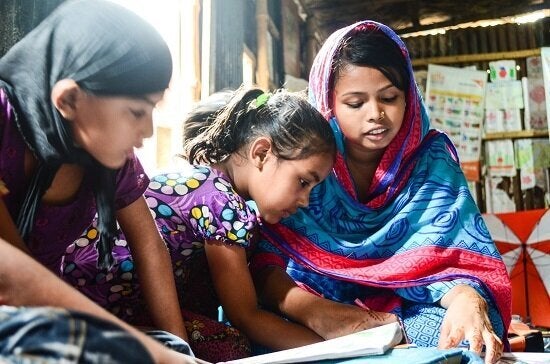 Bithi (right)encourages child workers in their studies, at this drop-in learning centre in Dhaka, Bangladesh. But since her shifts in a garment factory increased to 12 hours, Bithi no longer has time to continue her own learning here. She shares that it used to be the highlight of her day. Photo/World Vision
In Canada, education isn't just an option -- it's considered essential for every child. We see it enshrined in the United Nations Declaration on the Rights of the Child, and we strive to live it out. For one thing, our Canadian labour laws are set up so parents can support their children without taking their kids out of school to work.
Forcing kids out of school
This universal right to an education is something World Vision had in mind, when we urged Canadians to take our Conscious Consumer Challenge this spring. We wanted a fun, easy way for Canadians to begin considering the immense power they hold to influence the decisions made by huge corporations.
As shoppers, we're all looking for low prices -- especially when budgets are tight. But there's a ripple effect, which reaches families in some of the world's poorest areas. There, parents may not be paid enough to support their children. Working conditions can be so poor, that parents get injured or even killed on the job.
The result? Children often have no choice but to leave school and seek jobs themselves. Their wages are normally even lower than their parents'. And children are much more vulnerable to exploitation and abuse on the job.
A fresh way to outfit your kids
As you dress your kids for playtime, barbecues and camp this summer, I invite you to consider some new strategies. Does your kids really need closets full of cheap summer items, when a few, carefully chosen quality items would do just as well?
Here are three ways to dress your kids, while caring for the world's children: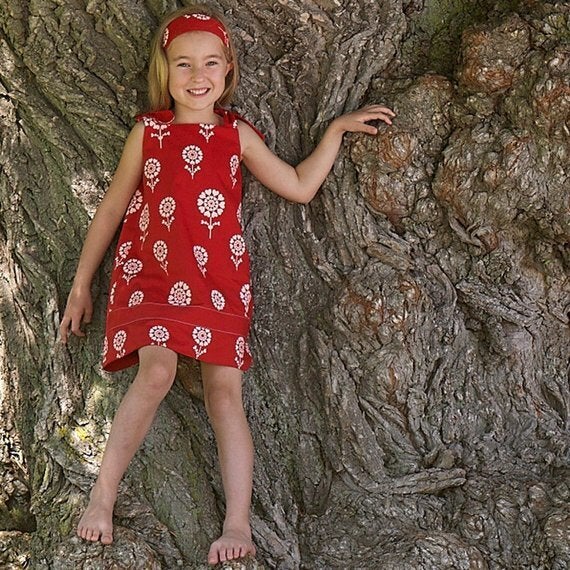 The dress is so versatile it converts to a tunic then a top as the girl in your life grows. Seeing it on your daughter, niece or family friend will remind you of a happy Canada Day -- and a step taken for children everywhere.
Consider buying locally: Some Canadian companies are working hard to produce beautiful items made by workers who are fairly paid and treated. While it costs more to buy children's clothing made here, you may get more than the actual t-shirt. There's often a greater peace of mind.
I recently discovered a company called mini mioche, which designs and makes its clothing right in my home city of Toronto. Their fabric is even knit here in town!
Having seen images of children crunched over sewing machines in China or Bangladesh, or struggled to get information from the companies I normally support, it did my heart good to visit the web page: where does my mini mioche t-shirt come from? I dream of a day when adult workers overseas are paid and treated fairly, so children don't need to work at all.
Learn which clothing companies are taking steps in the right direction: I've often turned to MEC (Mountain Equipment co-op) to outfit my kids--and now teenager--for camp. I love their hats, t-shirts, hiking boots and rain coats. I can testify that the shoes and clothing hold up beautifully, to hand down to siblings and friends.
I saw that MEC is one of the few companies which publicly names their overseas suppliers -- a critical step in reducing the risk of child labour in supply chains. It's something which most companies importing clothing into Canada have yet to do.
Whenever you see these clothes on your kids, you may think of Canada Day in a whole new way. You'll recall the day you celebrated your own kids' freedoms, by championing the freedom of children around the world.
Follow HuffPost Canada Blogs on Facebook