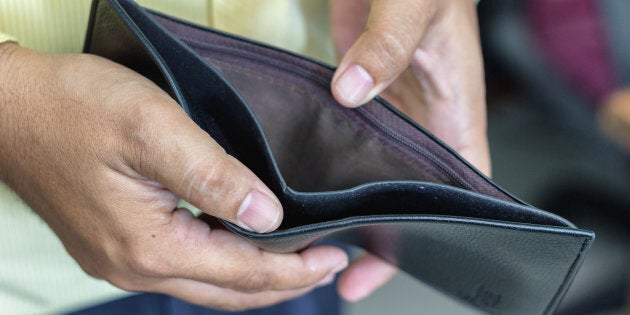 An industry group representing Canadian bankruptcy professionals is warning that the country can expect to see a wave of consumer insolvencies next year.
In a report issued this week, the Canadian Association of Insolvency and Restructuring Professionals (CAIRP), which represents 90 per cent of Canada's licensed insolvency trustees, said bankruptcies among Canadian households are set to spike starting in 2019.
Watch: How I saved $20,000 in one year, and paid my Toronto rent (story continues below)
The CAIRP report looked at previous times when consumer insolvencies rose and found that these periods begin about two years after interest rates start rising.
Given that the Bank of Canada started its current round of interest rate hikes in mid-2017, CAIRP expects the fallout to hit next year. And since rates have kept going up steadily since then, bankruptcies will continue to rise into 2020 and possibly beyond, said CAIRP chair Chantal Gingras.
"Rising interest rates coupled with a near record-high consumer debt-to-income ratio will force more Canadians into insolvency," she told HuffPost Canada in an interview.
Among CAIRP's membership, 97 per cent expect insolvencies to rise next year. Ninety per cent say Canadians "possess unhealthy levels of debt."
At this point, "it's anyone's guesstimate" how large this spike in bankruptcies will be, Gingras said.
But CAIRP's research showed that when interest rates rose between 1996 and 2000, it resulted in a 22-per-cent increase in bankruptcies from 1998 to 2003. And when interest rates rose from 2004 to 2006, it fuelled a 54-per-cent spike in insolvencies from 2006 to 2009.
So far, so good...
For the time being, Canadians are handling their debt well. Data from the Canadian Bankers Association shows mortgage delinquencies in Canada are near record lows this year, thanks in no small part to years of very low mortgage rates.
And Canadian households seem to be getting used to living with rising rates. In a Nanos Research survey taken in October and released this week, 41 per cent of respondents said rising interest rates are having a negative impact on their personal spending. That's down from 44 per cent in July, before the Bank of Canada's latest interest rate hike.
While none of these factors cause bankruptcies on their own, together they are the perfect storm.Chantal Gingras, CAIRP
But the CAIRP report worries about the possible impact on Canada's economy when consumer insolvencies rise.
"Compounding the concern is that rising interest rates will also cool consumer spending, Canadian GDP and business growth. These conditions could lead to an uptick in the unemployment rate, further accelerating the rate of consumer insolvency filings," the report said.
"While none of these factors cause bankruptcies on their own, together they are the perfect storm," Gingras said in the report, adding in the interview that she sees this as "a very high risk on the horizon."
How do I know if I'm headed for bankruptcy?
Gingras said there are two particularly important red flags that can tell you if you are in imminent danger of bankruptcy.
"The first is when you're using credit in order to subsidize your income, when you need to use credit in order to pay what you would normally pay from income — food, rent, hydro, mortgage."
The second sign is if you're only able to make the minimum payments on all your debts.
"If rates rise, that debt will never disappear," Gingras said.
If you're seeing signs of extreme debt stress in your finances, seek the advice of a financial professional "before it's too late," Gingras said, noting that many people wait until insolvency is inevitable before they reach out for help.