The fallout from the loonie's slide continues to be felt in Canada's grocery stores.
Fruit and vegetable prices kept climbing in February, Statistics Canada reported Friday. Vegetable prices were up by 17.2 per cent from a year earlier, and fruit prices were up 14.4 per cent.
One exception is Western Canada, which has been racked by the decline in oil prices but saw falling fruit and vegetable prices in February, StatsCan reported.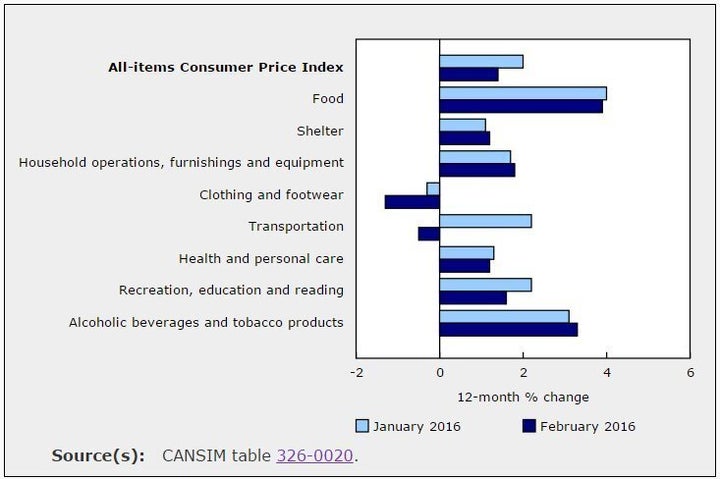 Clothing and transportation costs are the only items to see falling prices in Canada. (Chart: StatsCan)
There was good news for consumers on meat prices, which fell slightly in the month. The intense inflation seen in meat prices over the past year seems to have slowed. Prices are up just 1.6 per cent in a year, lower than overall inflation.
Overall food prices were up 3.9 per cent in a year, and overall inflation came in at 1.4 per cent in February, slower than the 2-per-cent pace seen in January, StatsCan said. The slower inflation was largely due to lower gas prices, which are down 13 per cent in a year.
But economists generally see these food price hikes as temporary: Once retailers adjust to the lower dollar, food prices should stabilize.
And overall, "inflation in Canada is not worrisome," TD Bank economist Dina Ignjatovic said in a client note.
Lower oil prices and economic slack means there will be little inflationary pressure in Canada through much of this year, Ignjatovic said.