Canada may have spent the first half of the year stuck in an oil-driven recession, but you'd never know it looking at Canadians' spending habits.
Consumer spending was 6.68 per cent higher in the third quarter of this year compared to a year earlier, payment solutions provider Moneris reported in its latest quarterly report.
British Columbia and Ontario led the way in spending growth, with B.C. up 10.2 per cent and Ontario up 9 per cent.
Even in recession-ravaged Alberta, which lost 2.6 per cent of all its jobs in the past year, consumer spending is up by 0.3 per cent compared to last year.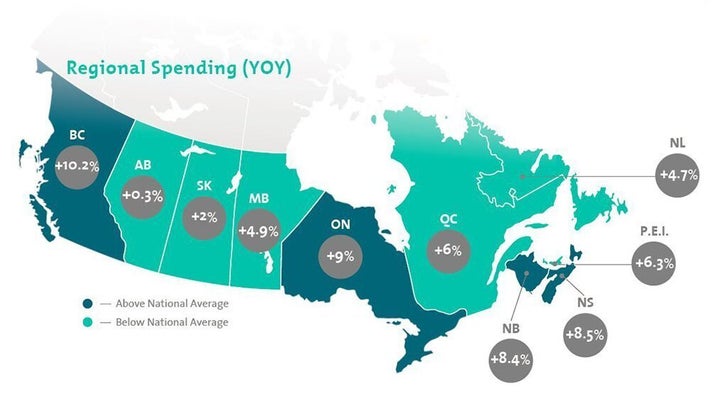 This despite the fact that consumer prices are up just 1 per cent, overall, in the past year, and the average Canadian's wages are up just 0.8 per cent in the past year. That suggests consumers are drawing down their savings or borrowing money to cover most of the increase in spending.
And that squares up with data from credit agency Equifax, which shows that consumer debt in Canada is rising at roughly the same rate as consumer spending. It was up by 6.9 per cent in the first quarter of this year.
All the same, the bump in consumer spending "suggests that Canadian consumers are feeling confident, and is a positive sign for retailers as we enter the busy holiday shopping season," Moneris President and CEO Angela Brown said in a statement.
It's all been made possible by years of low interest rates, which went even lower this year as the Bank of Canada twice cut its key lending rate, amid an economic slowdown in Western Canada due to the collapse in oil prices.
But with Canada's economy back in growth mode since the start of the third quarter, economists don't expect the BoC to lower interest rates any further.
And a growing number of experts say that the amount of debt Canadians have taken on is rapidly reaching its limit, and that will have consequences for those parts of the economy that depend most on interest rates, such as housing.
Dominion Lending Centres' chief economist, Sherry Cooper, recently asserted that with interest rates already near zero, Canada's housing market has reached a "peak," and the long run-up in house prices is bound to come to an end.
"With 70 per cent of Canadian households already owning their own homes and housing affordability declining … lending activity will inevitably slow," Cooper wrote.
The Moneris study also found that it's easier than ever to spend these days.
The study found use of tap-and-pay cards soared 162 per cent in the past year — "demonstrating the extent to which Canadians have embraced this quick, convenient and secure payment option," Moneris said.