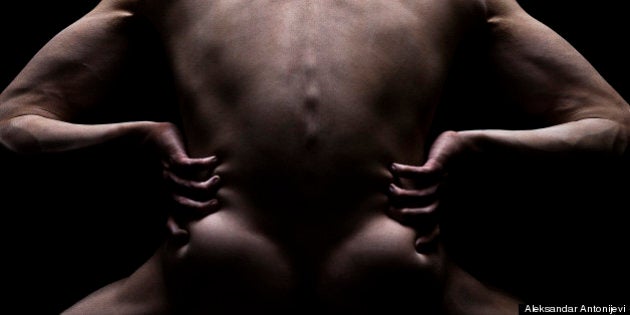 As an internationally acclaimed principal dancer and more than 20-year veteran of the National Ballet of Canada, Aleksandar Antonijevic has been photographed innumerable times, but only recently turned his attention to the opposite side of the lens.
With everyday access to some of the world's most physically impressive people, who wouldn't be inspired? It's perhaps surprising that there aren't more professional dancer/photographers like Antonijevic.
He shares company with other enviably multi-talented principal dancers such as Johan Persson, of both The National Ballet of Canada and The Royal Ballet in London, as well as The Royal Ballet's Andrej Uspenski, who recently published a book on behind-the-scenes photographs.
But Antonijevic's highly controlled approach to fine art photography in the ballet world is still rare.
In his solo photography exhibit for Toronto's CONTACT Photography Festival, Antonijevic worked with his mentor, notable magazine portrait photographer Markian Lozowchuk, to explore the capabilities of the human body to both express and withhold emotion in a collection called inFORMants.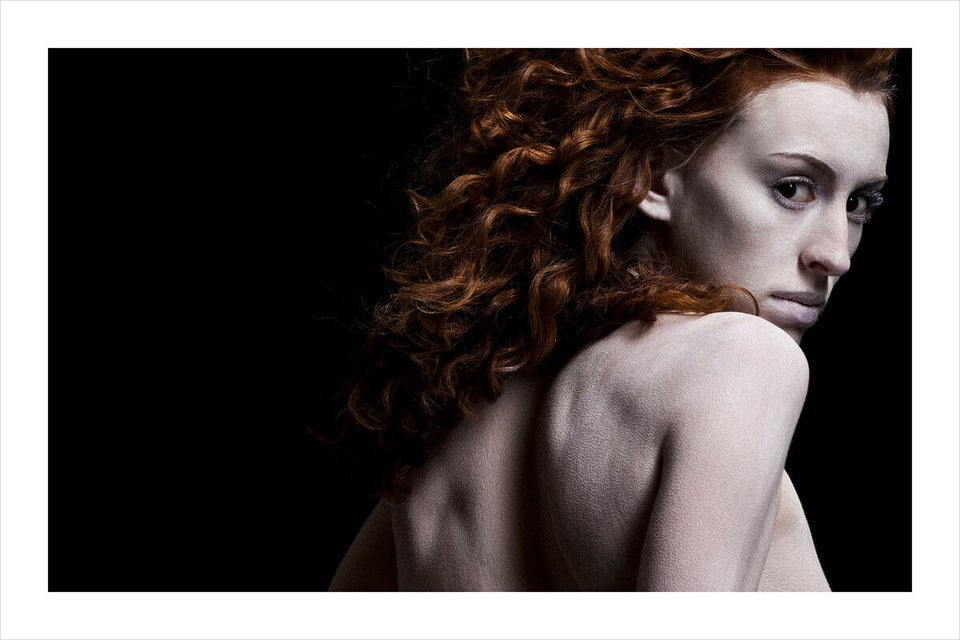 Aleksandar Antonijevic's inFORMants
Antonijevic spoke to The Huffington Post Canada about his work, obsession with the "moment of truth" and pushing the human body to the limits of possibility and pain.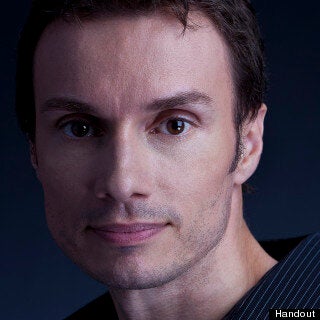 How did you start photographing?
Dance has nothing to do with photography, yet somehow it has so many connections in the sense that when we're in the studio and we're standing in the middle of this space, and you're looking in the mirror, all you're doing is you're looking for angles, you're looking for expression, you're looking for composition. So our eyes have been trained since we were kids to pay attention to these things. I've been photographed a gazillion times since I was a kid and at the time that I picked up the camera which was about three and a half years ago, I was thinking what am I going to do when I stop dancing? I really need this outlet to express what I see, to express what I feel, to express what I like. I thought many dancers become photographers because I think that it's a natural step and I thought I'm just going to pick up a camera and see what happens, whether I'll enjoy it. And what happened is that I got this camera, and the company, within two or three months, asked if I could shoot the dress rehearsal of Sleeping Beauty in Ottawa... the next day it was published in the papers.
What is your approach to fine art photography?
What I discovered is that obviously I love the documentary approach to this subject because I'm in it, still. I live it, I know the insides of it, I know what they go through every day, I have this admiration for dancers because we work like dogs, daily, and the discipline, and not only that but the creativity that has to be present. So, obviously I love shooting with the National Ballet, but at the same time I thought I have all these ideas that are going through my head, and then I started doing fine art photography and it was just like a new world. It was so creative and so fulfilling and I'm very controlling because as a dancer that's all you do, you're trying to control your body and your senses, so I'm very in charge from the beginning stage till the end, till I put a print on a wall.
What message are you trying to convey in your work?
It's an ongoing exploration of capabilities of the human body to express, to convey, to withhold, to reveal and my obsession, I would say, with the moment of truth and whether people let you witness it and document it, or whether they don't, and why is it they don't if they don't... And there were people that I thought were going to be very comfortable in their own skin and be able to be themselves and it didn't happen, and there were other people that surprised me.
How does dancing influence your photographs?
You understand the human body and there's no one that can understand or see the human body the way a dancer can because we train hours a day. You visually look, and then you put it into your body, and when you work with a photographer it's the same thing. They will say a word or a feeling or an angle and you'll be able to respond. I could shoot a human body in space with my eyes closed, because it's in my body, it's not just visually, I can feel it, what's going on. That's why I think it's a natural progression for a dancer to be shooting.
Ballet can be so punishing to the human body. How do you explore that?
Just this past season, our March season, which was so long and very very difficult, we did Nijinksy and then we did Romeo and Juliet and then we did a mixed program. I was looking at all my colleagues and thinking, "Oh my god, we're here every single day, we can't get out of bed we're in so much pain, half of us are injured," and yet here we are chasing this impossibility. It's really bizarre and then what I would say about my photography connected to that is that I think a lot of my ongoing exploration of the human form is also to do with live performance and what is it that makes someone go in front of 2,000 people and say, "Here I am. Take me as I am, love me or hate me." This last exhibit is also this exploration of when is it that a human being allows you to be present in their moment of truth as opposed to when you know the camera is there, you become something else. Why some people allow you to look at them they way they are, when they don't put on any airs. So I think this is an ongoing thing for me that I want to explore more and the reason I shoot these people that I do shoot quite often is because I feel there's a connection and trust there that they will allow me to come into their personal space and really witness their truth in the moment.
Have you done any self-portraits?
I feel that as a person I'm much closer to a photographer, because I've always been the person that observes, that notices details, that likes to witness something as opposed to being this person that is the object, and being judged and being on display and being on this precipice. You don't know whether you're going to succeed or not succeed and that's why I find it's still fascinating. I always mention Barbra Streisand, who at her stage of fame, all of a sudden developed stage fright and then didn't perform live for 18 years. And people say, "What? Are you kidding me?" One of the best singers of all time. And it's when you get to that level of excellence that it really becomes scary because you feel you have to live up to this name and stature and perfection that you really can't attain.
Has that ever happened to you?
Absolutely, as a dancer, for sure. Also, again I'm comparing my two careers. What I love about photography is that it's a very intimate exploration of what I'm trying to say, so I'm in the studio with my people, and my crew, and we do the project, I look at them for months, I chew on them, I work on them, then I distill from 10,000 images down to 20 images that are going to be on exhibit and it's done. Then it goes on the wall and people can come and judge but it doesn't affect me personally, because I've already explored the subject. I'm just showing it to you now. As a dancer, you are doing it on the spot, creating, where you are being judged. So (dancing) seems somehow more personal and more hurtful, I don't know why, so it's been very interesting to compare what it feels like now, being a creator as opposed to a dancer.
How does ballet punish the human body?
We get treated at a sports medicine clinic where you have hockey players, tennis players, skaters, and whenever we cross paths, they cannot believe what kind of athletes we are. And you know people sometimes look at ballet and it's all very pretty, but ballet, especially today, it is so physical and it really is pushing the human body to its limits. We are asked to be very in shape, as in thin, yet we're asked to be super strong. We're asked to be compact in air, to be able to do hard technical steps yet we're asked to be super flexible, which are on opposite sides of the spectrum. You can't be super flexible and super compact but all of these things are required of us as dancers physically and then on top of that you can't be showing strain, you can't be showing pain. You're pouring sweat, you're exhausted, you're supposed to portray a character... For patrons who maybe watch a performance from the wings, they can't believe when we come off we're panting, we're dripping with sweat, because on stage it looks so wonderful and so free and easy.
How does ballet breed insecurities?
When you say insecurities, we have been chosen for our very suitable bodies for ballet, because many people start ballet and they drop out because they can't do it, they're physically not talented or genetically...so we are the cream of the crop and on top of that you have choreographers, directors, coaches, who demand and always correct, all day long, you're just correcting and correcting to be better, and people look at us and say, "My god, you're beautiful people and you have beautiful bodies. What do you have to worry about?" And it's actually when you're closer to that ideal that you get even more insecure because you know that you'll never get there. Somebody who's not that good is maybe doing ballet recreationally or in some small studio company, they can't even comprehend where the top is.
As a photographer, when I approach and work with these beautiful people, I really want to make sure that they understand that it's a gift to just be here, first of all, and then on top of that enjoy your beauty, and let me document it and share it with people.
Is there anything you're insecure about?
Think about how you would feel if you had to go in front of 3,000 people and do something, whether it's a speech, whether it's a dance, it's very intimidating and I don't know why that is. After 25 years of dancing professionally I'm still trying to understand that and I think that also translates into my photography, understanding what that means. Sometimes I drape these bodies and faces in cloth because I feel like there's just this small barrier that will make them relax and let me me document that moment. I felt like it was giving them a guard of some sort. Even though it's completely sheer and they're completely naked.
inFORMants, will be on display at Yorkville's Berenson Fine Art gallery from May 2 to 30.
Popular in the Community