EDITOR'S NOTE: Is Justin Trudeau the saviour of the Liberal Party of Canada? Will he one day be prime minister? As the son of one of Canada's most popular leaders, Trudeau was never far from the political spotlight, but in recent years the MP for Papineau has sought it out. Now he's running to take charge of the party his father once led.

In the new eBook Contender: The Justin Trudeau Story, The Huffington Post Canada's Ottawa bureau chief Althia Raj paints a vivid portrait of Trudeau's formative years in Ottawa, Montreal and Vancouver and takes us behind the scenes of his rapid political ascent.

Read the first two chapters below and return daily to HuffPost Canada for the latest instalment, or download the full book now, free of charge, for any device like Kobo, Kindle, iPad or on PDF.
Ladies and gentlemen, his opponent from the red corner, 180 pounds, the Papineau pugilist. Please welcome, Justin Truuuuuuuuuuuuuuuuudeauuuuu!
His eyes are closed, his head bobs under the hood of a bright red robe. There are cheers and loud boos. Trudeau is the underdog, we've been told.
Look closely. There is a hint of a smile – some might call it a smirk – on the corner of his mouth, as if he knows how this will end.
Sun News host Ezra Levant tells the network's television audience: "He's wearing Liberal red, of course. I call him the shiny pony. He looks like he's in some sort of Zen yoga trance. All that dance training, that ballet training, it's going to come back tonight."
Co-host Brian Lilley: "Ah, there's his mother cheering on in the crowd, his wife sitting immediately behind us at a table of women. All have pink boxing gloves with them."
Levant: "I heard he wanted to use the pink boxing gloves, but that was vetoed by the Sun News Network."
Lilley: "Ooh, ooh... Ezra going for the... "
Levant: "...I saw him skipping rope..."
Lilley: "The low blow ... "
Levant: "He skips like my four-year-old daughter!"
Lilley: "The low blows before it's even started from Levant, but Trudeau walking in. He's got a determined look on his face."
Levant: "Yeah, he's a drama teacher. He's a high school drama teacher. This is called overacting, my friend. He's a dramatic thespian."
Ottawa has seen nothing like it. In the weeks leading up to the bout, there was a simmering Twitter rivalry, macho taunts and a topless weigh-in that featured Brazeau, wearing only a Speedo-like swimsuit and a headband, boasting about the size of his manhood.
The fight itself? It's over long before they can ring the bell on the third round.
In those five minutes in the ring, you learn everything you need to know about Trudeau, the man who wants to be prime minister, as he seeks the leadership of the moribund federal Liberal party.
He may not look like a traditional fighter, but he isn't afraid to get dirty.
He is often underestimated and relishes the role of the underdog.
He does little to dissuade people of their low expectations.
He will, when focused, outwork his competition.
He knows optics – loves the spotlight, and it loves him back.
He's shrewd, calculating.
And, as he has shown from the hustings in Papineau, to that boxing ring in Ottawa, to his efforts to grab the leadership of the Liberal party, Trudeau picks fights he expects to win.
Story continues below illustration.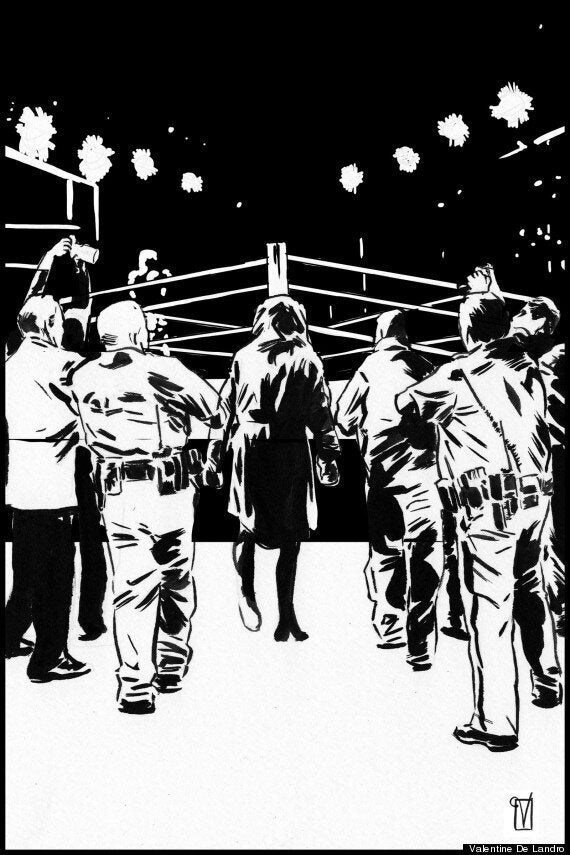 Hands in his pockets, Justin Trudeau swaggers into the conference centre lobby of Vancouver's swanky Westin Bayshore hotel. He's dressed in a slim navy suit and baby blue shirt, the top two buttons characteristically undone. Later this day, he'll wear a dark blue and yellow tie to spruce up the ensemble for the federal Liberal leadership candidates' first debate. (The red tie is nixed at the last minute to ensure that he stands out on stage against his four male competitors, all of whom, as predicted, wear red.)
Not that standing out is difficult. The 41-year-old politician sports brown wavy hair, trimmed to give him a more mature look. His skin is sun-kissed from a recent family holiday in Morocco.
Morning jitters appear to have calmed. The yoga session did the trick. Or maybe it was his walk along the Stanley Park seawall. Now, he is ready for the media and public attention he knows he attracts. As he chats with campaign volunteers, cameras flock to him like paparazzi to an A-list celebrity. Gerald Butts, his principal adviser, takes the role of unofficial photographer as dozens of Liberals seek to have their picture taken with the star candidate.
Some of the volunteers working the information tables of other leadership candidates look on with disdain as Trudeau shakes hands, poses for pictures and engages in small talk.
Story continues under gallery.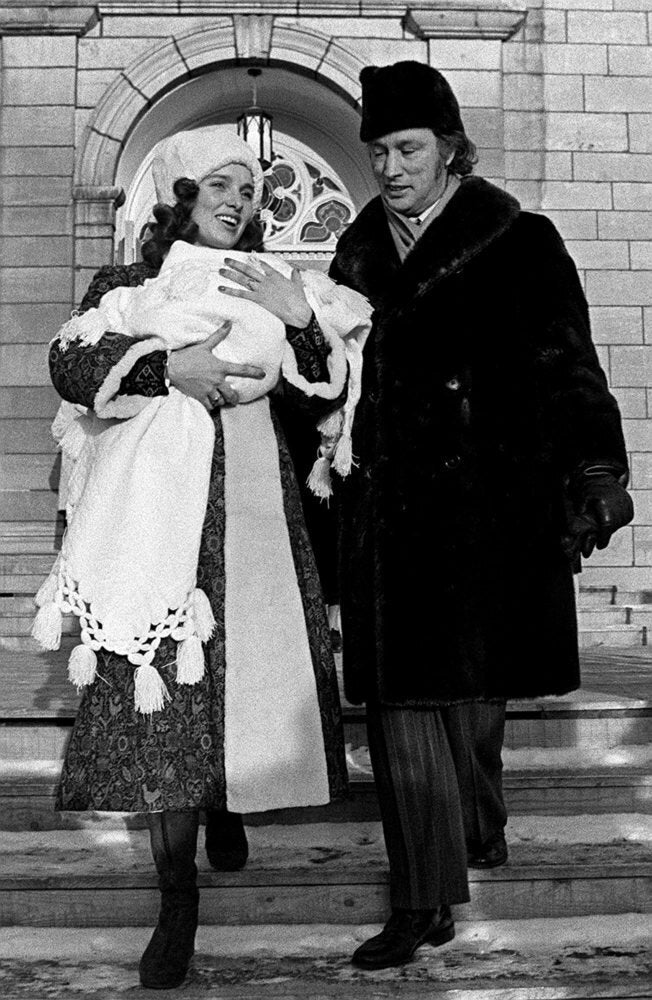 Justin Trudeau Through The Years
"He is amazing and I love him," Kosnica says of Justin. She was always fond of the elder Trudeau. "I am so happy that he is interested in politics the same way his father was."
Trudeau, the eldest child of Canada's 15th prime minister and Margaret Sinclair, enjoyed a moneyed and privileged upbringing. It's easy to dismiss him as a dilettante, someone who dabbled in a wide range of academic and professional pursuits, committing fully to none, until his political destiny came knocking.
What has he done to deserve the leadership of a party that has held power for 84 years of Canada's 146 since Confederation?
He has a flare for the dramatic, in speech and action, and once referred to himself in the third person. When he gets excited, his narrow shoulders jump up and down and his arms flail about. He won't hesitate to take off his shirt or sport ridiculous facial hair for charitable causes. At times, he looks like a caricature of himself.
Trudeau has difficulty expressing himself. He is at once a staunch federalist but has said he might accept the breakup of the country and Quebec's independence if Stephen Harper moved the country so far to the right — on issues like abortion and gay marriage — that Canada was no longer recognizable to him.
He favours the Liberals' long-gun registry but as prime minister would not bring it back, except maybe in Quebec. He wants to run the country, but in his four years in Parliament has never brought forward a piece of legislation.
To his supporters and even some of his enemies, little of that matters. His good looks mask an intellect and work ethic that often go unnoticed, they say. Like boxing's best contenders, he's strategic, self-aware and takes calculated risks.
Trudeau, they say, is smarter than people give him credit for and should not be underestimated.
CHAPTER 2. AN UNUSUAL EDUCATION
Justin Trudeau's c.v. does not read like those of most politicians: camp counsellor, white water rafting instructor, bungee jumping coach, snowboarding instructor, bouncer, high school teacher, radio host, engineer school dropout, grad school dropout, not-for-profit administrator, public speaker, member of Parliament.
His fans see the path of a smart, athletic young man who wasn't sure what he wanted to do. For critics, it's the résumé of a rich kid who can't commit.
At McGill University, where he earned his bachelor of arts in English and started his bachelor of education (he completed it at the University of British Columbia), Trudeau was a good student. He joined the debating union and worked as a peer leader for the sexual assault centre.
At the time, he was head over heels in love with a girl named Zully (pronounced Soolee), the daughter of a Colombian engineer who had moved his family to James Bay when she was an infant and then later settled in Montreal. The two had met at Collège Jean-de-Brébeuf, a private French Jesuit school that Pierre had also attended. Justin thought he would marry the young woman. She was gorgeous: brown skin, long curly black hair, brown eyes.
Then she dumped him and broke his heart.
The two dated for three years, plus another two on and off. In hindsight, Trudeau said the relationship was like any other first big love. "Always tough to end that first big relationship," he wrote in an email.
After graduating with his bachelor's degree in 1994, Trudeau, along with his longtime friend Mathieu Walker and two high school buddies, took a year off to travel the world. They started in London, and with 20 or so Brits, Australians and Finns, rented a modified truck and drove across France and Spain to Gibraltar. They caught a ferry to Morocco, travelled across the Sahara for three months, flew from Benin to Moscow, popped over to Finland and took the Trans-Siberian Railway east, eventually making their way to China, Thailand and Vietnam.
Story continues under image.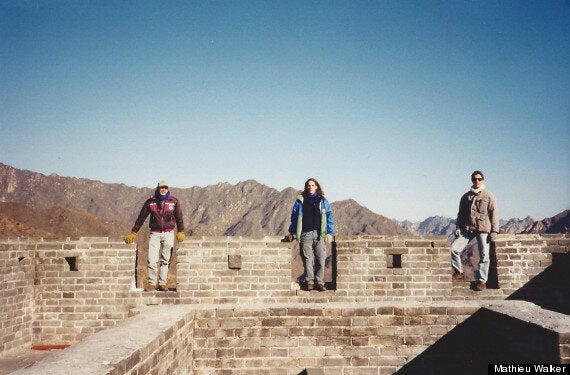 Justin Trudeau with friends Mathieu Walker (left) and Allen Steverman (centre) at the Great Wall of China in 1994.
"I think Justin learned a lot on that trip as well, because, in the middle of the Sahara desert, no one cares about your name, no one cares who you are," Walker says.
In Africa, Trudeau decided to shave his long flowing locks on a lark. He thought it would be funny to pose like a celebrity mug shot, post-arrest.
"It was funny for like a day, but then he realized what he had done," Walker says. A few days later, Trudeau fell on his glasses and had to repair them with thick white tape. The handsome scion of a prime minister was suddenly a nerdy looking traveller in the middle of Africa with short-cropped hair and taped-up glasses.
"I think it took him down several notches," Walker says.
Trudeau and his friends, on similar tight budgets, cooked their food and camped. They had tense moments at border crossings when bribes were demanded and they feared losing their passports.
"I think he grew a lot just from this experience. I think it was a valuable character-constructing experience for him," Walker says.
Story continues under image.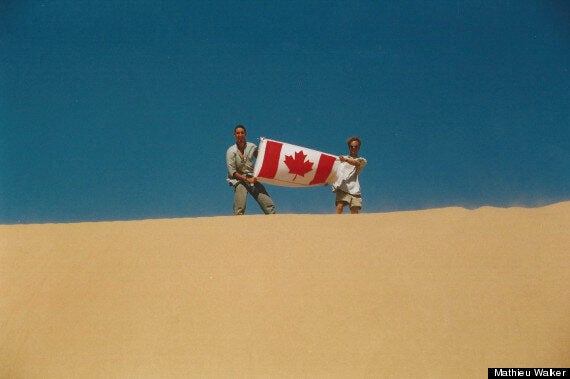 Justin Trudeau and friend Mathieu Walker in the Sahara desert in October, 1994.
Trudeau returned to Montreal to start his bachelor of education at McGill and two years later headed West. He wanted to get out of the "fishbowl" of Montreal and lead a more anonymous life, Butts says. He headed for Whistler.
Sean Smillie remembers the first time he laid eyes on Justin Trudeau, now a close friend. "He was wearing a ridiculous fireman's coat – an actual fireman's coat," Smillie says. "It was big and black, with yellow stripes and clasps on it."
Smillie, a B.C. native, was running a snowboarding program at the Whistler Blackcomb ski resort and was told that Trudeau would be one of his instructors. Trudeau would spend the week in Vancouver, attend classes at UBC and on Fridays drive his beaten-up Mercedes to Whistler. He slept on Smillie's couch for years, and the pair spent Saturdays and Sundays either teaching teenagers to snowboard or hitting the slopes on their free passes.
It took Smillie a few months to realize who his new friend was. He assumed Trudeau was a common French surname because so many French Canadians he had met on the ski hill shared the same last name. The discovery of his lineage had no effect on their friendship.
They watched B-horror movies, ate too many ramen noodles and discussed movie scripts. At the time, Smillie, who now runs his own video game company, Planet Fiction Studios, was trying his hand at scriptwriting. Trudeau offered advice. He was very creative and quite strict on grammar, Smillie says.
"To this day, we have been arguing one or two sentences that I wrote years ago in a werewolf script, just about the proper grammar," he says. Trudeau would make suggestions and Smillie would snap back: "It's a werewolf script. That's the way people talk in werewolf scripts."
The two hung out with what Smillie describes as a smart group of ski bums. They talked about books but never politics. They weren't big pot heads. Although everyone around them smoked marijuana, Trudeau says he only had a puff or so infrequently with friends and never instigated. He never smoked cigarettes, so any inhaling was invariably followed by unpleasant coughing, he says.
Story continues under the image.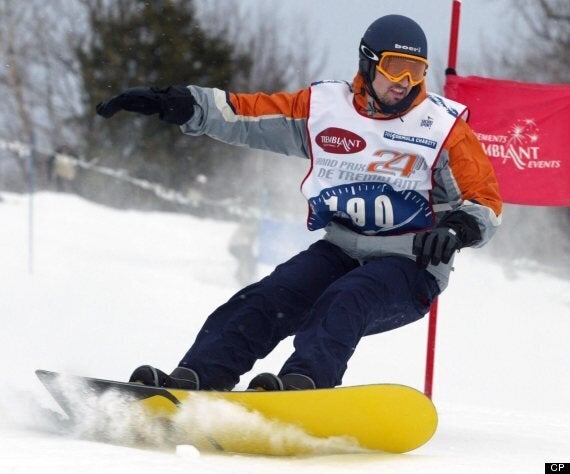 Justin Trudeau carves through a gate during a celebrity slalom race in Mont Tremblant, Que. Friday, Dec. 12, 2003. Trudeau worked as snowboard instructor in Whistler in B.C.. (Ryan Remiorz/CP)
Smillie and Trudeau used their savings and tips instead for cheap beer, nachos and Jack and Coke at the Cinnamon Bear, a lounge at the base of Whistler Mountain. Trudeau prefers beer, but he still enjoys Jim Beam and Coke over ice – a drink that Smillie says he introduced him to because "it tastes so good and no one realizes how hammered you are."
Out in British Columbia, Trudeau never had a serious girlfriend. There were lots of girls, but they didn't stick around.
Trudeau was "smooth-ish" with the ladies, charming in an awkward goofy way, Smillie says. "We were all young and single, hanging out in Whistler together. So yeah, that was another big pursuit," he says with a smile.
And although Trudeau had some money, he didn't show it. Like his friends, he worked odd jobs to help pay the bills. At night, he served as a doorman at a bar, the Rogue Wolf nightclub. Tall and lean, he didn't have the build of a bouncer. "It was definitely his outgoing personality and his charm that got people out of arguments and fights," Smillie says.
On the ski hill, Trudeau was a menace. He was gangly and knocked kids down as he tried to help them. Riding next to him was like "riding next to a giant giraffe flailing and wailing all over the place," Smillie says. "Thankfully, he's toned that down a lot, but I still see it coming out when he gets really excited. You know the dramatic and the verbose, he was always like that."
Trudeau taught the more rambunctious teenagers. The program, Ride Tribe, was designed for 13- to 18-year-olds. Trudeau would teach them to snowboard, and when the kids got tired, he would build forts and organize snowball fights. He was always good with kids.
Eventually, Trudeau, Smillie and their group of friends tired of Whistler.
"Whistler was like Disneyland, but intellectually it was pretty weak," Smillie says. They packed up their gear and got grown-up jobs.
By this time, Trudeau had earned his bachelor of education degree. He had taught as a supply teacher and now had a regular teaching gig at West Point Grey Academy, an elite private school where tuition is now $18,000 for Grades 8 to 12.
Between 1999 and 2001, Trudeau taught elementary school math and high school French, humanities and drama, taking over a class when a teacher went on maternity leave. Trudeau's boss, the head of the senior school, Stephen Anthony, describes him as "highly valued, spirited and enthusiastic teacher" who was liked by staff and students.
Although Trudeau spent most of his teaching time at West Point Grey, his campaign plays down the fact that he taught mostly rich kids.
During an interview with Global BC this January, in which he stressed his B.C. connections, Trudeau fibbed and said he had spent more time teaching at Sir Winston Churchill, a public school, than at West Point Grey.
"I lived here for five or six years, I absolutely loved it. I did a large part of my teaching here. And I was teaching mostly at Winston Churchill secondary school up on Oak. And I loved it," Trudeau told interviewer Jas Johal.
At a $500-a-person fundraiser at the Quilchena Golf and Country Club in Richmond, B.C., later that evening, former Liberal MP Herb Dhaliwal introduced Trudeau as someone who taught at Sir Winston Churchill, a school that Dhaliwal attended. He never mentioned West Point Grey.
Sir Winston Churchill Secondary School's principal, Jack Bailey, says nobody left at the school remembers Trudeau. "Nobody recalls him, nobody recalls anything," he says over the phone.
Bailey did remember Trudeau from a few of his stints supply teaching at another Vancouver school, Prince of Wales Secondary. "All the women thought he was Mr. McDreamy," says Bailey, who was vice-principal there at the time.
Many of the students at West Point Grey remember Trudeau fondly. Cameron Sinclair had Trudeau as a French teacher for Grades 10 and 11 and a drama teacher in Grade 12. He was also on the Ultimate disc team that Trudeau coached and liked him so much that he asked if he could job-shadow his favourite teacher on the weekend once at Whistler. Trudeau agreed.
"If I could have had every teacher to be like him, guaranteed I would have done better in school," the now 29-year-old says. Trudeau's door was open and he was always ready and willing to lend a hand.
The endorsements are not universal. Nicole Jinn, now 25, had Trudeau as a French teacher in Grade 9. In a phone interview from Blacksburg, Va., where she is finishing her masters degree, Jinn says she remembers Trudeau as an average teacher, someone who was involved with student groups and who hung out with the popular kids.
"I do recall what seemed to me like a favourite group of students who he would hang around with more," she says. "In terms of his teaching, there was nothing spectacular but nothing horrible either."
She was an extremely shy student and says Trudeau, like all the other teachers at West Point Grey, did nothing to reach out to her. "I was just not fitting in well with the school, and he was no exception to the teachers playing favourites with groups of students."
But for Sinclair, Trudeau was an inspirational teacher. "I learned to trust him as a teacher and as much as people say you can't trust politicians, I think he is one that you can."
Smillie, who visited Trudeau's classes, says he was surprised his friend didn't stick with teaching.
"I just thought he was a brilliant teacher," Smillie says.
In Vancouver, Trudeau shared a beautiful apartment at the corner of 12th Avenue and Granville Street with another West Point Grey teacher he had met at UBC, Christopher Ingvaldson, and his wife, Pansy. Their place was a hub for dinner parties and get-togethers.
"That was always a big thing with Justin, I always marvelled at his ability to bring people together... I met a tonne of friends in Vancouver through him," says Smillie, who also lived in the fourth-floor apartment at one point.
Thomas Panos, another friend of Trudeau's who lives in Vancouver, says Justin's wit, humour and a sarcastic bent drew people to him. Whenever they went to bars, boys and girls would gather around. "You never got him alone, unless you went to the restaurant or you stayed at home," Panos says.
In Vancouver, Trudeau stayed the uncommitted lady's man. "He kind of liked it that way," says Panos, who runs a travel agency. Trudeau's friends took great pleasure watching him deal with the women who routinely threw themselves at him.
"There are a lot of fun stories about being at parties on 12th and having him juggle what was going on inside. It was hysterical to watch. Nothing bad, it was just he'd have three girls at one party who were all sort of interested in him and he's trying, going 'They are all here, what am I going to do?' sort of thing. And it was really funny watching him," Panos says.
Trudeau was a bona-fide chick magnet, despite the hideous tie-dyed kangaroo he wore incessantly.
"A tie-dyed pullover and he got more action in that pullover than I have got in my entire life," Panos says.
Even his aunt, Janet Sinclair, remembers the female attraction to young Justin. "My sister has two young, pretty, blonde daughters, and they would all be there, and it was pretty funny, because all the girls were after Justin, and they were giving these young girls the glare not knowing that they are Justin's cousins," Sinclair says laughing.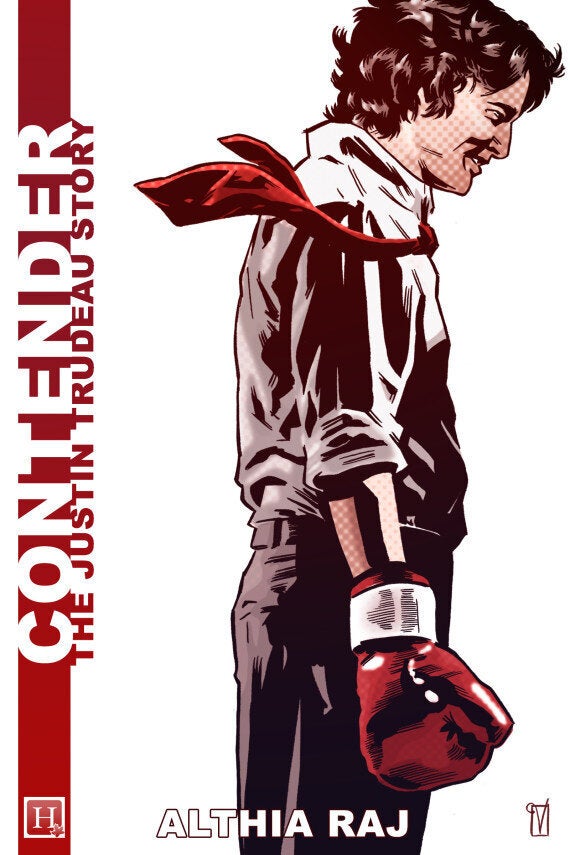 Popular in the Community