EDITOR'S NOTE: In the new eBook Contender: The Justin Trudeau Story, The Huffington Post Canada's Ottawa bureau chief Althia Raj paints a vivid portrait of Trudeau's formative years in Ottawa, Montreal and Vancouver and takes us behind the scenes of his rapid political ascent.

This is the second of five excerpts. Read Part 1 here. Return daily to huffingtonpost.ca for the latest instalment, or download the full book now, free of charge, for any device like Kobo, Kindle, iPad or on PDF.
The bookies have already decided on the charity fight between Liberal MP Justin Trudeau and Conservative Senator Patrick Brazeau.
"Brazeau's a big favourite to win, we're saying there's an over 80-per-cent chance that he will win this fight," Adam Burns, the sports book manager for online casino Bodog.ca, tells Metro Ottawa. "Trudeau is a 3-to-1 underdog. Basically what that means from a gambling perspective is you would win three times your money if he wins."
Brazeau's black belt in karate and his physical strength have most convinced he is unbeatable.
"I wouldn't be surprised if Trudeau got knocked out or at least fell down once in this fight," Burns says.
"I'm a better boxer than him; we're not doing karate," Trudeau tells the CBC's Julie Van Dusen.
"Boxing is muscles, yes, but it is also heart and brain power, strategy, and I think I'm going to beat him on all three of those things."
"You think you have a bigger brain than he has?" Van Dusen asks.
"I think I'm smarter," Trudeau says. "Certainly, he's gone into this announcing to everyone he is going to win, which means unless he wins decisively and early on, everyone will say 'Oh it was obvious he was going to win,' so he doesn't even win much. I go in as a massive underdog, nobody expects me to do well at all. If I do well, let alone if I win — when I win — everyone will realize that there is a possibility that Justin Trudeau knows what he's doing."
Trudeau knows exactly what he's doing.
This fight is about more than boxing for charity and so he takes no chances. Over five months, he trains in Ottawa twice a week with Final Round Boxing club coach Matt Whitteker — who also trains Brazeau. And on weekends in Montreal, he has his own coach, Ali Nestor.
"He's a really, really hard worker," Whitteker, a self-described Conservative supporter, says. "When he got in the gym, he was 1,000 per cent focused on the task at hand."
No stranger to the gym, Trudeau has been boxing since his early 20s, drawn to the sport because "it was about hitting and it was about getting hit, and it was about real physical toughness in a way that I knew I relished," he says.
Trudeau skips rope and run stairs at Carleton University, learns to throw a better jab and a right hand. By the end of training, he spars against better and larger opponents. His wife is worried he will get seriously hurt in the bout, so he brings her to his Montreal gym to see him spar against bruisers bigger than Brazeau. She leaves with more confidence.
"Justin was really, really focused. His skill level increased, but it was more that he took really, really good instructions," Whitteker says. "He had Pat (Brazeau) go out and basically try to kill him, and he stayed relaxed, stayed focused and kept a calm, cool and collected head. And he ended up doing exactly what he was coached to do.
"I'm just saying that those traits are emblematic of what you'd want in a leader."
CHAPTER 3: A POLITICAL FAMILY
Sitting in a beige sofa chair in the warm yellow living room of her second-floor Vancouver apartment, his aunt Janet Sinclair, Margaret Trudeau's second oldest sister, says it was always assumed that her nephew would follow in his father's footsteps.
"It has always been talked about that Justin would be prime minister," Sinclair says. "My dad had hoped to be prime minister but didn't. I think with Justin it is just something that is in his blood. Politics is in his blood."
Many Canadians remember the day Justin Trudeau was born. He arrived on a snowy Christmas evening in 1971, less than 10 months after his father, prime minister Pierre Elliott Trudeau, at age 51, had surprised the country by marrying Margaret Sinclair, a flower child 29 years his junior.
It was a Saturday and the nation's newspapers were still leading with the news of his birth two days later. "6-pound, 9-ounce boy born on Christmas to Trudeaus," read a headline in The Globe and Mail. "It's a son for Margaret and Pierre," said The Ottawa Journal, displaying a large photograph of Margaret and the Ottawa Civic Hospital. Justin's birth was the first for a sitting prime minister in 102 years. Thousands wrote to congratulate the couple. Hand-knitted baby sweaters, bonnets, bibs and booties flooded 24 Sussex Drive, the prime minister's residence.
"Every woman in Canada seemed to have knitted her appreciation of the event," Margaret Trudeau wrote in her book Beyond Reason.
His aunt, who often stayed with the boys in Ottawa, remembers Justin as a smart, caring kid, with a great sense of humour, who loved being outdoors and was exceptionally good with children. She remembers him organizing diving competitions for all his cousins one summer at the lake.
Story continues under gallery.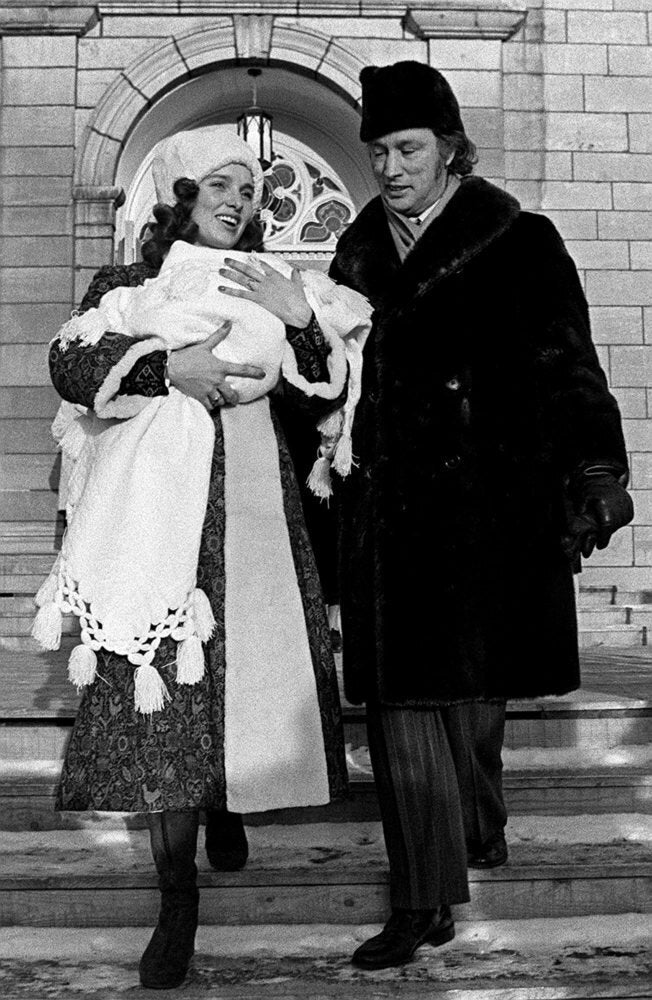 Justin Trudeau Through The Years
"He was a good kid. He followed rules. Obviously, he wasn't perfect. No child is ever perfect, but he was good," she says.
Like his brothers, Alexandre (Sacha), who was also born on Christmas two years later in 1973 and Michel (Micha) born on Oct. 2, 1975, Trudeau spent his early years in the public eye. The boys were mini-celebrities – regular features on their father's Christmas cards and the newspaper pages.
It didn't hurt that Trudeau was especially photogenic. As a baby, he had blond locks and skin that tanned easily. His mother described him as a cheerful, bright, "manically energetic little boy."
As a toddler, Justin was allowed to run wild during events at 24 Sussex. After the separation of his parents in 1977, he occasionally tagged along on his father's business trips. Reporters ate it up. During a 10-day European tour in 1980, they wrote about how the eight-year-old had made loon cries on the steps of the Lapp museum in Norway and how he had refused to go to bed so he could take a helicopter tour with his dad to see the midnight sun.
Story continues under image.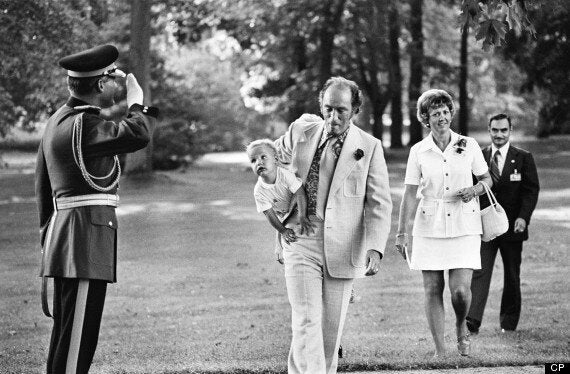 By the time he was 13, Trudeau says he had visited about 50 countries.
Even then, he seemed to like the attention. A superb mimic and practical joker, he was a jovial kid who liked to make others laugh.
Fellow Liberal MP Dominic LeBlanc, a childhood friend and the son of former governor general Roméo LeBlanc, babysat the Trudeau boys and taught Justin how to make crank calls. LeBlanc was only slightly older, 14, when Trudeau was 11.
Using a list of parents' phone numbers from Rockcliffe Park Public School, they would call some of the mothers, assume fake identities and set up coffee dates, he explains. They used the yellow pages for classic pranks.
"Well you better run after it," LeBlanc recounts.
"We'd giggle and hang up," he says.
Justin could be a clown. He rode a unicycle in Ottawa and later as a highschooler in Montreal when he attended Collège Jean-de-Brébeuf. His staple of party tricks include the ability to fall down stairs without injury, yo-yo tricks and a flair for drawing.
The Trudeau boys, friends and family explain, are fearless, a trait many attribute to their father. It's why they excel at certain sports such as white water canoeing, backcountry skiing, snowboarding for Justin and mountain biking for Sacha. Trudeau once told a Radio-Canada program that he had two fears as a child: needles and waterfalls. Then he started giving blood regularly and became a white water rafting instructor.
His father, Justin says, taught his children to rise above what was safe and easy.
Some say the boys take unwarranted risks, as when Trudeau's youngest brother, Micha, was swept into Kokanee Lake in 1998 after he was caught in an avalanche while backcountry skiing in B.C.
The death rocked the family and shocked Pierre, who appeared to age overnight. Micha was a happy-go-lucky guy who loved the outdoors and had little interest in politics. He built bridges between his brothers. His death hit Justin hard.
It was a really dark time, Trudeau's longtime friend, Walker says. "He got stronger from it. It didn't take him down. It made him stronger."
Justin's relationship with his middle brother was always rockier. Sacha, now a freelance documentary filmmaker, is perceived as the intellectual in the family. When Justin decided to make the leap into federal politics, several Liberals thought the wrong Trudeau boy had made the plunge — and they didn't hesitate to tell him.
Where Justin is the family extrovert, Sacha is the opposite: he can be more aggressive, belligerent and impatient; he takes longer to warm up to. Although the two are close, they often argue.
As for Justin, he has a charisma and a magnetism that draw people to him, like his father. But like his mother, he's exuberant, warm and affectionate. Justin likes the spotlight, craves it. He wants people to like him and makes friends easily. At times, he has a thin skin.
"Justin is an emotional person. He's not a cold person, he is emotional. He is human," his aunt says.
Trudeau was a fun kid, but he was always serious, Sinclair adds, especially after his mother's mental health problems and his parents' separation.
"I think when Margaret was so sick and left, Justin took on a lot of the responsibility… . I think for a long time he thought it was his fault that his mom left, like the usual kid thing, and I think he sort of bore that as the oldest."
Story continues under image.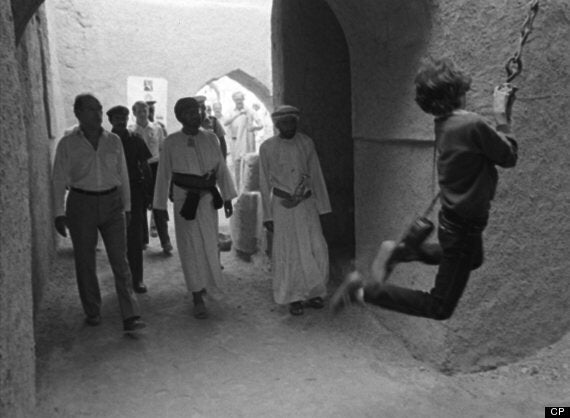 Then-prime minister Pierre Trudeau, left, watches as his 11-year-old son Justin swings on a chain during a tour of an old fort in the Omani town of Nizwa Dec. 2, 1983. Trudeau and Justin spent the day visiting the towns of Jebel and Nizwa 165 kilometres south of Muscat. (Andy Clark/CP Photo)
Trudeau was always protective of his mother, but he was extremely close to his father, who raised the three boys as a single parent after Margaret left. Pierre told an interviewer once that he thought Justin was more similar to him than his other boys.
But Trudeau's aunt says Justin most closely resembles her father, James Sinclair, a four-term Liberal MP for Vancouver North who served as fisheries minister under prime minister Louis St.-Laurent. Like her dad, Justin is outgoing, approachable, likeable, and remembers names, she says.
"Justin is not as disciplined as his father (Pierre) was … Sacha is more like Pierre."
"(But) Pierre had a twinkle, he liked to play tricks and fool people too. And Justin has that for sure," Sinclair adds.
While he doesn't often raise his voice, Trudeau likes a good debate and can mount a strong argument. Intelligence, his aunt Janet says, comes from his mother. People probably don't think Margaret is intelligent, "but Margaret was by the far the brightest of all of us," Sinclair says.
Trudeau the high schooler was a natural leader, says friend Mathieu Walker, now a cardiologist at St. Mary's Hospital Center in Montreal.
The two met in a Montreal school cafeteria in 1984, when Trudeau was in Grade 8. Walker was among the few bilingual students at Collège Jean-de-Brébeuf. He, Trudeau and a group of five other "anglo" guys started hanging out. They called each other "The Gang" and are close to this day.
Trudeau didn't stick out at school, except for the RCMP escorts who drove him to and from the Collège, Walker says. Trudeau's home was certainly unusual. The iconic Cormier House at 1418 Pine Ave. was filled with artifacts collected during Pierre Trudeau's tenure as prime minister. The marble-walled home wasn't very welcoming, and Walker was surprised that Justin's room was smaller than his. No one got the sense that Trudeau was rich, Walker says.
"I think his dad made a point of not spoiling his kids."
Story continues under image.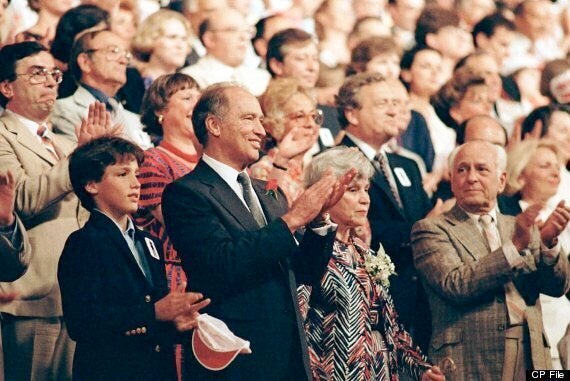 Then prime minister Pierre Trudeau, with son Justin, left, applauds during a Liberal convention in Edmonton on June 14, 1984. (CP PHOTO/The Edmonton Journal-Chris Schwarz)
Walker recounts a lunchtime school break when Trudeau decided the two boys would explore an old abandoned hunting club near the school. The police were called and the boys ended up serving detention.
"I decided not to follow Justin without thinking about it first next time," Walker says. "He's a good charmer. He can make terrible things look sometimes good."
When asked about Trudeau's political career, Walker gets embarrassed explaining the gut feeling he always had about his friend.
"I can't explain it to you … I guess because I'm a doctor and I really shouldn't be talking this way, but I always felt that this was his destiny," Walker says.
It wasn't that Trudeau was a particularly politically active student; he wasn't. He wasn't class president or a card-carrying Liberal. He was focused on the "now" and completely apolitical.
Still, Walker always knew that, at some point, Trudeau would enter politics.
"I just felt that that was his path, that was meant to be from an early point in time. I just felt that that was going to happen," Walker says. "Sometimes Justin would say, 'Nah, nah, nah,' but I never felt convinced by his no's. I always felt that when the time was right, he was going to make the leap. And so when he did, I wasn't surprised."
Canada has its own history of political dynasties. W.A.C. Bennett and his son, Bill, were each premier of British Columbia. Quebec premier Daniel Johnson's two sons, Pierre-Marc and Daniel, served short stints as provincial premier under different party banners. Prime minister Paul Martin Jr.'s father, Paul Martin, was a longtime Liberal cabinet minister. NDP leader Jack Layton's father, Robert, was a Mulroney cabinet minister; his widow is MP Olivia Chow, and his son, Michael, is a Toronto city councillor.
In the east, there's the MacKay family; in the west, the Mannings. But none has enjoyed the same sort of popular appeal as the Trudeaus.
When Trudeau is asked whether he considers himself part of a political dynasty, his answer: "...Dynasty? Nah."
"Dynasties are about passing on hereditary titles and there was nothing hereditary or inevitable about going into politics or me even being successful in politics," he says.
Still a backbencher, Justin Trudeau is already of one Canada's best-known and most recognized politicians. Searches for his name outrank all other politicians but Stephen Harper. On his recent trip to Kamloops, B.C., 600 showed up to hear him speak. Organizers had hoped for 200. A bar where Trudeau was holding a Monday evening meet-and-greet in Ottawa's eastern suburb of Orléans had to stop patrons and curious onlookers from coming in because it had reached fire capacity of 220 only 10 minutes after Trudeau had arrived. University halls are often backed wall-to-wall. Overflow rooms to accommodate all those interested in hearing him speak are not uncommon.
Trudeau knows the fascination around his candidacy is because of his last name and his father's legacy. At times, he embraces it, evoking his father's accomplishments in his speeches, talking up the Canada that once was. Other times, he shuns it.
When Justin is introduced to a group of staunch Liberal supporters at a Richmond fundraiser earlier this year by former Liberal MP Herb Dhaliwal, the introduction goes long on Pierre Elliott Trudeau.
"All of us, we feel part of your family because we've seen you grow up with your dad, and many of us knew your dad, who was a great Canadian, in my view one of the greatest prime minister's we'll have. In fact, let me say that I was to be involved in politics because of Pierre Elliott Trudeau," Dhaliwal says to applause.
"He is the one that started multiculturalism..."
On and on Dhaliwal goes about Pierre's legacy.
"So I'm so glad you decided to run," Dhaliwal concludes before passing over the podium to Trudeau.
In the car, on the way back from the event, Trudeau's first words, somewhat jokingly, between bites of a deli sandwich, are: "Thank you for introducing my father, Herb."
"He's not trying to be his father," says Walker. "He's his own man, and he has qualities from both of his parents and I think it makes him a very well-balanced kind of guy."
Later, in an interview, Trudeau says the family name opens doors, but makes it tougher to walk through them.
"To justify the fact that I have been given opportunities, I've had to make sure that I've worked harder than anyone else around," he says. "It would terrify me to think I was somehow coasting on the name."
Trudeau has thrown himself into the political limelight fully prepared. He knows the sacrifices he and his family will have to make if he wins the Liberal leadership, his aunt says. "It is not a nice life, really," Sinclair says. "(Politicians) are not treated well."
CHAPTER 4: RISE OF THE SON
The event is a charity boxing bout for Fight for the Cure. Trudeau and Brazeau, although always polite, love the thought of tearing each other apart.
Everyone in Ottawa knows it's a Conservative vs. Liberal brawl, and whoever wins will have bragging rights.
"He doesn't put a foot forward without thinking about it," Trudeau's friend Terry DiMonte says long after the event. "A lot of people saw the boxing match as something that was, you know, stupid, comical and frivolous."
Justin wanted the national attention without having to talk about his political ambitions, DiMonte says. It worked.
Weeks before the fight, DiMonte asks Trudeau why he's fighting.
"He started to laugh and I started to laugh along with him, because I knew that a) he had an agenda and b) he was training like a son of a bitch. He doesn't do anything with the idea of losing."
"The biggest bullet in Justin's gun – whether he is running for office or meeting people – is the way they underestimate him," DiMonte adds. "That's going to be one of his greatest advantages. People are going to underestimate him all the way to the top."
At the time, even his friend Mathieu Walker thinks Trudeau will get his "butt whipped" by Brazeau.
"What I told everyone was that he was going to win and surprise everyone, I said that because that is what he has done in the past in terms of sometimes people underestimating them, but deep down I had a fear that they were going to hurt him, that he was going to be bleeding or have a broken arm or something."
Trudeau's high school friend Allen Steverman brings his medical bag to the fight.
"We were scared he was going to get hurt," Walker says.
If Trudeau intended to plot his way to the country's top job, Gerald Butts, his college friend, says he didn't show any serious signs of it when he was at McGill University.
The two met in line at the University Centre, introduced by a common friend, Jonathan Ablett, when Trudeau was 19 and Butts, 20. Trudeau, who was coming out of an awkward phase, had long hair and black-rimmed glasses with Coke-bottle lenses. He cracked jokes and talked more about hockey than politics. The two English majors, Trudeau and Butts, really got to know each other driving home to Montreal late one night from a debating tournament at Princeton. Trudeau's father had lent his son a ratty old Chevy that "drove like a tank," and the two friends, tired and giddy, kept each other awake during the 12-hour drive from New Jersey.
Trudeau was a good speaker but it was Butts who earned the accolades, twice winning the Canadian National Debating Championship. Walker says Justin looked up to Butts and respected his advice.
Theirs was a typical friendship. They talked about girlfriends, hockey, books, the debating union and what they wanted to do with their lives. At that point, Trudeau was keen on just about anything but politics, Butts says.
Story continues under image.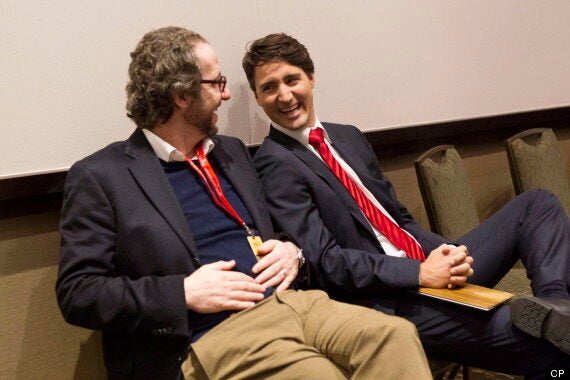 Justin Trudeau, right, chats to his chief advisor Gerald Butts after taking part in the the Liberal leadership debate in Mississauga, Ont., on Saturday, February 16, 2013. (CP/Chris Young)
He acknowledges that they talked about Trudeau some day becoming prime minister, but the talk was never serious. "We talked about it like I'd like to be goaltender for the Montreal Canadiens. There was no serious discussion."
At 80, Pierre Trudeau had been diagnosed with metastasized prostate cancer. His doctor had also told him he had early stages of dementia. The prostate cancer could be treated, but the former prime minister wanted the cancer to claim him before he lost his mind. With his sons, Pierre planned the last six months of his life. Trudeau returned from Vancouver to spend time at his dad's side in Montreal. They sat and talked often.
A week before his father's death, Trudeau approached Terry DiMonte for help. The two had been friends for about a decade, a relationship that Pierre had looked cautiously upon because DiMonte was a member of the media — a morning show host at a rock radio station who loved to talk politics. Justin loved rock and, as a late teen, had once called the station to win a prize.
Six months later, when Trudeau wanted tickets to The Rolling Stones, he called DiMonte. Despite the 14-year-age gap between them, the two became quite close. By Trudeau's early 20s, they were spending lazy summer afternoons on Magnan's terrace in Pointe-Saint-Charles in Montreal's southwest end talking politics: which cabinet ministers were doing a good job, whether the government should lower the voting age, what should be done about the environment. DiMonte says he didn't kowtow to Trudeau and enjoyed seeing him mature. "When I thought he was full of shit, I told him so, and I think he liked that," he says, laughing.
DiMonte remembers Trudeau telling him, in his late 20s, about the rivalry between then-prime minister Jean Chrétien and his finance minister, Paul Martin Jr. Trudeau predicted that there would be "a little bit of a civil war" and that Martin would end up prime minister. Then, Trudeau told DiMonte, the Conservatives would take power because "politics is cyclical" and they would govern for a term or two while the Liberals scrambled to pick a new leader. That would be his time to enter politics, he told DiMonte.
"Why would you like to run if the Liberals were not going to be in power?" DiMonte asked Trudeau.
"Because I don't want to be an MP while they are in power... . The thing you want to do is: you want to win a seat as a backbencher," Trudeau said, according to DiMonte's recollection of the conversation.
"With my profile, with my last name, I would be better off just being a backbencher. It will take me a while to get to know (Parliament) Hill, learn the ins and outs of the party, make my way through the snakes, through what's going on in the Liberal party and the changes they are going through, and, while I'm doing that, I can also begin to build a national network."
Trudeau's answer stunned DiMonte. "I said, 'How do you know all this is going to happen?' "
" 'Well, I don't, but based on the political map and the timing and the way things work in politics, it's my best guess,' " he says Trudeau told him.
DiMonte went home that night convinced Trudeau would one day be prime minister.
When Pierre Elliott Trudeau died on Sept. 28, 2000, and a media circus erupted outside the family home on Pine Avenue, Trudeau sought refuge in DiMonte's home.
"I don't think (Justin) was ready," DiMonte says of Pierre Elliott Trudeau's passing. "I think there were more things he wanted to share with his father."
That week Trudeau was alternating between moments of breakdown and funeral planning. One day, Terry Mosher, the Aislin cartoonist, dropped by with a drawing of Pierre that he wanted to publish. Mosher was concerned that he might hurt the family's feelings and he wanted assurances Justin was okay with it. The drawing featured Pierre paddling in a canoe, alone, the sun setting. When Justin saw it, he broke down and cried.
Pierre Elliott Trudeau's funeral service on Tuesday, Oct. 3, 2000, at Montreal's Notre-Dame Basilica, drew dignitaries from all over the world. Among them: Cuban President Fidel Castro, former U.S. president Jimmy Carter, the Aga Khan and Prince Andrew, the Duke of York. Four former prime ministers attended: Joe Clark, John Turner, Brian Mulroney and Kim Campbell. Leonard Cohen was at the nationally televised service along with several colleagues and friends of Pierre.
Justin had spent a week working with Butts, DiMonte and several others on the eulogy, but he'd been thinking about it for much longer. "I knew this was going to be an important moment for me and for the country," Trudeau recalls.
At the service, he stood in front of a microphone, a red rose in his lapel, his father's coffin to his right.
He gazed around the room as he addressed the crowd, biting his lip before recounting, in a somewhat theatrical delivery that some would later dismiss as contrived, how his father and Grandpa Sinclair had taken him on his first official trip at the age of six. It was to Alert, Canada's northernmost point, and while he had hoped that the North Pole trip meant he would see more of his dad, his father still had work to do, and Justin was getting bored. He didn't understand the purpose of the trip, he said, until he was hustled out in a Jeep one frigid afternoon on a "top-secret mission." They stopped at a red building, and he was boosted up to a window. He told the funeral congregation how he rubbed his sleeve up against the frosted glass, through which he saw a man hunched over a cluttered work-table.
"He was wearing a red suit with a furry white trim," Justin said with a smile, his eyes watering. "And that's when I understood just how powerful and wonderful my father was." The dignitaries and family members erupted in laughter and applause.
While many Canadians were brought to tears by Trudeau's speech, some saw the eulogy as part political performance. The Toronto Sun's Peter Worthington described it as a staged, calculated, neo-political speech by an actor, a poseur and an exhibitionist.
Indeed, Trudeau's last words "Je t'aime, papa," his slow approach toward the casket, how he dropped his head and wept – all made for a perfect television moment. But was it genuine or staged?
Story continues under image.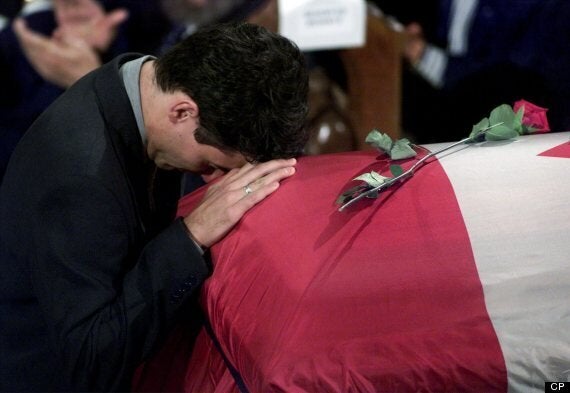 Justin Trudeau breaks down on his father's casket after reading the eulogy during the state funeral for former prime minister Pierre Trudeau Tuesday, Oct. 3, 2000 in Montreal (Paul Chiasson/CP).
Canadians flocked to Justin's defence. The suggestion that politics played any part in the eulogy still rankles Butts.
"This is one of the type of things that gets my goat about the way people think about Justin," he says. "He is a human being. He was giving a speech eulogizing his dead father… . He wasn't thinking outside that church... . It wasn't the launch of his political career... . Justin wanted people to know that his dad really loved his kids. That was the purpose of that speech."
Trudeau knew the eulogy would draw lots of attention, but adds, "It wasn't a political speech at all." He wanted to give the country "one last big cry" and show what type of son Pierre Elliott Trudeau raised. "That may seem more, I don't know, self-centered than it actually is, but it was important for me to do right by him."
A month after the funeral, Trudeau and Butts had a serious conversation about Justin running for office. Prime minister Jean Chrétien made it known there would be a place for Pierre's son, if he was ready. But Justin wasn't. Not yet.
Two years later, however, in an interview with Maclean's magazine, Trudeau revealed his ultimate intentions.
"When it happens, it will be in my own time," he told Jonathon Gatehouse. "My father was 20 years older than me when he got into politics. I won't be rushed."
"I'm far from a finished product," he explained. "I haven't done anything. I haven't accomplished anything. I'm a moderately engaging, reasonably intelligent 30-year-old, who's had an interesting life – like someone who was raised by wolves, or the person that cultivated an extremely large pumpkin."
Sometime in 2003, when Butts was working as policy secretary for then-Ontario Liberal opposition leader Dalton McGuinty, he met with Trudeau over dinner at a Toronto Indian restaurant, The Host.
Trudeau peppered his friend with questions about life in politics. "Was it bearable?" "Was it full of cynical bullshit?" "What did it do to your private life?" Butts told him it was doable if he wanted it.
Trudeau knew people were fascinated with him, but he thought he needed to do something with his life before he entered politics: build a business, perhaps, or get a law degree, maybe write a book.
He was restless. After returning to Montreal in 2002, he hadn't bothered to apply for his Quebec teaching certification. He joined the board of directors of Katimavik, the national youth volunteering organization that his father established in 1977, and became its chair in 2003, the same year he quit his engineering degree at l'École Polytechnique de Montréal. He started a masters degree in environmental geography at McGill in the summer of 2005, and then abandoned it in the fall of 2006.
Trudeau toyed with his B-list celebrity status: he took part in CBC's literary panel "Canada Reads" in 2003; introduced the Dalai Lama in 2004; worked for CKAC radio station in Montreal and reported on the Athens Olympics. He even played the role of Talbot Mercer Papineau in the 2006 CBC miniseries "The Great War." He joined the Canadian Parks and Wilderness Society as an unpaid spokesman in 2003.
"He tried different things but ultimately realized that he wasn't getting true pleasure from those things," says friend Mathieu Walker. "What would happen is he would start into it and then his attention would sort of, he would get bored a little bit."
There was, however, no uncertainty about Sophie Grégoire, a Quebec television personality Trudeau fell immediately in love with in 2004.