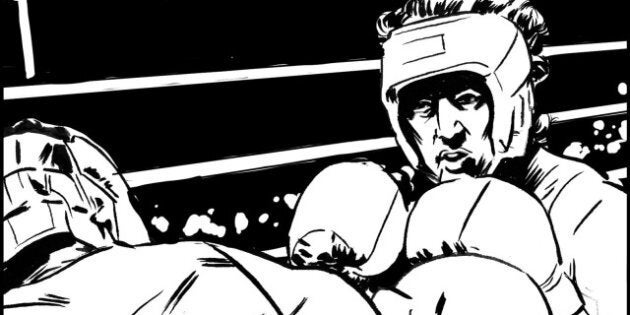 EDITOR'S NOTE: In the new eBook Contender: The Justin Trudeau Story, The Huffington Post Canada's Ottawa bureau chief Althia Raj paints a vivid portrait of Trudeau's formative years in Ottawa, Montreal and Vancouver and takes us behind the scenes of his rapid political ascent.

This is the third of five excerpts. Read Part 1 and Part 2 here. Return daily to huffingtonpost.ca for the latest instalment, or download the full book now, free of charge, for any device like Kobo, Kindle, iPad or on PDF.
CHAPTER 5: THE POLITICAL RING
Friend Thomas Panos first learned that Justin Trudeau was in love when he called in June of 2004 asking for a business-class ticket to Athens for his girlfriend. Trudeau was attending the Olympic Games as a reporter for CKAC.
"She's the one," he told Panos. He had met Sophie Grégoire, a childhood friend of his brother, Michel, when she and Justin co-hosted a Starlight Children's Foundation event. They'd hit it off, and the following day she sent him an email suggesting they meet up. But Trudeau never responded.
"I knew that the day I went out for coffee with her, that would be the last day I would ever have as a single man," Trudeau told CPAC's Catherine Clark on the program "Beyond Politics" in 2009. He had a few loose ends to wrap up, he said. Three months later, Trudeau bumped into Grégoire in Montreal and apologized for not writing back. They went out and over dinner he told her they would have to skip dating and go straight to engagement. "I am going to spend the rest of my life with you," he declared.
There was nothing impulsive about his decision, he told Clark. "It was a deep recognition that Sophie was the person I wanted to spend my life with."
Story continues under gallery.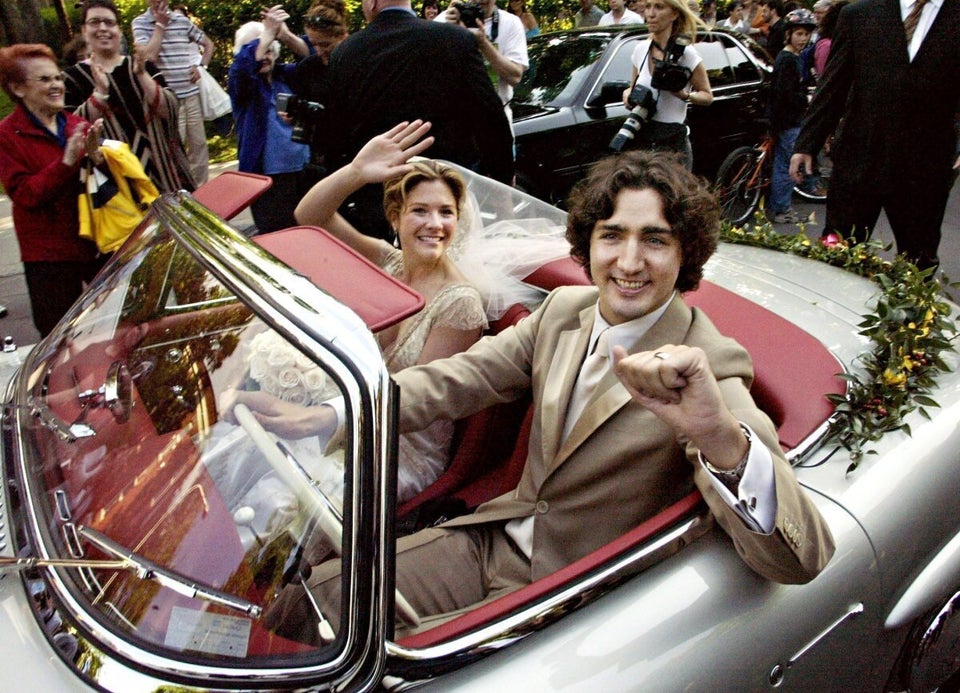 Justin Trudeau In Photos
Mathieu Walker says he understands what hit Justin. In his last year at Brébeuf, Walker was looking for a prom date and was set up with Sophie. After meeting her once, Walker wrote in his agenda: "She's the most beautiful girl, I am in love with her, she's so fantastic." A week later, she called him and said her dad wouldn't let her go to the dance. "My heart was kinda' broken, even though I had only met her once," Walker says.
Friends say Sophie, 38, is ideal for Trudeau: she is a strong independent woman who had her own career and wasn't besotted with the Trudeau name.
"Justin can be pretty charming and can charm his way out of most things," DiMonte says. "In Sophie, he met his match."
To be Justin's wife, you need a certain skillset, says Walker. "You have to have a certain personality, you have to like being looked at or spoken about, you have to be social and you've got to be accepting of this lifestyle and I think she's perfect for him."
Friends say Sophie thrives on attention, is high energy, likes action and needs to be entertained. Recently certified as a yoga instructor, she enjoys travel and has a great sense of humour. Unlike Trudeau, she's a big spender with a soft spot for luxury hotels.
She's a supportive wife who has always backed Trudeau's political aspirations, and she believes in destiny, his aunt Janet says.
An engaging speaker, Sophie talks often about motherhood and her volunteer activities with Plan and Shield of Athena, a non-profit organization for victims of family violence that operates in Trudeau's riding.
Trudeau and Grégoire were married on May 28, 2005. Always the showman, Trudeau arrived at the church in his father's 1959 Mercedes wearing a gold suit. Their first child, Xavier James, was born on Oct. 18, 2007, Pierre Elliott Trudeau's birthday. Their daughter, Ella Grace, was born on Feb. 5, 2009.
Married and earning several hundred thousand dollars on the public speaking circuit, Trudeau was ready for a professional change. (According to documents provided by his campaign, and first published in The Ottawa Citizen, Trudeau earned $290,000 in 2006 and $462,000 in 2007). Public speaking had bolstered his confidence. People wanted to hear what he had to say. Although he continued to chair Katimavik and sit on the board of directors of the Canadian Avalanche Foundation, he felt politics calling.
The Liberal leadership race in 2006 was a pivotal point. At the federal leadership convention, Trudeau backed Gerard Kennedy, an affable unilingual Ontario cabinet minister who ended up as kingmaker, crowning Stéphane Dion as leader over Bob Rae and Michael Ignatieff. Kennedy was preaching a message of party renewal, and Trudeau delivered, in the words of Bruce Young – one of his current leadership organizers in British Columbia – a "half-decent speech" to party delegates. Trudeau basked in the media and public spotlight.
"Frankly, I think he got a taste of how much he liked it and how good he was at it," Butts says.
Story continues under image.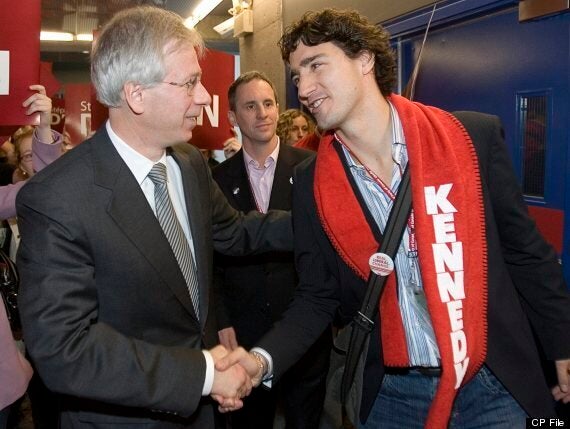 Leadership candidate Stéphane Dion crosses paths with Justin Trudeau, a supporter of Gerard Kennedy, at the Liberal Leadership Convention on Nov. 30, 2006 in Montreal. The day after he won the leadership, Dion told Trudeau he needed his help and urged him to run (CP PHOTO/Ryan Remiorz)
Justin Trudeau's greatest political achievement to date is his electoral victory in Papineau. Trudeau likes to say he "outworked everyone else on the ground" and won a contest that no one expected him to take.
It is a testament to his political skills and calculation that he pulled it off.
In order to silence some of the critics who would predictably contend he was was riding on his father's coattails, he felt he needed a fight. He needed to run and win in a riding where he would be viewed as the underdog.
The Papineau decision was long in the making. The day after he won the 2006 Liberal leadership, Stéphane Dion told Trudeau he needed his help and urged him to run. Trudeau mulled it over, talked about it with his wife, but was still unsure. Later that December, he sat down with Butts, Dick O'Hagan, his father's former communications adviser, and Gordon Ashworth, the Liberal party's former national director under Pierre Elliott Trudeau and the man who ran the Liberals' last election campaign. Both veterans strongly encouraged him to run. It was not clear then that Dion would lose the next election, but even if he did, he might win the next go-round and give Trudeau the chance to serve in cabinet and gain experience.
The Liberal party had made overtures about offering Trudeau Outremont, a safe Liberal seat and the riding in which he lived. A few days before Christmas, Trudeau called Dion from a Canadian Tire and asked him if he could run in Outremont. In late January, after then-Liberal MP Jean Lapierre resigned his seat in Outremont, Trudeau says Dion offered him Saint-Lambert instead, a riding that had been held by the Bloc Québécois since 2004. But by then, Trudeau had his eye on Papineau.
"If I would have given him a safe seat, he wouldn't have had the ability to show that he had a first name," Dion says in an interview.
In mid-February Trudeau met with the riding executive for Papineau.
The multicultural riding is Canada's poorest, with the lowest average family income in the country, and is the smallest federal district at nine square kilometres. In 2006, it fell under the Bloc Québécois' hold. Vivian Barbot, the francophone MP, had beaten the Liberal incumbent by less than 1,000 votes. And although in enemy hands, it had a fifty-plus-year history of electing Liberal MPs. A section of the district had once formed part of Trudeau's father's Mont Royal riding.
Barbot was popular, especially in Villeray, a sovereigntist-heavy section in the middle of the district. Nearly 49 per cent of the riding was francophone. Another 46 per cent claimed neither French nor English as their first language and 5 per cent ranked English as their mother tongue. There were lots of Greeks, as well as South Asians, Arabs, Latin Americans, Italians and a number of anglophones. Some of the Greeks remembered volunteering for Trudeau's dad, and they were ready to lend his son a hand.
Justin's first meeting with Luc Cousineau, the president of the Papineau Liberal riding association (and now the chief financial officer for his leadership campaign) was at the Queen Elizabeth, a downtown luxury hotel.
"Ça pas été smooth," Cousineau says over lunch at a Montreal food court. It was a bit bumpy, he says of their chat.
Trudeau thought the meeting was at 4 p.m. while Cousineau was sure it was scheduled for 4:30 p.m. When he arrived, possibly 30 minutes late, Trudeau was frustrated, Cousineau says.
Then Cousineau's cellphone rang. It was his ailing father's oncologist, so he kept 35–year-old Trudeau waiting while he spoke with the doctor. After hearing Trudeau's pitch, Cousineau informed him that he hoped for a race and as riding president planned to stay neutral. "That may not have been the message he wanted to hear," Cousineau says.
Butts also had misgivings.
"I thought maybe he hadn't thought through what winning the nomination, let alone winning an election, in Papineau would entail," Butts recalls. "He said to me, 'If I can't beat a separatist in Montreal, what good am I in politics?' "
Butts thought Trudeau was brave and crazy. He told him: "This may be a much shorter lived political career than you had anticipated."
But Trudeau knew, just as he had told Terry DiMonte years earlier, what was in store. If he beat the pavement, he would not only prove his friend wrong, but he would create his own narrative about the candidate who ran and won in in a longshot riding.
On Feb. 22, 2007, Trudeau announced he would seek the nomination in Papineau.
The announcement hit Mary Deros, a popular city councillor since 1998 for Villeray–Saint-Michel–Parc-Extension, a borough that was part of the federal riding, particularly hard.
"It was like the wind was punched out of my stomach, you know," Deros says, with a loud sigh, during an interview in her Park Extension office in Montreal.
That fall, Liberal incumbent Pierre Pettigrew had informed Deros he wouldn't run again, and she thought Ottawa might be her next career move. She called the Liberals, sent in her c.v., had meetings with officials and started to assemble her team. Then she heard that Justin Trudeau – the Justin Trudeau whom she had been so excited to meet and get her picture taken with at the Liberal convention that fall – would be her opponent.
Deros thought of pulling out, but her supporters wanted to see her through and the party wanted a race. "It was good for Justin to have a battle, so I stayed. And because I understood that it was good for the party, I stayed. I worked hard also, but I knew it wasn't going to happen," she says.
Deros watched Trudeau's team. Nearly everything was organized to make sure that he won, she says, pointing to the army of people from Ottawa and volunteers from all across the country who arrived to help. Trudeau gave a moving speech about his father's legacy and on April 29, he won 690 of the 1,266 votes to rout Deros, who came in second with 350 votes.
Dion says he told Trudeau he was "very pleased for him because he achieved something personally that would show that he has what it takes."
Trudeau did his homework, pounded the pavement, contacted all the associations, Deros says.
Story continues under image.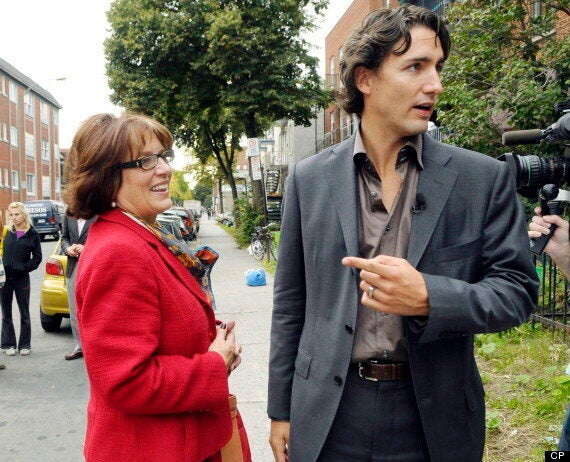 Justin Trudeau, then Liberal candidate for the riding of Papineau, on the campaign trail with his mother, Margaret, in Montreal on Sept. 23, 2008. Trudeau snatched the riding from the Bloc Québécois by 1,189 votes. (CP/ Graham Hughes).
On Oct. 18, 2008, in an election that saw support for the Liberals led by Stéphane Dion plummet and the party lose 18 seats, Trudeau managed an unexpected upset. He narrowly won the riding by 1,189 votes. Trudeau captured 17,724 votes cast compared to Barbot's 16,535.
In Ottawa, where he thought his new colleagues might expect him to throw his father's name around to gain special treatment, Trudeau says he kept his head down and went out of his way to be a humble and hard working MP.
In the riding, he has been a regular presence on the weekends. "He goes walking the streets with his children, he eats in our restaurants, and when you see him and he's genuinely interested in the people, he will sit down and exchange with them," Deros says. "He's not just someone who shakes your hand while looking elsewhere to shake someone else's hand."
Around Park Extension many people are fond of Trudeau. When George Karazginiannidas, the owner of Afroditi, a Greek bakery shop on St-Roch St., hears that I will be seeing Trudeau later on, he prepares a box of pastries to take to him.
"Justin Trudeau is a very nice young man," Karazginiannidas says. "He always comes in to say hello, and his father was a great man."
Karazginiannidas likes having Trudeau as his MP, but he isn't sure he should be running for the Liberal leadership. "He has the family in the back, but not the experience," he says.
Over at the barbershop Salon de coiffure pour homme, George Glicakis will not talk about Trudeau.
"I believe that if you have nothing good to say about somebody, you should not say anything at all," he says, between haircuts.
"He's a rich boy," patron Philip Hatzimanolis says.
"People think he hasn't earned his stripes to be a leader, he's too young and he's going through this because of his father and not because he's earned his stripes," he says between sips of raki, a smooth Greek moonshine that Glicakis serves in styrofoam cups.
Hatzimanolis helped Trudeau campaign in 2008, afraid that the young man wasn't smart enough to win the seat. But in 2011, he sat on the sidelines knowing Trudeau would easily win the riding.
Despite the NDP's orange wave in Quebec and Liberal fortunes' being in a free fall, Trudeau won his riding in 2011, leading his second-place NDP challenger by more than 4,000 votes compared with a 1,200-vote lead over the Bloc candidate in 2008. His margin of victory in 2011 surprised several of his caucus colleagues.
Trudeau's youthful energy and honesty impress Hatzimanolis, but he thinks "Justin is too much in a hurry" and compares him to Icarus, the iconic figure in Greek mythology who flew too close to the sun on wings made of feathers and wax.
Politically, at least, Trudeau concedes that he has grown up "in a very sort of compressed time frame from a simple rookie opposition backbencher to a simple leadership candidate opposition backbencher, I guess," he says with a laugh.
Trudeau, of course, has a large number of fans in the riding. At Marché Janata, grocery store clerk Malik Muhmmad says he is always there when you need him, attending every community event and "always listens to the people."
"Actually, I like him, because my English is not good, that is why I cannot explain to you good. I want to say many things about him: I appreciate him and I want to elect him prime minister of Canada," Muhmmad says from behind the counter of his brother's crammed shop. "I trust him not 100 per cent but 200 per cent," he adds.
Deros thinks Trudeau has more work to do to look and sound prime ministerial. "I am hoping that the people around him will make him more polish. He is not the top top, but he is the best that we have."
"You can't help but like him," she says with a bright smile. "What's the right word?" she says, pausing.