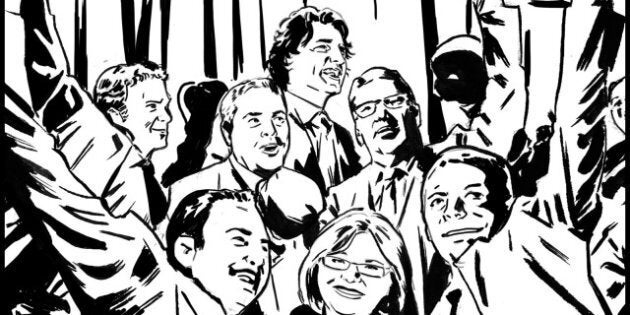 CHAPTER 8: THE COMPETITION
The pugilist from Papineau comes out swinging. Again. "Trudeau" chants hit a fever pitch.
Brazeau is being pummelled. The senator is stunned.
Lilley: "A lot of people thought that Justin Trudeau would punch like Justin and then land on the canvas like Justine. That is not happening here, so far a bit more even in this third round."
Levant: "This is like a Liberal bar mitzvah. Today he becomes a man, Brian. Oh, he is just railing."
Trudeau continues to hit Brazeau with a flurry of punches.
As Brazeau gasps for air, Trudeau plays it up for the fans, fist in the air urging them to egg him on.
Levant: "This is like his papa coming back in the 1980 election. Everyone counted him out, he lost in '79, Pierre came back in '80..."
Lilley interrupts: "...Trudeau looking strong."
Brazeau's face drips with blood. Trudeau shows no mercy. The punches keep coming.
Levant: "Boom, boom, boom. The Tory's going down! He's in the corner. This is game over. The blood. The ref has got to stop it."
Brazeau, in the corner with a black eye already obvious, his glare downcast and his mouth open, looks stunned.
Lilley: "Brazeau looking disappointed."
Levant: "A lot of people lost a lot of money tonight. The bookies said 3:1 odds, the pollsters said 3:1 odds. The Tory's getting crushed."
With a minute left to go, the fight is called. It's a technical knockout. Trudeau's the winner.
Both arms in the air, he embraces the moment. He doesn't look the least bit surprised by his accomplishment.
Lilley: "Didn't even go to the end."
Levant: "Wasn't even close."
Later, Trudeau will tell Levant that Brazeau had him seeing stars at the beginning.
"But I kept going," he'll say. "I can take a hard hit, but he didn't realize that."
Story continues under photo.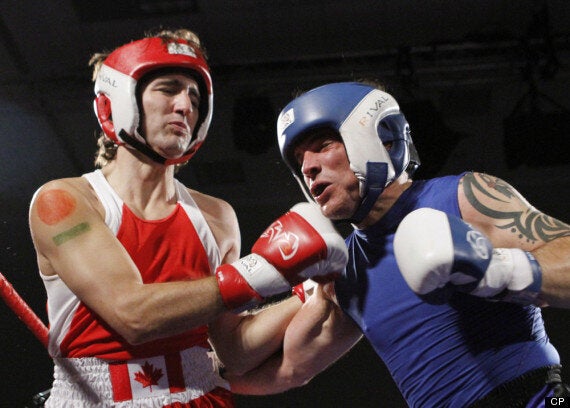 Senator Patrick Brazeau, right, and Liberal MP Justin Trudeau take part in a charity boxing match for cancer research Saturday, March 31, 2012 in Ottawa. (Fred Chartrand/CP)
May 2, 2011, was a disastrous night for the Liberal Party of Canada. The Grits lost more than half their seats in the House of Commons, and their percentage of the popular vote dropped to a historic low. Fewer than one in five voters cast a ballot for them. Trudeau was spared the bloodshed. He and Guelph MP Frank Valeriote were the only Liberals to see their vote count increase in 2011 from 2008. But as the votes started coming in, it dawned on him that he might have to wait a lot longer to realize his political ambitions.
Trudeau wasn't sure he wanted to stay in the game. The downward trajectory of his party looked inexorable. He thought of going back to teaching. If he couldn't accomplish anything positive in Ottawa, at least with teaching he could make a positive difference in the lives of a few hundred kids a year.
Butts told Trudeau that the Conservative majority would get under his skin and that he should hold off making any life-altering decisions. With Michael Ignatieff out of the picture, Trudeau knew there would be pressure to run for the leadership. Was he ready? It wasn't what he had planned. He had thought he would sit in a Liberal cabinet before running for the top job, but it didn't look like he would have that luxury.
Trudeau was starting to feel like politics and the Liberal party weren't going to be his way he'd change the world. He was frustrated by Liberals who were still deluded by "magical thinking" that if they picked the right leader everything else would fall into place.
"I was so worried that so many people wouldn't take the renewal seriously if they they thought they had a draw at the leader," he said.
He didn't want the job if people weren't ready to do the work. With toddlers at home and a party on the decline, he decided to sit the race out and plot his exit.
Trudeau thought not only of leaving politics but of leaving Canada. He mused about moving to a city like New York, London, Paris or Geneva – maybe work for for an non-governmental organization or travel with his kids for a little while.
"To some extent, Justin had a history of trying things out and leaving, and I certainly did not wish it upon him that he would do the same thing with politics, because I really did feel that this was his destiny," Mathieu Walker says.
"Credit goes to him, he thought of those things, but I think he said, 'No, I'm in it for the long haul. I really believe in this and I'm going to stay.' And I'm really happy that he did."
By January, 2012, Trudeau was reconsidering a leadership run. He felt politics was becoming more polarized and thought there was a possibility he could duplicate his accomplishment in Papineau, "which was (to) have everyone in the public discount me because they didn't think that I could be able to pull it off in any real degree," he says.
Butts could tell where his friend's mind was going and began assembling a team of potential advisers, just in case. Katie Telford, Stéphane Dion's former deputy chief of staff and someone who had worked very closely with Butts at Ontario's Queen's Park, was approached in February to run a potential campaign.
That spring, Trudeau's intentions were made known to Bob Rae, the Liberal's interim leader, who had crisscrossed the country to fundraise and rebuild the party while making sure that the Liberals were still getting airtime in the House of Commons. Rae had pledged not to run for the permanent leadership when he took the post, but he desperately wanted the job, and many Liberals were willing to let it happen. It was clear after January that if he wanted to run for the permanent leadership, the new party executive would not stand in his way.
Story continues under photo.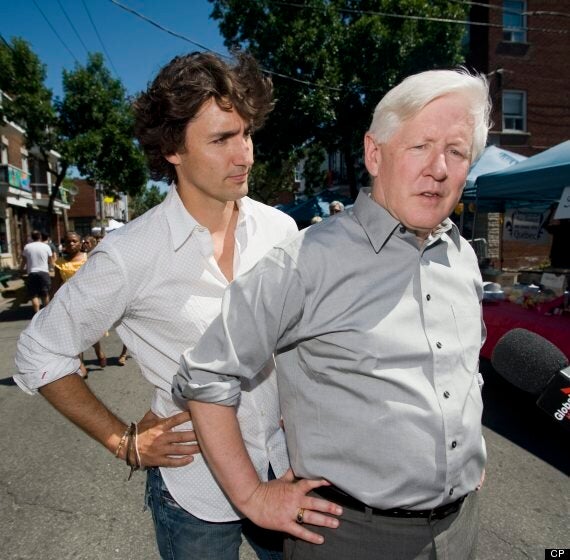 Interim Liberal leader Bob Rae, right, and Justin Trudeau speak to reporters during the annual Saint Jean festivities in Montreal, June 24, 2012. (CP/Graham Hughes)
Rae and Trudeau were friendly but not close. Rae had dropped Trudeau as immigration critic after the election and moved him to the back benches. He was now critic for youth, amateur sport and post-secondary education. He didn't even have a committee assignment. The official reason given was that Trudeau, then 39, was the party's biggest draw and would be more useful on the road meeting people than in the House of Commons. Without the airtime in the House, however, it would be tough for Trudeau to generate media coverage in Ottawa. Some Liberals thought Rae had hamstrung Trudeau to protect his own leadership ambitions.
Faced with the knowledge of Trudeau's intentions, what was Rae to do? Twice he had been passed over for the leadership. He had lost to Stéphane Dion in 2006 and then, in 2008, faced with strong caucus support for Michael Ignatieff, Rae had decided not to challenge him for the leadership so that the party would be in a better position to defeat Harper's Conservatives after prorogation.
Now it looked like Rae would be matched up against the party's favourite son and the potential of a Liberal political dynasty. It wasn't a fight he wanted to lose. In June, he told Liberal caucus members he wasn't going to run. Tears streamed down the faces of some of his closest supporters.
It was Trudeau's turn to move. If he didn't run, there might not be a party left to rebuild in 2015, many mused aloud. Trudeau and his team spent the summer planning his campaign.
"He expected the Tories and NDP to get very personal in their attacks and he wanted his family, especially his wife, to be prepared," Butts says.
In September, news began to leak out about his decision. On Oct. 2, his brother Michel's birthday, Trudeau announced he would follow in his father's footsteps. The announcement – a backbencher running for the leadership of a third-place party – garnered a huge amount of media attention.
In front of a red backdrop emblazoned with the word "Justin," Trudeau, dressed in a grey suit, white shirt and grey tie, declared, "I love this great country, I want to spend my life serving it. This is why tonight I am offering myself up for the leadership of the Liberal Party of Canada."
The crowd of supporters and friends who filled the William-Hingston community centre in Papineau chanted "Trudeau! Trudeau!" before settling on "Justin! Justin!"
Trudeau knows he hasn't earned all the attention. People's curiosity about him, he says, gets them through the doors, but then it's up to him to earn their support.
Early on, he decided to focus on winning three groups of people with whom the Trudeau name offers little advantage: soft nationalists in Quebec, some of whom he would have to win over in spite of his father's record; young people, who had no connection with his father; and new Canadians, those who came after 1984 and for whom his father's immigration legacy has no real meaning.
These are also three constituencies that currently do not vote Liberal. If he wins the Liberal leadership and can pull them in, Trudeau will have expanded the Liberal tent considerably. These constituencies, coupled with the return of disenchanted Liberals who didn't vote in 2008 and 2011, could land Trudeau the country's top elected job after the next federal election in 2015.
So far, he's done a pretty good job speaking to those communities. He has played hard and soft with Quebec nationalists, at once telling them he understands why, faced with Stephen Harper's Canada, they would want to separate, but maintaining staunch support for the Clarity Act, legislation that outlines how Canada would negotiate terms of a separation and determine whether a clear majority has voted to secede. He has also declared that Quebec's signature on the Constitution is not necessary. Early polling suggests that the Liberals under Trudeau would handily surpass the NDP, the Bloc and the Conservatives in Quebec, but that without him their numbers would sink back to third place.
Young people, for whom Pierre Elliott Trudeau is a name associated with history books and an airport in Montreal, have flocked to Justin and his message of generational change. He has taken a number of pro-youth policies such as the legalization of marijuana and a strong
stand on the environment, including his criticism of the Northern Gateway pipeline.
"The fact that I can win over and be effective as a politician with young people, drawing them in, getting them excited about it, mobilizing thousands of young volunteers during this campaign, (that) is not because of the baggage of my father's name, and that for me is essential," Trudeau says.
Immigrants, even those who do not credit his father for their arrival in Canada, appreciate Trudeau's pro-family line on immigration, and he has courted them with speeches at events such as the controversial Reviving the Islamic Spirit conference. He has also carved out a fiscally conservative, pro-trade stance that may appeal to them.
For now, the NDP and the Conservatives are officially ignoring Trudeau. Publicly, they are not worried, but, privately, there are concerns. Trudeau, reporters are routinely told, should not be underestimated.
LeBlanc, having witnessed constituents ask their NDP MPs to take photos of themselves with Justin Trudeau in the halls of Parliament, says he has no doubt his friend will "drain the NDP swamp."
Many political watchers, including the other parties, believe that no other Liberal candidate can revive the federal Grits like Trudeau, despite his light record.
He can fill a room as easily speaking to university students at a free event as he can to members of British Columbia's Chinese community, who each paid $1,200 for some face time and photos. People are excited to be around him.
By early March, Trudeau's team said it had signed up between 160,000 and 165,000 supporters through its website and outreach efforts. While other candidates won't say how many supporters they've registered, the Liberal party's total number of 294,002 suggests Trudeau is well ahead of his competition with potential supporters also likely choosing to register through the party's website.
Elliott Moglica is one of more than 10,000 Trudeau volunteers. For the last three months, the 41-year-old immigrant from Albania has spent four evenings a week at Trudeau's Toronto call centre phoning Canadians, urging them to sign up as supporters. By mid-February, he had signed up more than 1,000 people. "I'm excited, he's going to make it," Moglica says. "He's a Christmas gift."
The Liberal leadership race isn't over, but unless Trudeau sabotages himself or falls because of scandal, it seems all but a formality. Perhaps the greatest surprise of this leadership race is how Trudeau has once again managed to defy expectations. A member of his own team confidentially speculates that there is a 25-per-cent chance Trudeau will implode. But so far, it's been a campaign rocked by only a few incidents, such as his gun-registry and anti-Albertan comments.
Trudeau knows some are salivating at the thought of watching him fall. Those who believe he is all style and no substance would like nothing more than for Trudeau to self-destruct.
As he poses during a photo shoot for an upcoming Reader's Digest feature, Trudeau is incredibly self-aware. Under the photographer's light, he moves like a professional model, then carefully studies the photographs afterward, offering suggestions as to which image looks better. At meet-and-greets and campaign stops with live TV coverage, it is not uncommon to see him walk toward a camera then pose, arms crossed, shoulders angled, smile planted.
Despite his distrust of most reporters, he knows how to use the media to his advantage. And he knows the fawning media coverage will turn on him at the first opportunity.
His friend Smillie says people are waiting for a "misstep, waiting for him to screw up."
Unlike past leadership contests, there have been no mutterings of an "anybody-but" campaign aimed at Trudeau. No one has publicly encouraged their supporters to rank Trudeau last on the preferential ballot. If he doesn't win the leadership on April 14, it may very well be one of the biggest campaign failures in Canadian politics.
Story continues under photo.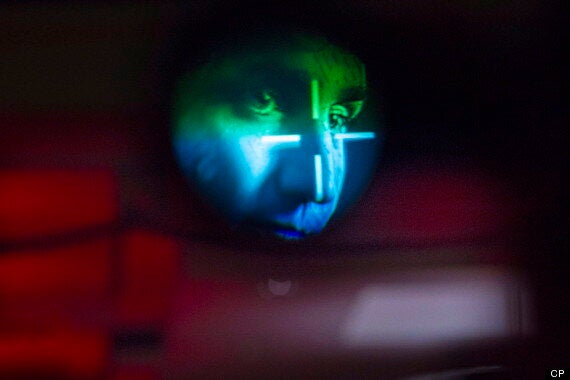 Justin Trudeau is seen in the eye piece of a television camera as he takes part in the the Liberal leadership debate in Mississauga, Ont., on Saturday, February 16, 2013. CP/Chris Young
His campaign team, although very confident, is still worried. There are concerns that supporters won't register at all or in time; that people believe Justin Trudeau already has it in the bag and won't bother to vote; that the organization is green and won't be able to get the vote out, and that the Liberal party won't be able to defend its online voting system from attacks by the other political parties or third-party groups.
The Liberals' weighted vote system, where a successful candidate has to win a majority of the total points awarded across all 308 ridings, has been good for the party and forced all candidates to get out of historic "Liberal-bastion areas," says Trudeau's campaign director Katie Telford. But it does mean that winning on the first ballot will be more difficult.
Trudeau needs to win a majority of the votes in a majority of the ridings. If he doesn't win on the first round, Trudeau is toast, a senior member of his own team believes. People either love him or they hate him, the thinking goes, and few will make him their second ballot choice. But other advisers disagree, pointing to former leadership candidate George Takach's endorsement as proof that Justin can be some people's second preference.
The real challenge ahead, though, is preparation for the next federal election. Trudeau has a tendency to lower expectations and overdeliver. But 2015 will be much tougher than beating the Bloc Québécois in Papineau or beating a brazen Conservative senator.
Even those close to him aren't sure he's ready for the country's top job.
Smillie pauses after I ask him the question.
Is Trudeau ready to be prime minister?
Trudeau is great at rallying people behind him, and "he's the most exciting thing to happen in Canadian politics in a long time," but he doesn't yet have the experience, his B.C. friend says.
"That is a huge position with a lot of responsibility, and there is a lot that has to happen before you can get to that point. If he is ready, personally, great, but I think there is probably a lot that he can do, experience that he needs to gather before all that happens."
Panos feels the same way.
"I don't know how many 40 year olds are ready to become prime minister of Canada," he says. "My hope is that he will learn a lot over the course of the next few years. … I think the party needs for him to grow and I think he needs to grow with the party."
Panos isn't sure two years will be enough time for Trudeau and the Liberal party to get their act together. But his friend has surprised him before, and he might do it again, he says.
Walker says he isn't sure the next election is going to be Justin's time. "I feel that he will be at 24 (Sussex Drive). When the time is, I don't know."
Even Zlata Kosnica, the Westin coat clerk who says she goes "bananas" every time Trudeau is on TV, isn't sure he can can pull it off.
"He is still young, he is still learning, but you never know, things can change."
Asked directly if he's ready to be prime minister in 2015, Trudeau replies: "Yes."
"Compared to many of the prime ministers we've had, yeah. I know there will be a tremendous amount of learning between now and then and I know I'm ready to and mindful about learning it and I also know there will be a tremendous amount of learning if I do reach that position... but yeah."
Two days after fight night. The political ring.
Cuzner: "Mr. Speaker. Two men in a ring, 800 in the stands. One wrote a cheque with his mouth he couldn't cash with his hands."
Among members of the third party, there are grins, while Trudeau sits in the middle basking in the attention.
Cuzner: "The Tory nation was cocky, they came out in full force, but like the F-35 contract, they had backed the wrong horse."
"Liberals must be defeated. That's known Tory credo. They had nothing to hide, you could tell that by the Speedo.
"Brazeau came out hard and brought the Tories to their feet, but in less than a minute, he looked pretty well beat.
"The red onslaught of punches could not be contained. Like those Tory attack ads stinging and sustained, the bombs came from everywhere."
"Our boy pummelled and pounded. It looked like the senator thought he was surrounded."
A big smile spreads across Trudeau's face. His colleagues join in. MPs Scott Simms, Scott Andrews, Mark Eyking, Ted Hsu, Frank Valeriote, even Green Party Leader Elizabeth May are all enjoying this moment.
"He was dazed and confused; the ref twice stopped the fight. He was hit with so many lefts, he was begging for a right.
"In less than six minutes, it was all over and done. A TKO victory, the good guys had won."
Loud cheers and boos rain on the Commons.
As Cuzner ends his ode, Liberal MPs leap to their feet cheering, red and white boxing gloves on their hands, their arms in the air.
This is what a re-energized third-party looks like.
Trudeau quickly stands up, glove-free, and joins the ovation so he's not lost in the crowd, his beaming mug always in frame.
Story continues under image.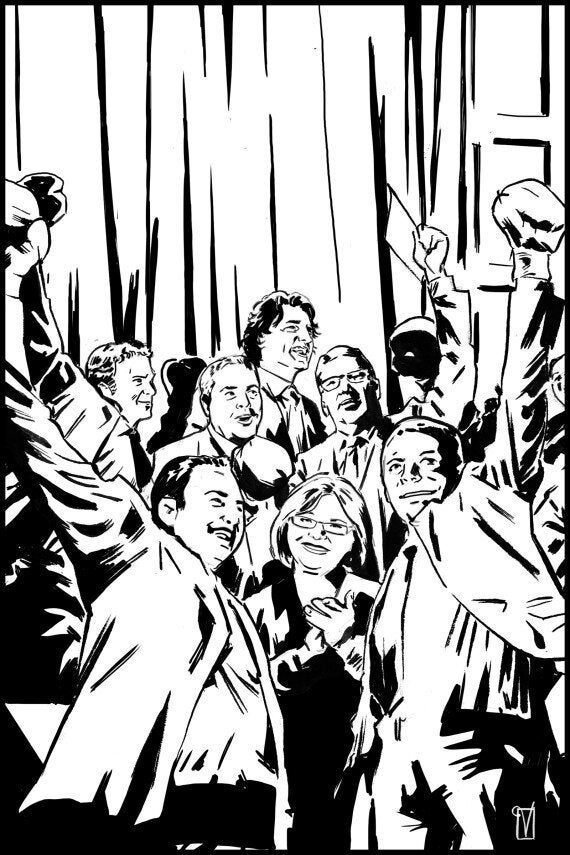 This is an edited transcript of an interview with Justin Trudeau. It has been condensed for clarity.
Question: What do you want people to know about you?
Justin Trudeau: (Long pause) That I know how lucky I am and I am planning on spending the rest of my life trying to be worthy of the luck that I have randomly gotten.
I had extraordinary loving parents. I was raised in the best country in the world. I got to travel to 50 or so countries before I turned 13 and another 36 different ones since. I've gone to great schools, I had an entire country come out and support me when we lost my little brother and again when I lost my dad. I have had an extraordinarily privileged life and I am thankful every step of the way for that and all I can do, instead of feeling guilty about it, is to try and make sure that I do right by it.
Q: Some people might feel the opposite about the public attention on private moments (after the deaths of his brother and father) … why did you see it as support?
JT: Because it was a positive thing. Because people wished me well and people were brokenhearted with us when we lost (brother Michel) Mich and they mourned my father by the tens of thousands, it was an incredibly humbling and touching experience. I have always felt so deeply connected to this country, just by my upbringing, memories of crisscrossing the country on a train during campaigns was where I discovered the size and scope of Canada.
Q: Does it bother you that people are quick to judge you? You mentioned that people instantly like or instantly hate you.
JT: Hate is too strong a word for the vast majority of people who have negative views on me, certainly there are a few out there, but you know haters gonna hate. I think (having the Trudeau name) is something that I've always had to deal with, all my life, so it is nothing new, there have always been people who have had their mind set. I've had to learn to discount that and one of the ways I've learned to do that is by having a very strong sense of self-awareness.
Q: What do you mean by a strong sense of self-awareness?
JT: I'm more aware of the way people regard me. And it is not something that affects me. The first time that I actually got to see that in action was when I announced that I was going to run for the nomination in Papineau (his riding in Montreal). People across the board came out and said: 'He's just proven that he is not his father's son because he has made such a big bonehead mistake in seeking a nomination that he is not even going to be able to win, let alone a riding that he would never be able to win, what the hell is he thinking?' And I sort of quietly smiled to myself and said 'wow, how perfect is this, all I have to do is do what I'm going to do, which is win the nomination and then win the election, and I don't even have to respond to the critics because my actions will respond on their own.' And that is very much the approach that I take. I don't care whether someone thinks that I am smart or dumb or whatever, I'm just going to do what I do and trust that Canadians will get to know me with all my strengths and weaknesses.
Story continues under gallery.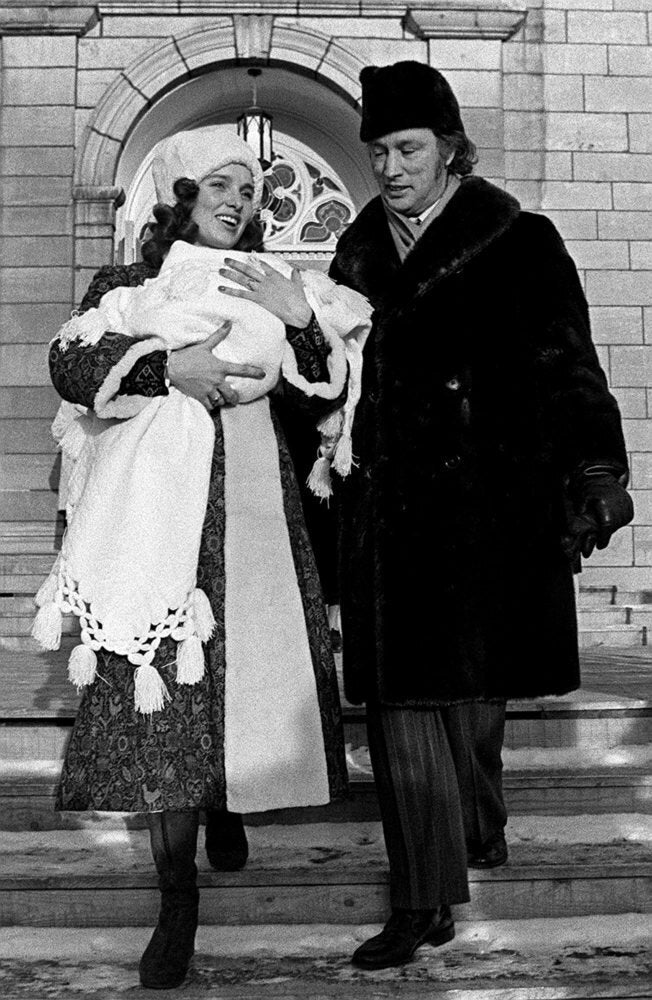 Justin Trudeau Through The Years
Q: It seems like the party had a weird love affair with you, they wanted you and offered you a seat, then they didn't want you and took their offer back.
JT: It's not something that I overly fretted about. I am me, I don't define myself by what other people think of me otherwise I'd be completely batty because people are polarized around me. I define myself by what I know I can do and what I know I can offer and that leaves me a level of equanimity as I approach people of differing views.
Q: The Trudeau name, the baggage that you carry.. does it bother you?
JT: It is just a fact of my life, and I wouldn't know what it is to live in a different way ... You look at children of successful parents or powerful parents or famous parents and it seems to be an awful burden for so many of them, the fact is my parents were extraordinarily good at giving their children the tools to handle the extra expectations and pressures.
Having a name and baggage like we do means that we have to work extra hard to justify retroactively the doors that automatically open for us. Because there are some that open but it makes it two or three times harder for us to walk through them with our heads held high, if we are going to do it right.
Q: What do you mean by that, it makes it harder to walk through those doors?
JT: For me in order to justify the fact that I have been given opportunities, I've had to make sure that I've worked harder than anyone else around so that, not because of what other people say, (but) because... it would terrify me to think I was somehow coasting on the name.
Q: You must know that first and foremost people are attracted to you because of the name that you carry ... maybe not at the university halls but in Surrey or Richmond, B.C., because people see you as the next generation of your father.
JT: Okay, absolutely. And that is for sure a piece of it, there is no question that that is a piece of it … I'm incredibly proud of my father and everything that he accomplished and the legacy that he left. But the fact of the matter is, a lot of people do remember me growing up as well, and there is a connection as well.
But the other part of what you said, 'maybe not in university halls' that is not something to not just dismiss, that is something that has been absolutely essential to me, as a touchstone to my own strengths as well, which is the fact that I can win over and be effective as a politician with young people, drawing them in, getting them excited about it, mobilizing thousands of young volunteers during this campaign, is not because of the baggage of my father's name.
Q: Do you feel that you are part of a dynasty?
JT: No. I understand the sense of connectedness that people have to my family and the association to Canadian politics but dynasties are about passing on hereditary titles and there was nothing hereditary or inevitable about going into politics or even being successful in politics. The way sons of teachers often end up being teachers and daughters of doctors end up being doctors, and many children of politicians end up in politics as well … it is because the experience you get growing up in a political household. So, no, I think that dynasty is an easy shorthand that allows people to explain what is a much more complex phenomenon which has to do with, all things being equal, you are more likely to pick someone you know for a job opening than someone you don't know for a job opening. But dynasty? Nah.
Q: How do you think you've matured politically, since 2008 (when he was first elected) and since this leadership race began?
JT: 2008, it was all about learning, being able to demonstrate my work ethic, my focus. I knew that the expectation was there that I was going to say 'Don't you know who my father was, you should treat me this way, that way.' That is why I went out of my way to be very humble and hard working and talk to and listen to all my colleagues and really demonstrate that I was there to help.
And the evolution that went from being a young kid with an awful lot to learn to a place where I realized that I had an awful lot to offer that wasn't all that common in the political world – and in that sense, there was a definite evolution for me of growing up in a very sort of compressed time frame from a simple rookie opposition backbencher to a simple leadership candidate opposition backbencher, I guess (he laughs).
Q: Why do you relish the role of the underdog?
JT: Because I don't need other people telling me that I'm going to win, that I'm great, all the things that boost a front runner, the great positive feedback, the attention, those are not things that matter in the slightest to me. I know what I'm capable of and I get busy doing it, whether it is in Papineau or whether it was in training for the boxing match or whether it is this leadership race, if people are going to choose to underestimate me, well that just makes my job easier because both the surprise factor when I actually start delivering and the fact that they chose not to properly see me coming, gives me a bit more of an advantage, so it is much easier to be the underdog and be underestimated than it is to have the expectation be high."
Q: Do you wish that you were the underdog in this race?
JT: I'm still comfortable with the way it is happening because people seem to have decided that it is a big mistake that I am winning that I am just, it's because Canadians are foolish and they are being bamboozled by the hair and the fluff or whatever it is and that means that they are dismissing anything that I actually do have to say.
Q: Do you think your opponents fear you?
JT: I think my opponents probably fear the people that I've got responding to my campaign. What worries them is I seem to be getting traction in communities where they don't think I should be getting traction, I think that is a real concern.
Q: Were you aware of the political consequences of that [boxing] match?
JT: Of course. Of course. But I had made the calculation that I couldn't lose politically.
Q: You did not for a second think you were going to lose?
JT: No. I knew I was going to win. But it was also in the back of my mind there was a political calculation that said you never really know, he can get a lucky punch and things go poorly. During that (fight), the only moment I thought I might actually lose was during those difficult 20 seconds in the beginning of the first round when I couldn't land anything and he was landing massive swings, and for the first time in all my training even though I had trained against very very strong boxers of his build, he made my knees go weak in a way that nobody else had. I thought this is really interesting, maybe this was a bit of a mistake and as soon as I started to think that he actually stopped hitting me and my punches started landing and that is why I was grinning during the first intermission.
JT: In my approach to this, in my approach to politics … I'm very serene. I really believe in the so-called purest level of politics that says: this is me, if you think I'm going to be a good representative for you, if you think I have something to serve the community with, then please vote for me. If you don't, don't, because it doesn't serve me to try to pretend I'm something I'm not in order to be elected. I have a sense that I am doing this because I can, because I must, because I can do it, and if it is successful, great, because that means there is a lot of work ahead of me, and if it is unsuccessful, it means I wasn't the right fit for Canada and that level of serenity in my approach is extremely empowering and comforting.