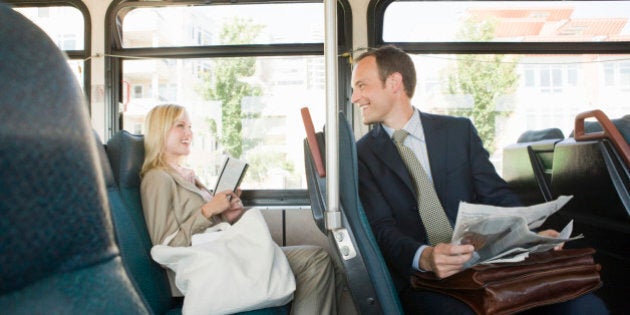 We're about to contradict a lesson you were taught as a child: talk to strangers!
Now don't get us wrong, as a child you really shouldn't talk to strangers, but as you grow older and wiser, chatting with strangers can result in some pretty great conversations. Especially when books are involved! We can almost guarantee that if you have one of these nine books in your hands in public, you're likely going to be approached by someone to chat about what you're reading.
Let us know in the comments below if any books have ever sparked a conversation between you and a stranger!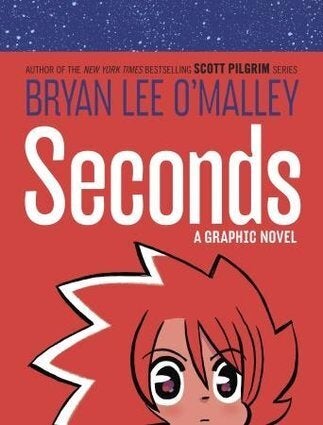 Conversation Starter Books
1. Seconds by Bryan Lee O'Malley
Seconds is being called one of the most anticipated books of the summer, so if you have this book in your hot little hands, you're sure to be approached. Bryan Lee O'Malley, author and artist of the hugely bestselling (and Toronto-set) Scott Pilgrim graphic novel series has created a stand-alone, full-colour graphic novel that is nothing short of perfect. It's in stores on July 15th.
2. The Fault in Our Stars by John Green
It's the book everyone is talking about and if you plan on reading The Fault in Our Stars in public, someone will come up to you and hand you tissues. We promise.
3. 1Q84 by Haruki Murakami
1Q84 might just one of the most physically beautiful books we've ever seen. With it's impressive slip cover and gorgeous detail, other are sure to take notice. Check out the books designer, Chip Kidd discussing the book jacket here.
4. No Relation by Terry Fallis
We here in Canada are all huge fans of Terry Fallis. His first book, The Best Laid Plans, was adapted to a television show on CBC earlier this year and now people are dying to get their hands on all of his books. There's no doubt that just by holding one of his novels, you'll help to keep the Terry Fallis train rolling and you'll likely make a new friend.
5. Where I Belong by Alan Doyle
True story. While reading an advanced reading copy of Where I Belong on the subway here in Toronto, Random House Online Marketing Coordinator Lindsey Reeder was approached by a fellow commuter. They came over and said, "Where can I get a copy of that book? I am a HUGE Great Big Sea Fan." She had to inform them that the book doesn't go on sale until October 14th, but they can go to Alan Doyle's website to pre-order a signed copy of the book.
6. Written in My Own Heart's Blood by Diana Gabaldon
If there's one thing we know for sure when it comes to Diana Gabaldon, her fan base is huge. And we mean huge! If you've committed to packing all 825 pages of this book to bring on your commute, you won't mind being approached by fellow Diana Gabaldon fans to talk about the adventures of Jamie and Claire!
7. Remember the Time by Bill Whitfield & Javon Beard with Tanner Colby
The King of Pop is a cultural icon, so be prepared to chat with fellow Michael Jackson fans when you read Remember the Time. This is the heartfelt story of a tragic and troubled family, the devastating cost of fame, and the lengths to which a father will go to protect and provide for his children as told by Michael Jackson's former bodyguards. This book will dismantle the tabloid myths once and for all and gives Michael Jackson back his humanity.
8. The Country of Ice Cream Star by Sandra Newman
The cover and design of the new book from Sandra Newman will make people stop in their tracks – it's that beautiful! A post-apocalyptic literary epic in the tradition of The Handmaid's Tale, Divergent and Cloud Atlas, and a breakout book in North America for a writer of rare and unconventional talent.
If people can read the fine print on Jo Baker's Longbourn, they'll see the words Pride and Prejudice. At this point these people (with fantastic eyes) will ask you about this book. You can then inform them that Longbourn is the story of the Bennet's servants who take center stage in this irresistibly imagined below-stairs answer to Pride and Prejudice.
Still Looking For Your Next Book? Check Out Our Pinterest Reading List