Some architects go above and beyond to take condominium living to the next level. Due to their unprecedented amenities and their architecturally genius and out-of-the-box designs, these condos are more than just homes, they're tourist attractions in their own right. Here are the top five coolest condos in the world.
Location: Mumbai
Architect: James Law of James Law Cybertecture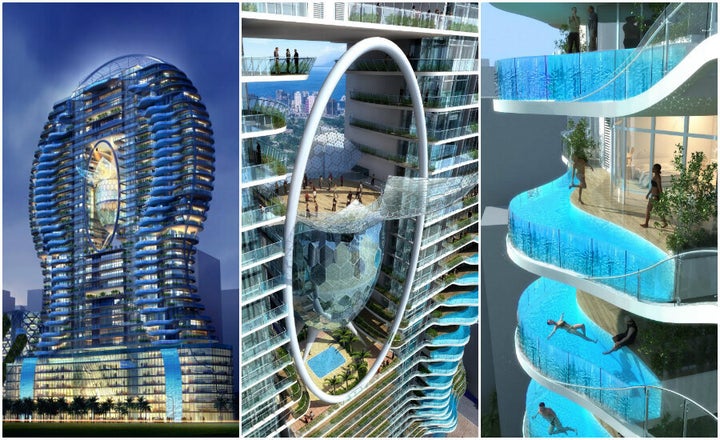 Condo pools are a huge draw for buyers and oftentimes a focal point in builders' marketing material. But what if your favourite condo amenity didn't have to be shared with other residents? That's the concept behind The Bandra Ohm. The 30-storey condominium in Mumbai offers private, crescent-shaped balcony swimming pools in every unit. For that reason alone, The Bandra Ohm is among the top coolest condos in the world!
Location: Monaco
Architect: Alexander Giraldi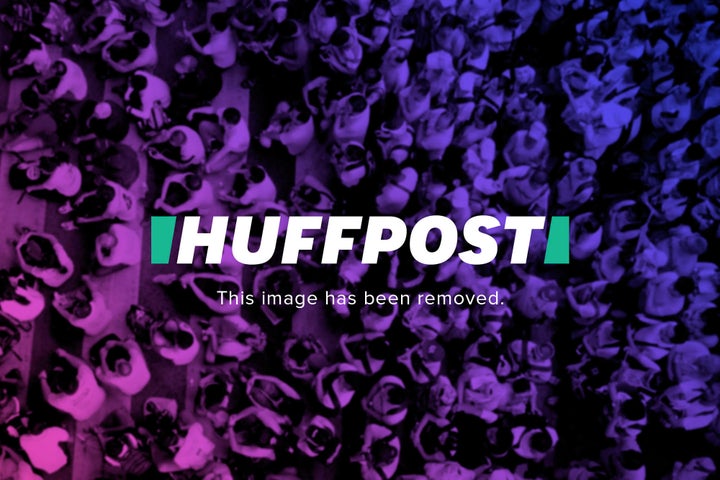 The Odeon Tower is the tallest tower in Monaco. Standing 170 ft. high, The Odeon Tower includes 70 apartment units and floor-to-ceiling windows with 360-degree views of Monaco. However, one of the condo's best features, and the key reason it made our list, is its incredible Sky Penthouse, which was deemed the world's most expensive penthouse due to its $400-million price tag. The penthouse includes a pool high above the French Riviera and if you look closely at the photo, you'll see that the slide connects to an inside room - that's the dance floor!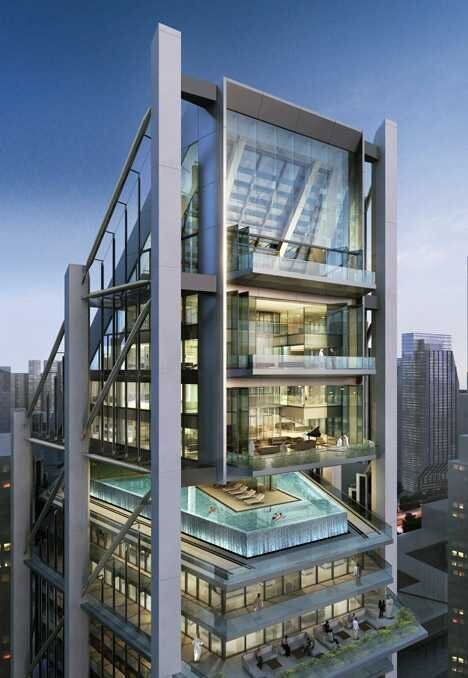 Richard Rogers was enlisted to create this £478-million Maryah Plaza development in Abu Dhabi's Al Maryah island. The project consists of 500 high-end residences ranging from one-bedroom apartments to penthouses. The development will contain four glass and steel waterfront sky scrapers; three of the towers will contain luxury apartments while the other tower will house 180 hotel rooms. Developed with a nautical theme in mind, the four sloping towers are emblematic of a ship's sail and the open balconies are like a ship's deck with views of the Arabian Gulf. There is also an abundance of amenity space including a clubhouse, gymnasiums, outdoor art gallery and green space, and the best yet -- the zero-edge infinity pool.
4. Eau Du Soleil and Water Tower
Location: Toronto
Designer: Empire Communities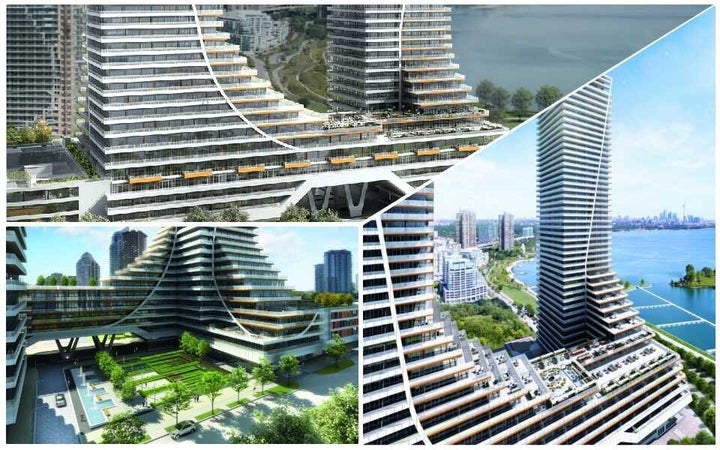 The two towers of this project, Eau Du Soleil and Water Tower, are connected by a tapered podium, which features a salt water pool and hot tub, fitness room, CrossFit training zone, theatres, and "sky court" for tennis and basketball. If you look closely, you can see that the levelled condominium resembles a cruise ship (just take a look at the splash of yellow reminiscent of safety boats!). The condominium's maritime flair is extremely fitting seeing as the tower is located along Etobicoke's waterfront. Once complete, the project will rise higher than any other building in Canada outside of the downtown core.
5. iPad Tower
Location: Dubai
Architect: James Law Cybertecture International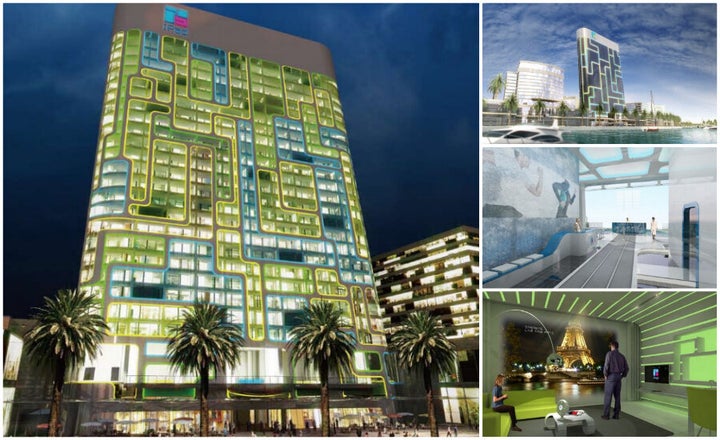 Before there was Apple's iPad, there was this highly modern, uber-techy condominium called "iPad." "The Pad," otherwise known as "iPad" was inspired by Apple's iPod and epitomizes cybertecture, the fusion of architecture and computer software. iPad is intended for those looking to take digital living to the extreme; it sits on a digital platform at an angle of six degrees, and each unit offers unprecedented technology such as iRotation, a rotating living and dining room that enhances the view of Dubai, and iWalls, which allow you to open walls to create a link between rooms.
Follow HuffPost Canada Blogs on Facebook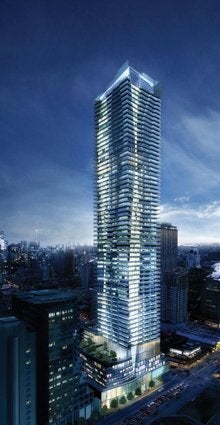 Coolest Condos Going Up In Toronto (2015)