RCMP are looking into how Mounties handled an arrest of two seniors at a Vancouver-area hotel that was captured on video.
The footage posted on YouTube appears to show an officer dragging a white-haired man down a staircase while another officer arrests a woman, who appears to fall at one point.
RCMP Supt. Sean Maloney confirmed that police were called to a Best Western hotel in the Vancouver suburb of Coquitlam on Wednesday evening after the annual general meeting of a condo strata. There were reports it had "gotten out of hand" and "some parties in attendance were potentially fighting," he said.
In a statement on Friday, Maloney said the meeting was stopped but an elderly couple refused to leave, according to witnesses.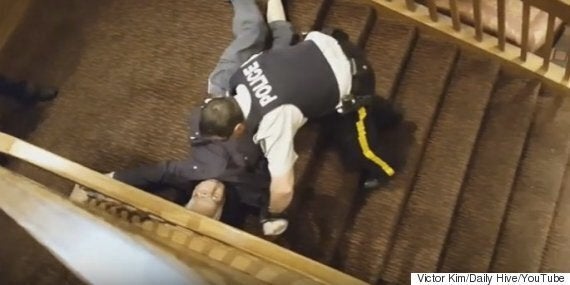 The video begins with one of the seniors lying on a landing, and then an RCMP officer drags him by one arm across it and down a few steps. The Mountie yells, "Stop resisting!"
Other officers are seen trying to handcuff an elderly woman.
Throughout the footage, a distraught girl can be heard screaming. At one point, she exclaims to a Mountie, "Don't do that! That's my grandmother!"
The senior appears to have limited English skills, and at one point, seems to be trying to telling the officer that she is 80 years old.
Witness filmed the arrest
Victor Kim, who began filming after he heard the granddaughter's screams, said police were called after a voting disagreement among condo owners, reported Daily Hive Vancouver.
He said the elderly woman was trying to prevent tampering of the ballot box when one of the Mounties allegedly blocked her, escalating the situation and angering her husband.
"I don't think [the officers] were in danger from that couple," Kim told the website. "Maybe they were doing their job, but that was too much."
"I respect and understand that the video may cause concern to the public."

— RCMP Supt. Sean Maloney
Maloney said the couple were arrested and their wellbeing was assessed by medical staff. He added that investigators will be forwarding a report to Crown counsel "for their assessment of criminal charges."
The superintendent said although no formal complaint has been made to the detachment about the arrest or the video, he decided to launch a review into the actions of the officers involved.
"I respect and understand that the video may cause concern to the public," Maloney said.
"I want to acknowledge upfront that the Coquitlam RCMP relies on the trust and cooperation of our community. Policing is and must be a partnership with the community. I ask for the community's understanding to give time for a fulsome review to take place, so I can make an informed decision about the next steps."
Update: The RCMP have requested that the New Westminster police conduct the external police investigation.
With files from The Canadian Press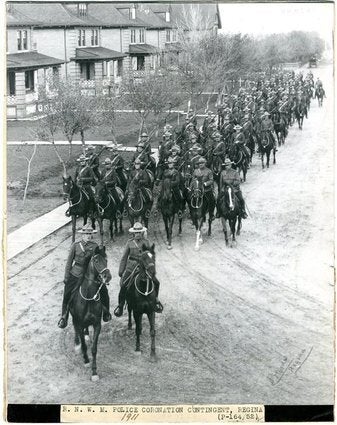 RCMP In Canada