Cord-cutters are slowly denting broadcasters' profits.
But as the black knight said to King Arthur in "Monty Python and the Holy Grail": "'Tis but a scratch!"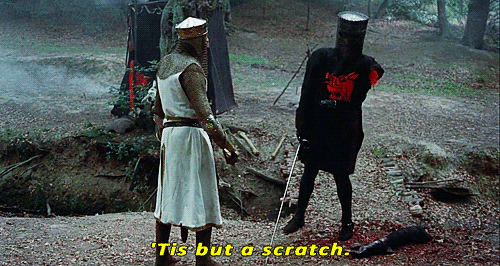 Total broadcasting revenues fell by 1.6 per cent to $17.9 billion in 2015, said the annual Communications Monitoring Report put out by the Canadian Radio-television and Telecommunications Commission (CRTC) on Tuesday.
It shows that, while cord-cutting isn't helping broadcast profits, it's not exactly hurting them fatally. Although some providers are doing better than others.
Revenues for the television sector fell by 3.4 per cent to $7.1 billion, while revenues for television service providers like cable and internet protocol TV (IPTV) were stable at $8.9 billion.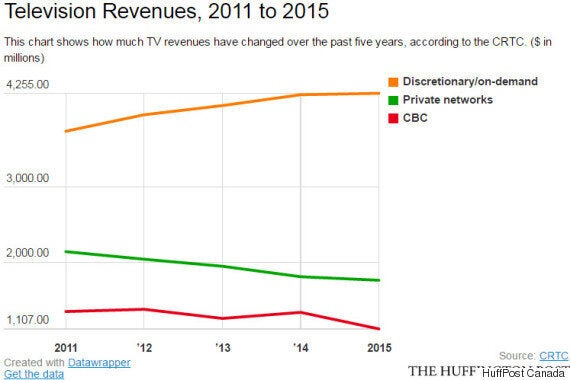 CBC experienced a uniquely heavy drop in 2015, as revenues fell by 16.6 per cent.
That decrease was attributed to a loss of advertising revenue after Sportsnet beat out the national broadcaster for the rights to show National Hockey League (NHL) games.
It was also blamed on the absence of major sporting events such as the 2014 Olympics and the FIFA World Cup in the same year.
But other conventional networks as a whole didn't do great either, as their revenues fell by 2.6 per cent.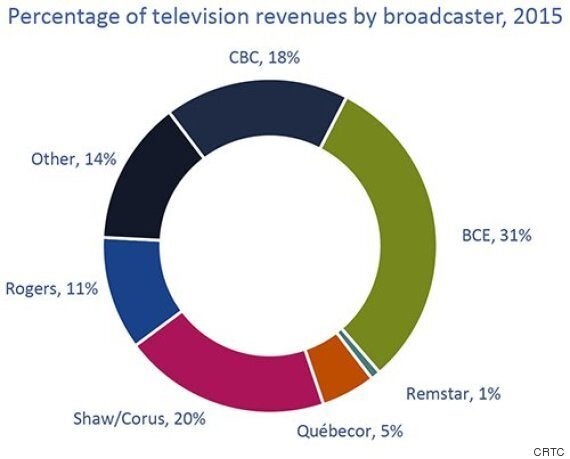 BCE, which owns CTV and TSN, brought in the bulk of TV revenue with 31 per cent of the total.
Shaw/Corus was second with 20 per cent, followed by CBC with 18 per cent.
Together, the six largest TV broadcasters took up 86 per cent of the sectors total revenues last year.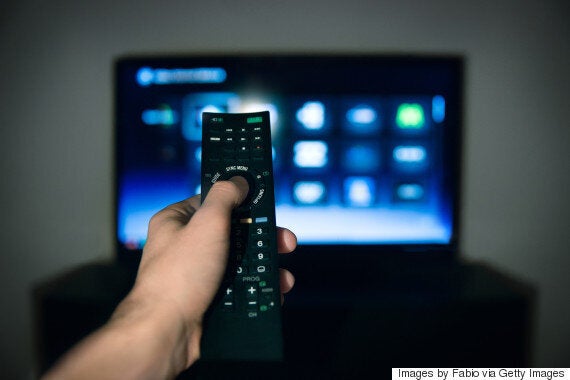 These trends came as younger Canadians are watching less TV by traditional means, such as cable or satellite.
Traditional TV viewing among 12- to 17-year-olds fell by 5.5 per cent, while 18- to 34-year-olds watched 4.4 per cent less TV than in the previous year.
And this is happening as fewer and fewer people access TV through cable. Subscriptions dropped from 69 to 60 per cent from 2011 to 2015.
Younger people also watch a lot less TV than older viewers. People aged 12 to 34 years old watched an average of 19 hours per week, while people aged 65 and over watched 42 hours of TV per week.