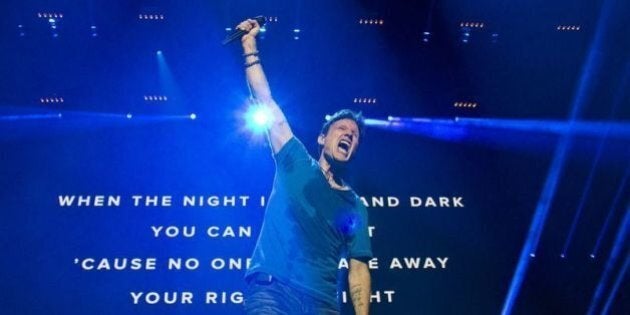 Days after Corey Hart performed his sold-out farewell concert at Montreal's Bell Centre earlier this month to 13,500 people, the 52-year-old Canadian singer is still very emotional, almost melancholy.
He played for nearly four hours, 38 songs in all, in his hometown. He was barely able to sing towards the end, breaking down in tears a few times. Still handsome, sweet and charismatic with a voice that has held up despite his lack of touring during the past decade, he had the crowd, packed to the rafters, eating out of the palm of his hand. It was all too much, saying goodbye after a 30-year career. He is still processing it, he says, in this exclusive interview with the Huffington Post Canada — his only one after the concert and last one about his music for a "very very long time."
Besides his fans, the most devoted of which he calls his Caravan, Hart did this concert for his family, daughters India, 18; Dante, 16; River, 14; and son Rain, 10. They had never seen daddy play a proper full concert — the closest was a pair of shows in 2002 at Place Des Arts with the Montreal Symphony Orchestra; Rain was not yet born — and what they saw at the Bell Centre showed why Hart, who wrote all his own material, sold 16 millions albums worldwide and had nine consecutive US Billboard Top 40 hits during the '80s. In Canada, 30 of his singles reached the Top 40, including 12 in the Top 10. His "Boy In The Box" album achieved the rare Diamond certification, recognizing sales of one million copies domestically.
Active or not, Hart will always be an icon thanks to the global status of his most recognizable hit, "Sunglasses At Night." For his final show, he was joined for four songs and on back-up by his wife of 20 years Julie Masse, a well-known francophone singer, who also gave up her career along with Hart to take care of their children. June 3 happens to be her birthday. But the concert was originally set for May 31, Hart's birthday, until the possibility of a Montreal Canadiens seventh playoff game against the New York Rangers forced an agonizing last-minute change.
Hart has also just released a 10-track CD, "Ten Thousand Horses," which includes songs with his wife and with friend Jane Siberry, and some demos. He also published his autobiography "Chasing The Sun – My Life In Music," in which he talks about his difficult upbringing, his resourcefulness and perseverance when it came to a music career, his family and other deep revelations, some painful. He continues to run his record label Siena, which this year signed Montreal's Jonathan Roy.
Why did Hart grant me his farewell interview? We have a history. He is the reason I'm a music journalist. Like many others, I saw the "Sunglasses At Night" video and was hooked. In April 1984, I slipped into his show at Toronto's El Mocambo with fake ID. The next day, I naively called the Toronto Star to complain to the entertainment editor that there wasn't a review in the paper. "He's going to be big," I told him. He said 'Write a letter to the editor." I wrote something, which they didn't print, but I used it to get my first writing gig for a local magazine called Metro when I was still in school.
I remember sitting on my parents' driveway and making a t-shirt of Hart's face for him out of "puff paint" and going to his hotel with my friend Lisa to give it to him. He then snuck us through the side entrance of Massey Hall to watch him open for Thomas Dolby. By August, 1985 he sold out the Canadian National Exhibition stadium. I was right. He got big.
I'm feeling really good actually. I'm really still very emotional. I can hardly get a grip of everything that I'm going through in my heart, but it's been an incredible journey.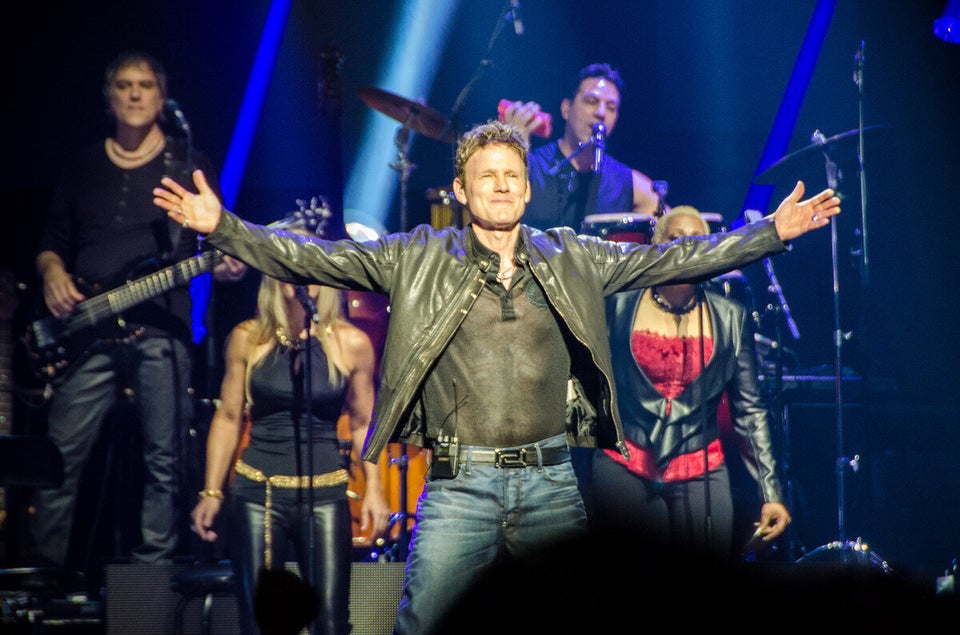 Corey Hart Retirement Concert
How did the night compare to how it played out in your head?
It was more magical than I could've ever dreamed, actually. And the audience did that because there were moments that I had no idea that they would transport me where they did. For example, in 'Hymne a L'amour,' [an Edith Piaf cover he sang as a duet with his wife] there's a part in the song where I say, 'je ferais n'importe quoi,' I'll do anything; 'sit u me le demandais;' if you would ask.'
And never have I sung that song where I pause after I sing that line and the audience reacts. They just wait for the next verse. But it was like asking me to keep singing and they applauded and I was overcome because it was a completely spontaneous moment. You know, when 'Sunglasses At Night' starts, I know I'm going to get an ovation, but that was one that happened completely naturally to me and I was overcome. And it happened again in 'Everything In My Heart.'"
You have performed live sporadically the past few years — at Pride in Toronto, WorldPride in London, England and CHUM FM's event all in 2012 and Gilda's Club in late 2013. You're a young guy. Why do you have to say this is your final show?
To put it in perspective, 2002 was the last concert where someone could buy a ticket to come see Corey Hart. When I sang at Gilda, it was to raise money for charity and it was 25 minutes probably at the most. It was unplugged. When I did Pride, it was again 25 minutes and it was to support 'Truth Will Set You Free' and when I did the show at the Masonic [Temple], it was the 'Back In The Day Bash' for CHUM FM to give something back to the radio station that had supported me since the very beginning and it was in support of 'Truth Will Set You Free.'
I wanted to see after 10 years of being offstage if I could actually perform for 30 minutes. They only asked me to perform for 30 minutes and I stayed 40 minutes and I didn't want to leave the stage. I know your question was you've kind of dabbled in it a little bit, but the truth is, Karen, the show that you saw on June 3rd was truly the first show that I had done since 2002. The others are not even warm-up dates. They're just little teeny touches.
Why be so definitive about it?
Believe me, [concert promoter] Evenko and a lot of promoters are calling [laughs] and asking -- after the reviews of the show and the reaction to the show, there is such demand for me to do more shows -- why don't I do a farewell show in every city and go to Japan and places I was popular? I think because I made up my mind that I wanted to do one special show dedicated to my fans, and for my fans, so that I could go back to do the life that I had prior, which is being a 24-hour dad.
In the book, you do write "Some things are truly better left unsaid," and you left out a lot about the music industry and yet you did reveal a lot about your father, who has passed away. You talk about his drug addiction and seeing prostitutes and being emotionally indifferent. Did you include that because A) that had a bigger impact on shaping you than whether a guy was an asshole to you in the music industry? And B) that explains to a lot of your fans why you did retreat to become a full-time dad?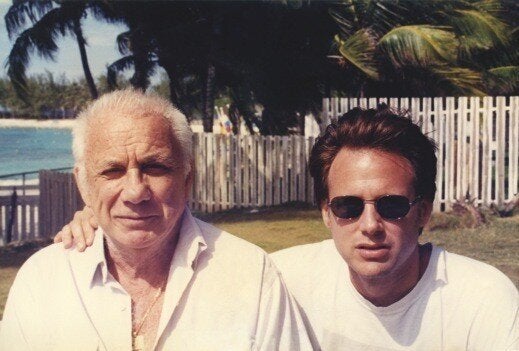 That's a great question and you actually crystallize it very well. I think my dad — and I mentioned this in the book — my dad probably gave me the greatest gift by teaching me to do things different than he did. And I'll only know if that was a gift my children wanted [laughs] when they're older and they can look back, but I already feel it now, the closeness that I have with my children and the way that I feel that they're emotionally sound and stable.
They're individuals that feel loved and know that their parents were there for them from day one. And I think that throwing rocks or writing about specific individuals that were nefarious in the music business and that hurt me in the music business, in many ways would have achieved nothing other than just name-calling and that, as I said, things are better left unsaid.
I made enough references to it in songs, like in 'So It Goes,' which was on the "Young Man Running" album, and there was huge litigation going on behind-the-scenes because there was a lot of stuff going down with the record company. But I've always felt that I wanted to be there for my children to raise them, and after River was born in 1999, I really knew that I couldn't keep making records and touring and be there every day. Then I would've been a tourist.
How did your four children feel when you first brought up the idea of a farewell concert, and then again after witnessing it at the Bell Centre?
The last year the children have had some adjustment because I've slowly inched my way back in to the music business, being more visible on Facebook. Three years ago I didn't have a web site; I didn't have a Facebook page; I still don't have a Twitter account — I mean, there is one but I've only tweeted twice and I'm not ever gonna do it again. I don't have Instagram, but I gradually started to communicate with fans through Facebook.
To answer your question about the children, they were so moved by the show and at three in the morning we were all leaving the Bell Centre and all my daughters and Rain, they were hugging me and Julie was there, and they were just crying and saying 'We're so proud of you, daddy.' [Hart gets choked up and stops].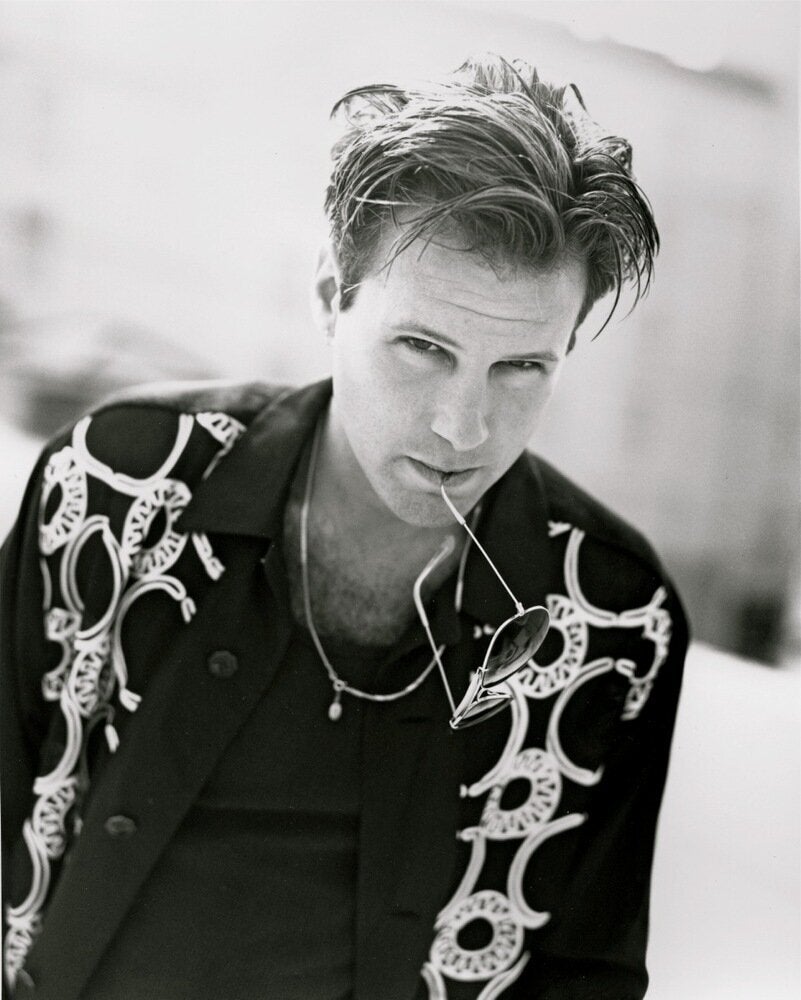 Photos from Corey Hart's 'Chasing The Sun' memoir
Your voice sounded fantastic and Julie's did too. Singing is a muscle. How can you sound so great with it being unused all these years? Do the two of you sing at home?
Julie does sing all the time around the house. She's always singing. Me, whenever I'm writing songs I would sing, but my voice has been out of shape for a long time and I started training it about six months ago. But when the shit went down with the hockey and we were watching game one, game two with the Rangers series, I was seeing this train accident coming closer and closer; the pressure was just mounting and they were saying, 'You know May 31st may have to move,' I actually caught a cold and I never, never catch colds — maybe once every three or four years — I caught a cold May 25th, 26, 27th.
I couldn't sing for four days. I was so upset. I think I was just weak. So my voice would've been stronger had I not had that cold that was still lingering a little bit. I'm surprised my voice held up for 38 songs, but at the end of the night it wasn't there; it was just adrenalin keeping me going. Yeah, it is like a muscle and I think I sing better now than I did when I was younger. I really do.
COREY HART'S FIVE CAREER HIGHLIGHTS

1.Coolest: "Selling out Bell Centre in my hometown with a marathon 38-song set list 30 years following my debut in an arena in the same city."

2. Weirdest: "Liza Minnelli telling me in 1991 she was a huge Corey Hart fan"

3. Memorable: "Reaching number one on the coveted USA Billboard Hot 100 Singles Sales chart in August 1985"

4. Mindblowing: "25,000 fans at CNE in Toronto who bought tickets to see me during my Boy In The Box 1985 summer tour"

5. Humbling: "Reading fan letters about how my songs saved their lives"
So you decide to do this farewell concert. What told you that booking it at the Bell Centre for 13,000-plus people would work? Most artists who were around when you started and are still going aren't playing arenas. They're at smaller venues, casinos, clubs, theatres or festivals or fairs.
Well, there was no question in my mind that it was going to take place in my hometown because that's where it all started. When I opened up for Culture Club on April 1, 1984, at the Forum, I'd only done maybe 10 or 12 gigs in my whole life and EMI executive Mavis Brodey came down to see me and a week later signed me to EMI America. It was truly because of my success in America that three or four months after that concert that I was able to have the career that I did. So there was no question that the venue would be in Montreal. My first instinct was to play something really intimate like a 1500-seater, like Théâtre St-Denis and maybe I'd go unplugged. I had a few ideas.
It just started to germinate about a year ago and Louise Laliberté who is the vice-president of Evenko, we were in New York together and I mentioned I want to do one last show and she said, 'There's only one place for you to play, Corey, if you want to do your farewell show and that's at the Bell Centre.' And I was taken aback because I said, 'It's a big place,' [laughs] and I haven't done a show since 2002 and quite honestly you need a lot of rehearsal for that.' Would I be able to sell an arena? I really didn't know. I hadn't played arenas since the 80s. And she said, 'You will; your fans miss you.' I had no way of knowing that she was right, but the feedback I had from Facebook, I thought, 'Well, maybe she's right.' Maybe it's so visible it's easy to miss.'"
How did you approach the song selection and order? There are some songs that wouldn't have been as emotional if you had played them too early in the set, like 'That's Alright Mama' on acoustic guitar with your mother Mina sitting in front of you and 'My Way' at the end.
The set list kept changing. No one decided the setlist but me; no one decided the pacing of the set list but me. No one gave me any input. I didn't ask anybody. And I'm not saying this to give me a badge of merit; I'm just saying it was 100 percent, as the book is written, by me. And I tweaked it 'til the very last moment.
'That's Alright Mama,' originally I was going to sing a song called 'Sonny Boy,' which I write about in the book that my mom used to sing me when I was a little boy. And I was going to sing it a cappella. And then I decided because my mom always said to me when I started singing, 'You remind me of Elvis because Elvis always loved his mom and you love me so much, Corey, and you always show me so much love, and you're such a good son,' and my mom was the first person who ever told me that she believed in me.
I decided to do 'That's Alright Mama,' [popularized by Elvis in 1954] and I rewrote all the lyrics to it. I'd never played the song acoustically on guitar ever in any Corey Hart show, ever, and I didn't decide to do that until four or five nights before. It came to me when I couldn't sleep and then I rewrote all the words, except "that's alright mama."
You went from singing to your mother, which was really beautiful and emotional to walking through the crowd and back to the main stage for "In Your Soul" and "Everything In My Heart" where you broke down. You were already fragile emotionally by then.
I was knocked out in 'Everything In My Heart.' The video screen Marc Lostracco put together showing all my fans [about 100 photos]. When I turned around and looked at some of those images from the past, pictures of me with my fans, I was in tears [sighs].
In "Sunglasses," "Never Surrender" and some other songs, you dropped to your knees on the stage. In the book, you write quite poignantly and graphically about your debilitating back injury [a cervical herniated disk, originally from playing recreational hockey] and the numerous tests and procedures you underwent from 2005 to 2009, the pain so excruciating at one point that you walked into a gun shop [he considered shooting himself in the head]. You wrote that you will live with chronic to acute back pain for the rest of your life. The fact that you were even able to go down on your knees is incredible. What was going through your mind?
"[softly] I'm here. I'm here, Karen."
Oh, shit. Are you serious?
[Crying] I'm a sensitive guy, Karen. [barely audible] And that's a very very sensitive subject.
I'm okay. Sorry, I lost my voice too a bit. Um, this is the last interview I'm gonna do as well; I'm glad it's with you. There's nothing much I can say. I don't really want to talk about chapter 17 'cause it's written in the book — and you can quote from the book and from whatever I wrote that you saw in my journal — but I didn't care what would happen onstage. I wanted to do what I could do. I couldn't do as much as I wanted to do, but I did what I had to do. The adrenalin and the audience brought me, brought me, brought me.
It was pretty amazing you were able to do that considering what you went through for a good five years.
Julie, during the show she's watching me and I was jumping, she said, like a kangaroo. I was bopping up and down. She said that I used to — I mean, I'm athletic, I'm not Ronaldo or Lional Messi, they're soccer players, but I'm agile and I'm quick and my life changed after that, after my injury. It stopped. But I was surprised what my body allowed me to do that night on June 3rd. I was really surprised. I was in pain but the adrenalin and the audience, it just transported me.
I don't want to talk about it really.
I'm okay now. No pain no gain.
In the book you reference your final concert and say it will be the very last time you'll hear that sax solo in "Never Surrender."
That's when I went down on my knees again because I wanted to go right inside that tenor saxophone because that saxophone solo he played it so brilliantly, Dany Roy. By the way, I had the best band that night — and any normal situation where you could go out on tour and do 15 or 16 shows, warm up dates, and then come into a big arena like that we would've been so much tighter. But they were amazing. They all played with all their heart and soul and it was brilliant."
Did you think about stuff like that when you were up there — this is going to be the last time I hear that or sing that?
I was enjoying myself a lot. It just kept swinging back and forth and I kept not thinking about, 'This is the last time I'm ever gonna hear this' or 'This is the last time I'm ever gonna sing this line' because I'm performing a song. I was enjoying the music and the music was transporting me and bringing me to where I always wanted to be, which was onstage singing.
You never thought, 'Hmm, why am I retiring, again?'
I was in the dressing room and all the kids were crying with me and they were saying how proud they were — and Julie last night was saying, 'Please, you gotta do more. You can't stop. Keep singing the songs.' [Before] Julie was one that was saying, 'Really don't put yourself through it anymore. You made your decision. You don't have to do anymore,' and she was trying to convince me last night that you need to do more. When I was on the stage, the camaraderie and the interaction, it's the greatest fuckin' feeling in the world.
Besides the label and being a dad, what are your plans?
Do you know what I want to do? What I want to do next? I'm writing a Broadway musical named "Never Surrender." It will feature Corey Hart words and music, which weave itself through a storyline. It's still a very early work in progress so the storyline has not been cemented. It has added dialogue between the songs. It will be developed much like those London West End Productions such as "Billy Elliot" or "Oliver."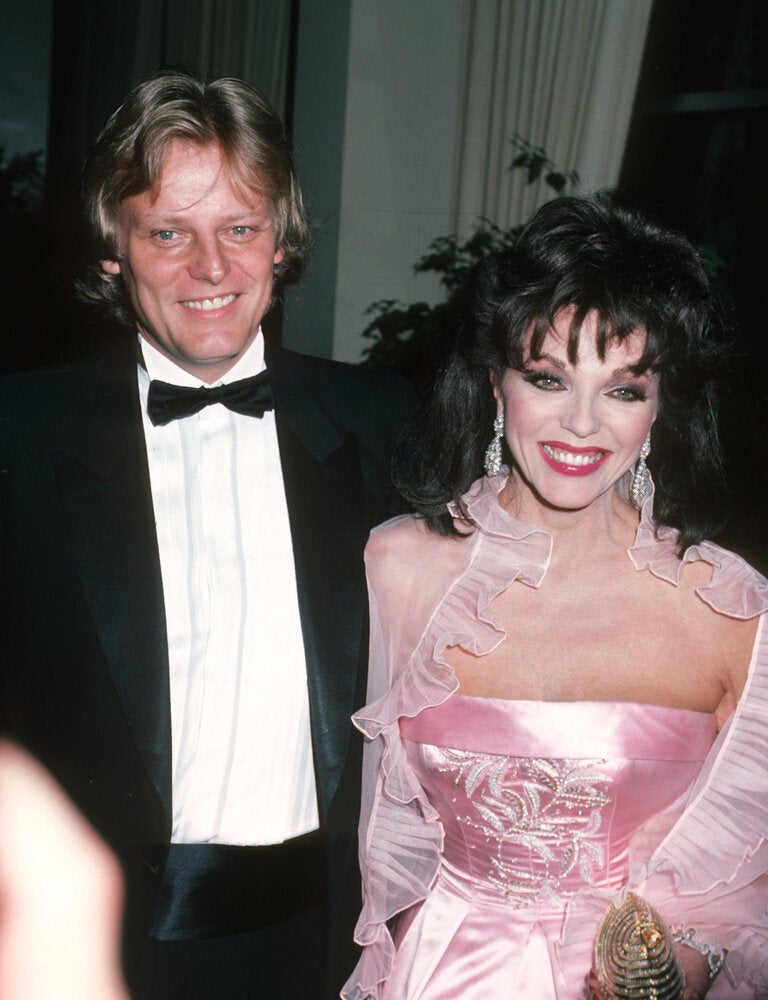 Pop Stars of the '80s: Where Are They Now?
Popular in the Community