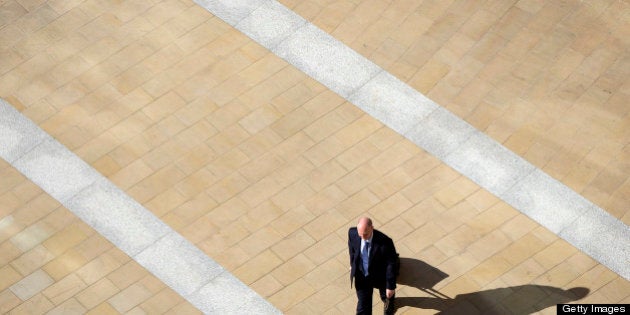 In a time where anyone with a smartphone can become a news aggregator or citizen journalist, corporations appear to following suit, and are coming down with a serious lack of continuity in their communications. I'm not suggesting that companies are not developing and executing some well-integrated campaigns -- in fact, these are being done so well, it could very well be adding to the problem.
I'm talking about how understanding what some companies are trying to stand for these days has become an impossible task. To see a corporation sustain a message for more than one campaign is as rare today as snow in July.
In the halls of government legislatures this form of announcement-itis has been a necessity of evil, having to communicate and cater to the needs and desires of everyone. With so many updates and messages to deliver from one entity they rarely sustain or revisit campaign messaging once it's out -- because there's hundreds more lined up to get out the door.
Corporations face a different reality. The stakeholders are clearly defined. The product or service doesn't change day-to-day and, even when it does, there should be a connection that makes perfect sense for the company. This provides them with a huge opportunity to build a story that resonates time and time again. But there's a trend of trying to be different -- to be first and take risks -- that's sidetracking them away from their story. Companies can do all of these things effectively without selling their soul and sacrificing the story if they ensure it's well defined and well understood.
Here's four things that every corporation should consider before they green light that next innovative campaign:
Multiple chapters or a series short stories: Maintaining a message and giving it depth demands a longer term strategy. The power of an evolving message allows you to prove you are aligned with key stakeholders. If you want to maintain a connection with your customers, partners or employees, you need to keep earning their trust by always delivering on your core purpose.
Stick with the WHY: If you've read my last post, or any research on communications in the last 24 months, you know that why you exist (what you stand for) is more important than how you exist (what you do) to any of your key audiences. Choice is abundant in every industry; even if your product and service is a step above, a trusted relationship with your stakeholders is paramount. Remember people judge companies like they judge their friends, so make sure you provide the substance required to be a good friend.
Steak and sizzle: You have a great execution that's going to be unique, surprising and innovative. It may even win awards and be the talk of social media blogs. If all it does is get your awards and doesn't directly support your business objectives (sales, reputation, employee engagement, etc) then you have a steak with the sizzle. Rather than throw it out, challenge yourself to insert a measurable objective upfront and see if you can put the baby in the bathwater.
Planned reaction: I firmly believe some of the most effective communications campaigns in the future will be those that react proactively. If we know our employees and customers and understand how their beliefs align with what your company believes (the WHY), then predicting and anticipating the moments where this coincides naturally will be easy. I'm sure you can think of a few instances where a company has leveraged a situation that was so well aligned with its company values and beliefs that it became a story into itself (think of the Samsung Dragon phone). These moments are amazing and if a company puts some resources behind it, I believe they can seek out and inspire them on a regular basis, creating a deeper relationship with stakeholders and much more meaningful conversations with them.
There is no better cure for corporate attention deficit disorder than a good dose of strategy. And there's no better cause for the disease than something creative and unique that only delivers industry awards. The good news is you can have both, it just take discipline, forethought and continuity. Bottom line is, your innovations will have much more impact and much less risk if you build them with your narrative in mind and continue to deliver on why you exist and what you believe.