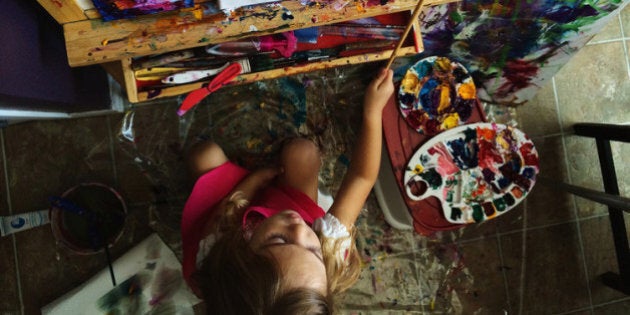 The four-year-old Calgary artist has sold more than 60 paintings in her short career, raising more than $4,000 for charity, according to the National Post.
People around the world are scooping up Cosette's masterpieces — her mother, Kristy-Anne Swart, says as soon as a completed work is posted online, it's almost immediately purchased.
The painting proceeds are being donated to World Vision and Charity Water, helping buy supplies for families in need.
"We (raised) enough for a cow, a sheep, goats, chickens, pigs, hens, roosters, and even a tent shelter that we bought for them as well,"
Her paintings are abstract — blobs of thick acrylic paint and long, sweeping brush strokes are two of her signature styles — something her dad, Darryl Swart, says has attracted some comparisons to seasoned painters.
But whether that's a fair comparison remains to be answered.
The National Post asked Gerald Hushlak, a professor or painting at the University of Calgary, to critique the tiny painter's work.
"Some of it is interesting," he told the paper. "I would be remiss if I said we have a genius here. Sometimes you put paint down. Sometimes it happens to be interesting."
Either way, says Kristy-Anne, they can't keep up with demand for her daughter's paintings. However, Cosette only paints when she feels up for it and the focus remains on helping others.
"For me, part of the thing is a learning experience of her understanding what money can do and how she can help people," Kristy-Anne told Metro News. "She gets excited about the fact that her raising this money is helping people live better."
Check out some of Cosette's sold artwork in the slideshow below. You can also view more of her artwork and learn about her mission on her website.