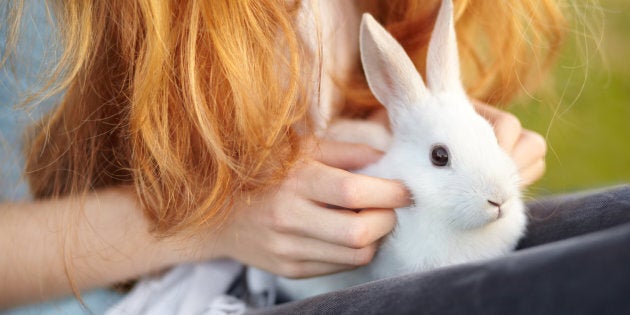 "But didn't that just become illegal in Canada?"
I've been getting this question a lot lately in relation to our campaign to ban animal testing for cosmetics in Canada.
Back in June, the #BeCrueltyFree Canada campaign, led by Humane Society International and Animal Alliance of Canada, had cause for celebration as the Cruelty-Free Cosmetics Act (S-214) cleared the Senate after three long years. This means Canada is exactly at the halfway mark in becoming a cruelty-free cosmetics market.
The bill seeks to amend the Food and Drugs Act to prohibit both the use of animals in Canada to test cosmetic products and their ingredients, as well as the sale of cosmetics that have been animal tested after the ban comes into effect. These measures would bring Canadian law into line with that of nearly 40 other countries that have already banned cosmetics cruelty.
The sad reality is that the animal testing industry in Canada (and around the world) remains very much unregulated.
Victory in the Senate was dramatic to say the least. At nearly 11 p.m. on June 20, Senators voted to pass the Cruelty-Free Cosmetics Act without opposition. I stood in shock, overcome by waves of vindication for lab animals everywhere. It marked the first time since 1892 that a progressive federal animal welfare bill passed through the Senate.
Let that sink in for a minute.
There I was in the Red Chamber, witnessing a very real part of Canadian history unfold before my eyes. Yet, I am also keenly aware of how much further we need to go.
Even with this monumental milestone for animals, cosmetic animal testing and trade is still legal across Canada. Until the Cruelty-Free Cosmetics Act becomes law, animal-tested cosmetic products will continue to make their way onto store shelves.
We are committed to ending animal cruelty and achieving real results for lab animals. But, the sad reality is that the animal testing industry in Canada (and around the world) remains very much unregulated. Because of this, we still have lots more work to do; now more than ever, we need your help.
When Members of Parliament return to Ottawa in September, the Cruelty-Free Cosmetics Act (S-214) will go through the same process before the House of Commons. In Canada, legislation can be introduced in either the House of Commons or the Senate. In either case, the bill must go through all stages in each Chamber before it becomes law.
Rest assured, this legislation will not compromise the safety of Canadian consumers, thanks to a growing list of validated, alternative methods that do not exploit animals as well as the thousands of cosmetic ingredients that have already been safety tested. Rather, it will help to reduce the number of animals made to suffer needlessly for our cosmetics.
Together, we can do better.
Click here to learn more.
Have you been affected personally by this or another issue? Share your story on HuffPost Canada blogs. We feature the best of Canadian opinion and perspectives. Find out how to contribute here.