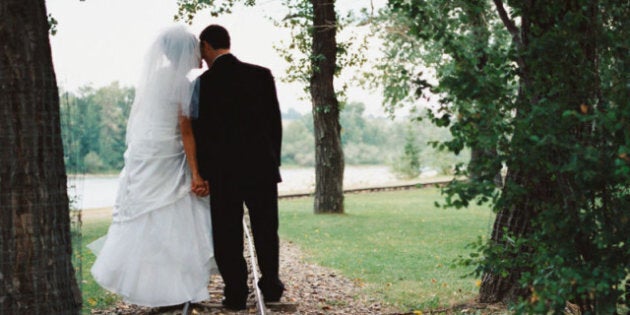 The only problem is, weddings aren't really affordable. Jobs are scarce, debt is high and a secure financial future is elusive. Still many brides want a fairytale wedding. According to a Wedding Bells survey, the average cost of a Canadian wedding in 2011 was more than $23,000. Which goes to show how big a financial burden planning a wedding can be.
What Causes Wedding Day Big Spending?
Tradition and family pressure plays a large part in planning a wedding. Ida Berger, a business professor at Ryerson University, suggests popular culture reflects these traditions and supports wedding expenditures. "'Father of the Bride' is an example of a classic western culture wedding; 'Monsoon Wedding' is an Indian wedding; 'My Big Fat Greek Wedding' is an ethnic wedding." Each of those weddings incur huge expenses.
"The notion of a long, lacey, fancy wedding dress is... a Western icon," says Berger. And this is not exclusive to white dress weddings. Moroccan wedding traditions have the bride change up to eight times. Hindu weddings are often extravagant multiple-day celebrations.
Thousands of brides flock to bridal shows that cater to their every need. The Scotiabank Suhaag Bridal Show hosted 5,500 brides in October 2011. More than 175 venders showcased everything from saris to photography. Similarly, more than 3,000 brides dreaming of the perfect white wedding paid $20 a ticket to attend Toronto's Bridal Show. Once there, the ladies (and some men) could spend their day ogling wedding-day fashion and researching possible party venues, DJs and photographers.
The catch, says Berger, is these shows may take advantage of a bride emotionally attached to her big day by only showing her party options that are at the top end of her budget. "The only kind of wedding that is possible, or seems possible, [at] those shows are very large elaborate, expensive affairs… It doesn't seem to a bride that it's even possible to get married for less."
She adds: "The purchase and consumption of any product or service, especially something as involved as a wedding, is always more than the physical or utilitarian attributes. There is a very strong hedonic, emotional or pleasurable component to the consumption."
The Story Of Brandi And Kevin Shorthouse
"You're pretty much going into debt the entire time," says Brandi Shorthouse, 24. On top of tuition, books, car insurance and the costs of living, her and her husband Kevin, 25, paid for a 245-person wedding in 2011. The couple balanced working (Brandi held two jobs) and the demands of studying for a Masters degree – each of them! -- to plan the big day.
The reason? It was a moment the Shorthouses didn't want to put off. "It just wasn't a question about doing it, but how soon we could afford to do it," she says. "We definitely would have done it a little bit sooner, if we could have afforded it."
And their budget? "My budget was $13,000, and we had all these hidden costs... it ended up costing around $16,000 in the end. So we went about $3,000 over budget," said Shorthouse. "For students, that's a lot of money to go over budget, but we made it work."
To cut the costs the Shorthouses relied on friends and family to donate their services whenever possible. Music was provided by a band and DJ they knew, and the equipment was donated, saving approximately $1,200. Friends did Brandi's hair and makeup, and her mom made flower-shaped chocolate suckers for wedding favours.
For $400, they also made their own Shiraz, pinot noir and peach chardonnay at a local winery called the Waterfront Winery. "We... did our [own] labels to match [our] colours."
And what about the all-important dress? Brandi ordered her's without even trying it on. She had fallen in love with a silhouette of a Maggie Soterro dress that didn't come in the colour she had wanted. So she paid $1,300 for a dress by the same designer… on faith. When it arrived six months later, it had to work; there was no other option.
It's a risk that paid off.
Brandi walked down the aisle in her dream, 40s-inspired dress, on June 4, 2011 at an outdoor ceremony in Thunder Bay, Ont. Her favourite part of the ceremony was seeing the expression on her then-fiancée's face, and the reaction of her friends and family as she walked down the aisle. "All the work that you put in and all the people's reactions to you being the bride… it's very overwhelming," she says.
The Story Of Meaghann And Paul Walton
"It was probably more important to our parents that we had a big wedding… we accepted their financial support for the wedding so it was important to us to kind of grant their wishes," Meaghann Walton says. Her and her new husband's parents (Paul) paid for 75 per cent of the wedding. "It's just as much… their day. In fact, we kind of decided afterward it's more about the family."
And where did all of their wedding budget dollars go? The most costly part was food and beverages, ringing in at $107 per person for each of their 210 guests. The couple found while many venues advertised themselves as "all-inclusive," there were many stipulations on the bar, like how many drinks guests could have or there being a midnight cut-off. In the end, the couple says it was important that no one at the wedding went hungry or thirsty.
And what of Meaghann's dream dress? She found it after trying on more than 20. Even then, she added some personal touches to the outfit -- including fake buttons down the back of her fitted lacey gown and removing a ribbon from the centre. She also added removable cap-sleeves. The dress and alterations -- which helped Meaghann feel like she was wearing two dresses in one -- cost about $2,400.
Other big costs from their October 29, 2011 big day, included personalizing the event -- everything from the navy blue bridesmaids' dresses to the apple motif on the save-the-date cards represented something about the couple. In all, their wedding cost doubled the Shorthouses', ringing in at around $32,000.
How To Save While Planning Your Wedding Day
Before even planning the wedding, it's important to talk about the budget. "Are you a Walmart person? Or are you a Holt Renfrew person?" says Stephanie Vaarsi, financial planner at Sunlife Financial. "Do you spend a lot of money on certain things that your husband isn't going to spend a lot of money on? You need to make sure you guys know that about each other and have figured out some way of sorting it through."
She explains it's important for couples planning marriage to save for the big day. Like, the Shorthouses and the Waltons, most couples Vaarsi advises are engaged for one to two years before the actual wedding. Whether the couple starts a mutual fund or stashes cash away in a ceramic piggy bank, adding to it slowly makes paying the bulk of the budget all at once less intimidating. Says Vaarsi: "The more time you have, the less you have to save."
"The smartest thing we did was being engaged for 18 months because to hear that total [of the big day] makes me think, "Oh my gosh. I can't believe it's [that] much money,"" says Walton in testimony to Vaarsi's advice. "Probably half of [our budget] was spent over 12 months so it didn't feel like that big of a hit."
And, as the Shorthouses discovered while planning their wedding, there are many things people "are expected" to have at their wedding -- things which need to be saved for. For example, the candles on tables and wedding favours. "You gotta have [these things] because some things are just expected and part of a wedding is making everyone else have a good time on your day too," says Brandi.
"Bills come up and things come up... But there's the stick to [a budget] person and the not-so-stick-to it person," says Vaarsi, alluding to the cycle of spending and saving couples can get trapped in. Those that go over may need to put a portion of the wedding on credit and make some sacrifices in the future. One couple she's working with hope to balance the budget with wedding gifts.
In the end, though, many couples feel the cost is worth it.
Says Brandi: "For us [it wasn't] good enough [to] just live together common-law. We want[ed] to be united as a team, as a couple and for me to take Kevin's name, to become a Shorthouse. It was super important."
Popular in the Community