Cottage decor? In the suburbs? Why not? If you've been watching our exploits, thus far, on Colin and Justin's Cabin Pressure (Cottage Life TV, 10pm, Tuesdays) you'll understand that our on screen decorative message, is perfectly translatable, no matter location. Indeed whatever your geographic persuasion (city, suburbs, town or country) our designs can be twisted and tweaked to suit your home. Fact.
Stepping outside our own cottage, for this week's epistle, consider this simple -- but nonetheless high impact -- before and after. Our clients, for the most part, lucked out with the home they'd recently purchased: it was spatially fabulous, but the finishes were more than a little dated. But come on; just look at that fireplace -- a great kick off point if ever there was. Our paymasters, however (by their own admission) felt utterly clueless about how best to invigorate the brick-built structure or, for that matter, the room within which it sits.
We never fathomed why, when clearly a very hospitable couple, their dining room was so desperately spartan. Standing at their doll-sized table, we imagined the Lilliputian-scaled dinner parties that must have taken place prior to our arrival. Blimey; Tom Thumb and his missus would have been pushed for space. As would Snow White and even a couple of her seven wee buddies. Call us old-fashioned but we enjoy a little elbowroom...
In the room's favour, however -- because it boasts large French doors -- natural light is abundant. In this regard, we were able to cozy things up without our project appearing even remotely gloomy.
To act as a comforting backdrop for our new look, we painted the main walls taupe, then picked out the zones either side of the chimney in dramatic matte black. Sometimes, as we've explained during previous missives, a little less colour is more appropriate than a big, bold statement. We're all about context and, being that our client brief was to create 'modern cottage in the suburbs', a modicum of restraint made sense.
We suggested an ebony-painted floor and our peeps, without even flinching, said yes. Blimey; we normally factor for day long debate, nay 'battle', when proposing dark boards but this suggestion went without hitch. Tip: Caring for a dramatic floor finish requires commitment, so opt for satin finish instead of glossy paint or you'll find yourself perpetually attached to a Swiffer, chasing microscopic particles around your nest. Couple of options; if you'd like to see lots of wood grain, choose a deep stain and varnish in one shade by Behr and lavish your boards with two or three even coats. If you want a solid finish, sand boards in preparation, then apply two stout coats of black satin paint.
A natural finish rug immediately creates a smart dining 'island'. To connect the midnight tones of our ebony floor and the brown brick fireplace, we opted for sea grass. Tip: Some folk note that 'natural' rugs have a peculiar odour (especially when new) so here's a simple remedy gleaned from a carpet manufacturer at an Italian trade show. Pop the juice of a lemon in a mister bottle, add the same amount of white vinegar, then fill with water. Spray a discreet underside area to test for colour fastness and leave overnight. If all is good, take the rug outdoors, mist with the pong banishing potion and leave to dry.
The brickwork is yummy, huh? And more than just a little redolent of cottage life. That said, since time immemorial, many renovators have made a habit of boarding up or removing chimneys like this. We, on the other hand, prefer to glorify rather than conceal. The stained timber mantel was structurally sound (and its proportion good) so we played a little trick to give it even more presence. We applied specially cut mirror sections to provide an unexpected modern diversion, a touch with which our clients fell immediately in love. Most glazers will site visit but, if confident, you could make paper templates and take these to your local supplier. Grab some glass contact adhesive from Home Depot, follow the instructions on the tube, and you're done!
OMG -- The Bay Clearance? Not only did our table come from an everyday source, it was also seriously inexpensive at just $150. Slightly scratched, it was, nonetheless, a great buy especially as we planned re-versioning it as part of our design. Tip: When you spot a 'bargain', remember it's only a bargain if you really need it. And bear in mind that one of the easiest and most inexpensive ways to update is with paint. With a little TLC, a whole lot of sandpaper and lashings of ebony satin we hauled this formerly scratched table from mahogany veneered dullsville to sophisticated glam'.
We get seriously excited by luxurious drapery but are often scared off by the costs associated with some indulgent custom window treatments. This in mind, here's a C and J 'how to', which we hope will help you create gorgeous curtains at a fraction of imagined cost.
Forget expensive silk and satin and search instead for polyester mix weaves with the look and feel of their posher cousins. We lined basic man-made pale gold fabric with bargain basement heavy gauge cotton to give a bulky interlined effect. Made up by our seamstress, with pinch pleating and black bobble edging to add punch, they belie their inexpensive roots.
The perfect spot for glamorous vignettes, a quality credenza is the business. Our specification has a Gustavian feel and we love its aged (slightly gnarled) appearance and pale wood contrasting top. Set below a collection of variously framed antique family photos - which we unified with gold frames - this focal point is now a commanding part of the overall look as well as a useful stash zone for crockery and table cloths.
All things considered, our clients are thrilled. Their request for 'cottage in the suburbs' materialised beautifully, right before their eyes. Our own dining room transformation features shortly on Cabin Pressure. Let's just say it wasn't quite such an easy ride. Tune in to see the drama unfold...
'Colin and Justin's Cabin Pressure' airs Tuesday evenings at 10pm on Cottage Life. The network is currently in free preview -- check listings for information or speak to your cable supplier.
For more info, visit www.cabinpressure.tv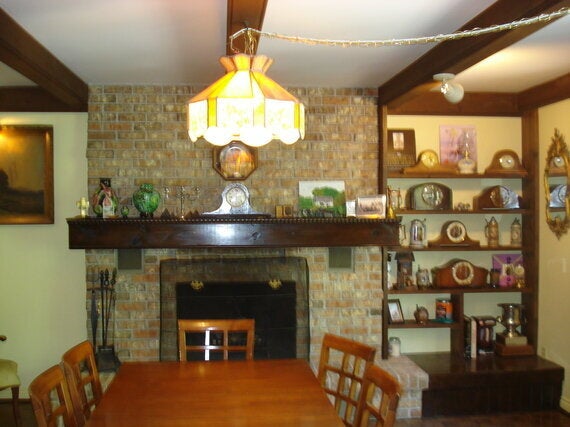 After - pictures by Brandon Barre