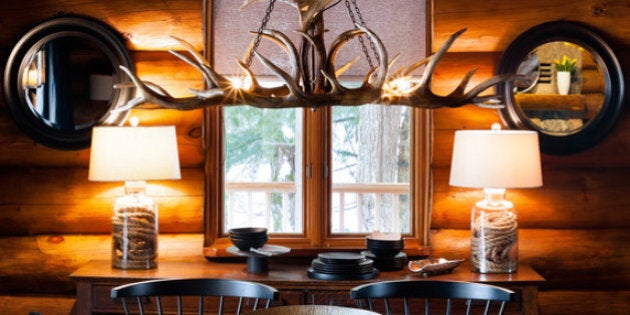 An integrated sound system, a glass staircase and long, lean Italian style seating -- if the season finale of Colin & Justin's Cabin Pressure is anything to go by, it looks like Canadian cottaging just got a shot in the arm of European style...
Canada. Australia. London. Florida. Our TV and media schedule, of late, has been relentless. Not that we're complaining, you understand. We rather enjoy the elastic trajectory that sends us fleeing in all directions; it keeps us young, fresh and perfectly on point, perched high on designer toes. Put simply, there's a world of decorating malaise to be corrected, so we'll happily dance to the tune.
But of course media matters aren't our only professional distraction; our private client roster remains buoyant. Whenever, that is, time allows. In the GTA, for example, we're returning to a couple of projects, previously secreted into a 'holding pattern' due to overseas obligation. One is a 5,000-square feet Forest Hill monolith, and the other -- in Burlington -- a 1,600-square-feet nanny annex which we'll create from the shell of a derelict building that was once a chicken coop.
Then of course there's our own cottage living room, the reversion of which plays this evening, as the Cabin Pressure season finale. The room, as we found it, bore all the allure of a maximum security twilight home though, in the dark space's favour, there were beautiful logs everywhere and bags of potential. But, holy mineshaft, was it ever dark.
And so it came to pass that, with unstinting ambition, we concocted our plans, submitted them to the township and held our breath. Fortunately, the planners approved our requests, their only proviso being that we engage a structural engineer to appraise the window area where we hoped to insert doors.
Quick as a flash, our contractor Dan called an expert to appraise the situation. And the best news? He saw precisely nothing that would undermine the integrity of the house by adding three sets of French doors. Why the previous owners minimized their view to the beautiful lake was beyond us. But hey, who are we to worry about the past?
Shortly thereafter, Dan The Man, carefully following the specifications of our door supplier, wielded his chainsaw. Painted Iron Mountain grey by Benjamin Moore, the portal trilogy is gorgeous. And the ensuing -- now unbroken -- view to the lake? Holy crap!
Next up on our hit list -- integrated sound and vision and controllable lighting. The last thing we wanted was a veritable spaghetti of cabling; wires, as we see them, are like wrinkles on a beautiful face: with Botox they can be coaxed into submission. It's just a matter of knowing where best to position that metaphorical needle.
advice on installing a specialist system. "I always say if it's too complex, you'll be put off by your own choices. And it's all in the planning -- a well-thought out wiring plan needs a solid Wi-Fi system as a key component."
When we confide in Kehayas that, on occasion, we've tackled simple cable management on a DIY basis, he raises a concerned eyebrow. "That's all well and good when budget is tight. But the difference we can make is astounding. Besides, we're not simply in business to conceal speaker wire. We do so much more."
As we inquire about these ancillary services, our subject extrapolates. "Components range from automated lighting and motorized window drapery to multi-room music installations, home theatre and centralized video. These days it's all about remote touch-screen operation via mobile device."
Establishing instant rapport, we engage Kehayas so he can start from the ground up. And we get bragging rights that the company we've used is one of only two in Canada selected to market the IMAX Private Theatre system. It is, by all accounts, a prestigious and ringing endorsement. Though one that may have limited appeal: IMAX set-ups start at around $2 million. Ouch. We, ahem, stick to an eminently more modest fit out that delivers sound -- and lighting -- around the entirety of our cute wee cottage. "Whatever size your job, we'll tailor solutions that address every requirement. And we'll problem-solve as we go, saving pricey mistakes."
For us, being that we travel so much, the system is manna from heaven. Thanks to cameras dotted around our cottage exterior, we can even monitor the property from the other side of the world. Everything is easily controllable; in a nutshell, it's security bliss.
Sound and vision addressed, we turned our attention to matters visual and ergonomic. Replacing flooring throughout, for instance, was a serious game changer. We opted for solid Kentwood lumber to update the worn out berber and the flood damaged wood that had previously covered the entire ground level. The resultant uniformity is breathtaking and sets a perfect scene from the moment the cottage is entered.
Furnishing from nearby country sources proved tricky so we set our compass for Toronto where we found exactly what we needed in Casa Life and bingo: fortune smiled at the time of our visit with an upholstery sale that made our choices even more affordable. The Casa Life inventory never disappoints; we've specified from their hallowed aisles during many jobs both on and off screen. Dressed at one end with a languid chaise longue and at the other with two Casa Life chairs (that look for all the world like reupholstered car seats) the 'nest' comes alive.
In the dining area, ebony lacquered chairs from Urban Amish dress an oversized Hemlock table. The vignette is brightened by a faux antler chandelier picked up on 50% discount in Camilla House, Mississauga. Previously 'set dressing' for an exhibition, it needed a little TLC (and a once over by a qualified electrician) but it was soon ready for installation. We're masters of the 'bargain corner' or 'scratch and dent' opportunity and always ask, wherever we're shopping, for best deals. Scottish right? Not tight, just canny.
In a significantly traditional environment (such as this) it's fun to add unexpected 'twists' -- here, 'visual decluttering' was the perfect solution. Pristine glazing by Access Glass serves to 'enlarge' the previously dark corner. In our quest to 'shop local' we hired Taylor Carpet One to cover the stairs in a tactile yet hardwearing grey berber, the tone of which is the perfect foil to the lumber notes elsewhere.
Next, to proffer further surprise, we added slick black drapery. Overtly patterned -- or brightly toned -- curtains would have detracted from the warmth of the massive pine posts. Thick weave fabric from Robert Allen (their quality is undeniably off the chain) coupled with a custom make up service by Amazing Window Fashions lends mammoth drama to our designer spectacle.
An admittedly unusual addition is the Flytrap by Montreal based Pink and Brown. We've long since admired the classic 1950s lamp and opted to position one here as unexpected punctuation in our dreamy 'black and tan' environment. Guests, thus far, have been thoroughly mesmerized by the curves of this 'Mid Mod' Mad Men marvel. Can't you just imagine Don Draper downing an old fashioned while light dappled by the curious lumiere?
Now the home stretch. Final dressing comes, for the most part, via the aisles of Homesense, where we rooted out an armory of gorgeous accessories to enliven our ambitious vision. Rescuing our wee cabin, we should report, has been an absolute honour. Hard work, sure, but hugely rewarding. Now all we need do is find time to enjoy it. So, if our agents are reading; perhaps today is the perfect time to ease off the gas, if only for a month or so. It'd be nice to chill out at the lake before our next assignment takes place. Sun tan cream, bug spray and beers at the ready. The vacation starts here. Right?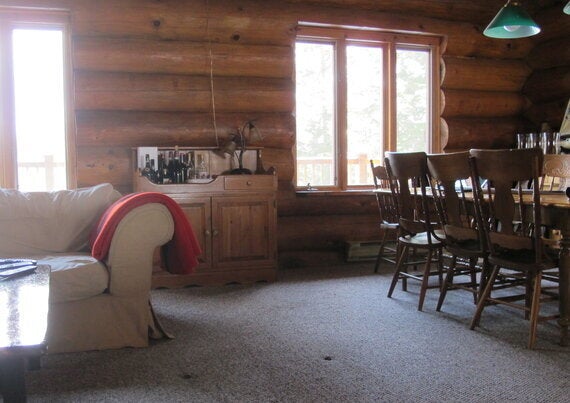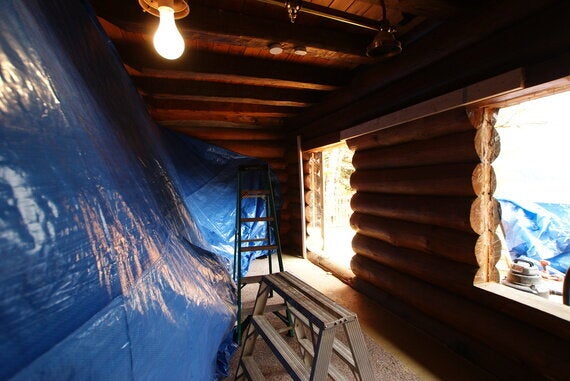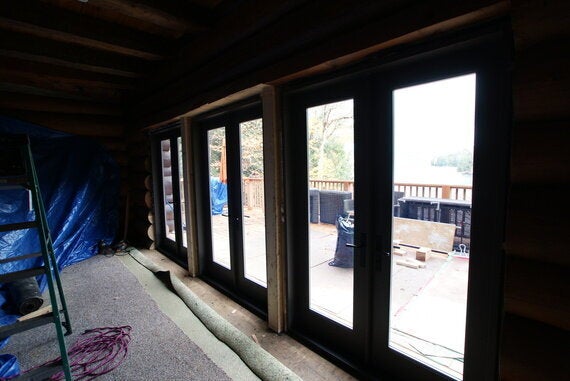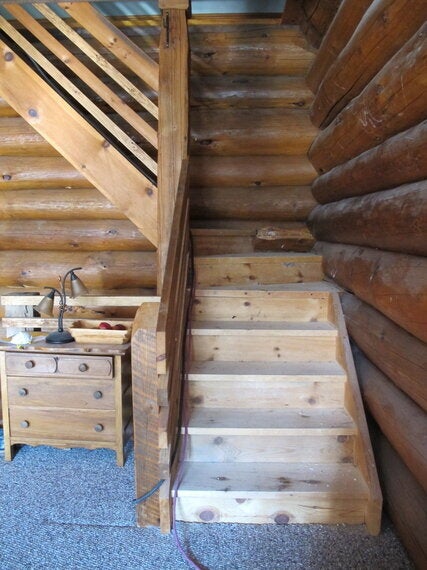 Glass panels, statement lighting and new carpets totally transform this simple staircase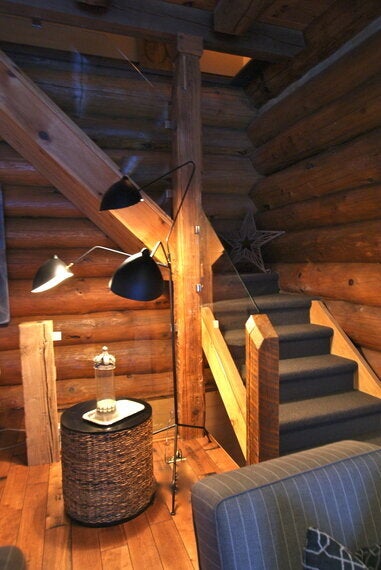 Room after shots by Brandon Barre: