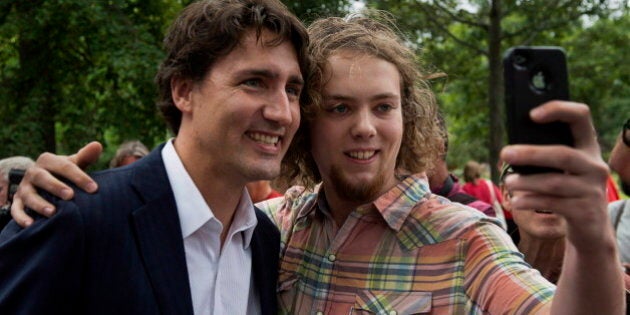 OTTAWA — Could young voters deliver the keys to 24 Sussex Drive to Justin Trudeau?
The Liberal leader has made a great effort to reach out to young people. In the past six weeks, Trudeau has visited eight campuses. He has tailored and repeated a message of hope, change and marijuana legalization that is designed to attract younger voters towards his party and away from the NDP. He's engaged young people on social platforms they are familiar with: Twitter, YouTube, Facebook.
But so far polls suggest that his efforts aren't paying off.
An Ipsos poll this summer suggested 18- to 34-year-olds are far more likely to think of the NDP as the party of honesty, inspiration and the future than the Grits, who are seen as tired and arrogant.
A Forum poll in September suggested there is a gap of 12 percentage points between NDP and Liberal support. Thirty-seven per cent of those surveyed, aged 18 to 34, said they were more likely to vote for the NDP and only 22 per cent said they were leaning towards the Liberals.
Frank Graves, the president of the polling firm EKOS, says Trudeau's lead in public opinion surveys has nothing to do with young voters.
"His rise in the polls hasn't been propelled, at this point in time, by attracting young people," he said. "The real growth in Liberal support has come from boomers and seniors."
Young people — Elections Canada categorizes them as between 18 and 24 years old — are a constituency of voters who don't yet understand their potential power says Canada's chief electoral officer.
"If young people understood their collective influence and started to vote at the same rate as the general population, then that would mean 700,000 more votes at the election. That is bound to have an influence," Marc Mayrand told The Huffington Post Canada last week.
If 61 per cent of country's 2,974,589 young people had voted in the 2011 federal election — the same proportion as the rest of the country — pollsters say it could have made the difference between a Conservative majority win and the Tories being held to another minority. The Conservatives won their majority by 5,978 votes — the sum of the 13 ridings where Tories won by the slimmest margin.
Instead, only 38.8 per cent of young Canadians cast a ballot.
Trudeau's strategy of tapping into young voters aims to mimic the results of U.S. President Barack Obama's 2008 campaign, which showed what a difference the youth vote can make. But it's far from foolproof.
Young people are a dwindling percentage of the population — one reason why betting, as the Conservatives do, on the growing population of seniors to carry a political party to power makes more sense.
"If the youth voted it would change a lot," Ipsos Public Affairs CEO Darrell Bricker told HuffPost. "But you first need them to show up."
A study by political scientists André Blais and Peter Loewen found there is "clear evidence that youth are less prone to vote now than in the past." Approximately 34 per cent of first-time voters cast a ballot in 2000 and 2004, compared with 58 per cent of first-time voters in the 1984 election.
Bricker said young people don't vote because they don't think their vote matters.
"They don't see the parliamentary system as the way to effect change, so they do other things," he said.
People tend to start voting when they feel they have a stake in society, and usually that comes with home ownership, Bricker said.
Trudeau's office said their leader packs his schedule with talks to high school students and university groups because he genuinely enjoys it.
He's been doing it since his election in 2008, speaking on topics such as the environment, social awareness and community engagement, Trudeau's press secretary Kate Monfette said in an email.
"Mr. Trudeau fully intends to continue meeting young Canadians in the months and years to come because he firmly believes they have an important role to play in the future of the country," Monfette wrote.
NDP Leader Thomas Mulcair told HuffPost he also takes great enjoyment speaking to young people. When he goes on tour, he looks for opportunities to speak with students and listen to their ideas, he said.
"I love that. If I've got an hour, I'll do 10, 15 minutes max of my own and then all the rest of it is questions and answers, that is the best way to get to the good stuff," Mulcair said in an interview this August.
During a recent visit at the University of Alberta in Edmonton, Mulcair drafted a speech designed to speak directly to young people about the challenges they face: a lack of steady jobs and rising student debt. "Your generation deserves better" was Mulcair's message to the youth in the audience.
But students made up a small percentage of the 300 people in attendance, said university student Andrea Ross.
"There weren't as many students as I would have expected… Or as many as they'd hoped, I guess," Ross told HuffPost.
Ross described the university as a "big NDP area" and said she found Mulcair to be charismatic and friendly. But she thought more students would likely show up to see the "younger" and "hipper" Trudeau.
Liberal MP Dominic LeBlanc, a childhood friend of Trudeau's, said his leader is attracting young people to the party. If the polls don't yet reflect Trudeau's appeal, LeBlanc says it's because "there is a lag time on this kind of stuff."
"That's why it's important to do these campus events… We are relevant in the minds of youth voters like we haven't been in a generation.
"The challenge is turning it into votes that count on election day. People who are blogging and Facebooking and coming to events, it is encouraging. But what will change the government is if that interest turns into ballots that land in a box. And that can't be done on Facebook or in a blog."
Katie Driedger, a third-year political science student at Brandon University, described Trudeau's first visit at the Manitoba school as "almost a rock star experience."
"You couldn't fit another person on the main floor," the 20-year-old said.
Two hundred people showed up to hear him speak, take photos and get his autograph, she said. The crowds were thinner when Trudeau visited the Tory riding again three weeks ago, but he was still introduced as if he was a Beatle, she said.
Driedger found him engaging and "very approachable," but seemed annoyed he dodged students' questions. "He would never directly answer," she said.
Ryerson University student Ramisha Farooq told HuffPost about 75 students attended a little-advertised Trudeau event at the school recently. He "brought the room to life," made jokes about Prime Minister Stephen Harper and seemed down to earth, the 19-year-old said.
But like other young people her age, Farooq said she's not sure she'd vote for Trudeau. She said she leans more towards the NDP because of their focus on social justice and health care.
"I personally was excited to see him but I have my own political views that don't necessarily agree with him," she said.
"But it was really cool to see a politician taking an interest in a university and in students."
It's comments like those that boost the NDP's confidence.
NDP MP Nathan Cullen said he's not worried about Trudeau's courting of a core NDP constituency because young people know that New Democrats better reflect their values.
"One or two campus visits, and a few policy offerings — that is fine. Mr. Trudeau will make his appeal, but I just had a meeting with young people here in Victoria and the alignment of NDP values and those of the progressive young people are completely in lock step and have been in a long time," Cullen told HuffPost.
"Our policies have always been able to speak to not just now but what comes next. And that's what young people are concerned with because they are the ones who get to inherit the decisions we make today."
Last fall, the NDP caucus spent a great deal of time discussing ways it could grow its support among young voters. An internal document obtained by The Huffington Post Canada outlining the party's Youth Outreach Strategy notes that with Jack Layton, the NDP won the support of nearly half of all the first-time voters outside Quebec in 2011.
In Quebec, the party received the support of 65 per cent of first-time voters. And despite a declining overall voter participation rate, the NDP notes an uptick in turnout for the first time in six years among the younger 18- to 24-year-olds. Thirty-five per cent of them cast a ballot.
The NDP document says the party's strategy to grow its base is focused on identifying supporters by chartering campus clubs, and training new activists and future organizers.
NDP MP Matthew Dubé, the chair of the youth caucus and the party's youth critic, said New Democrats want to make young people feel like they are part of the conversation.
The party plans to propose youth-specific policies, such as a tax credit for companies that hire young people, and develop new ways to reach out to young voters — especially those who aren't on campus. In the months ahead, Dubé said the party will replicate Obama's fireside hangouts on Google+ as a way of branching out.
With so many young NDP MPs, Dubé said young people know the party is speaking their language when it comes to the Middle East, women's rights in Afghanistan, and changing the electoral system.
"We're all cut from the same cloth generationally and that is definitely a plus for us."
Story continues after slideshow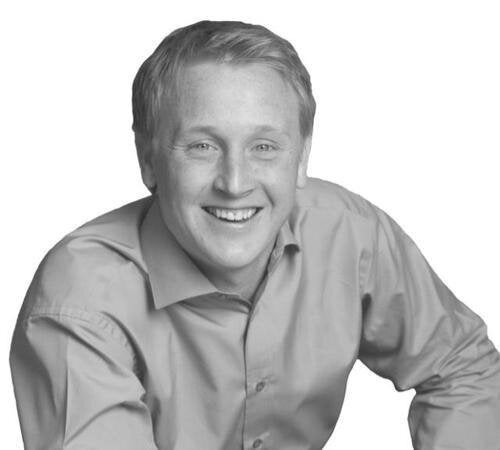 Canada's Youngest MPs
The big risk is betting that young voters will turn out at the polls, says Ipsos pollster Darrell Bricker. He pointed to the NDP in British Columbia's spring election, when few of the identified young NDP supporters actually cast a ballot.
But he says that younger New Democrats were more inspired to show up than those who supported the Tories or Liberals in the 2011 federal election exit polls.
"In the last election, the young people showed up because of Jack. So the question is, can Trudeau do the same thing? I don't know."
The Liberals have "a very appealing leader but that hasn't necessarily percolated down to their brand yet," Bricker says. But the NDP brand seems to carry the message of hope and change no matter who's in charge.
Only one party can be the party of change, otherwise they split the vote.
"The NDP, as a party, has a lead on all of those things. The Liberals, as a leader, has all of those things," Bricker said.
EKOS pollster Frank Graves says that 18- to 24-year-olds now have a "trivial influence" on the outcome of an election because of their declining voting rates and their shrinking percentage of the population.
"If you're trying to win an election, it would be great to get those guys back out. But in reality that is a very daunting prospect," he said.
Bricker is skeptical any Canadian party could replicate the success the Obama campaign had in mobilizing the youth vote.
"The amount of money that was spent and the amount of time that was committed to doing this, the resources are way beyond anything that any Canadian political party could manufacture," he told HuffPost.
Graves said he worries "click democracy" is replacing actual votes. "People who do this online seem to get discouraged — 'I signed a Facebook petition and I registered a really nasty tweet out there, but nothing happened.'
"Well guess what? You didn't vote."
Mayrand, the chief electoral officer, said he is so concerned with declining participation rates among young voters that he plans to introduce online registration and install polling stations at university campuses across the country during the next federal election in 2015.
Despite the efforts, if young people don't show up in large numbers in 2015, LeBlanc said the Liberal strategy won't have been in vain.
If the Liberals can even get a small number of young people excited about their policies, he said, those young Canadians could be influential promoters with their parents and grandparents who are more likely to vote.
"Young voters alone won't be enough to elect the Liberal government," LeBlanc added. It is just one of the constituencies, along with women, new Canadians, suburbanites and francophone Quebecers that the Liberals hope they can win over.
Bricker said parties have to look for the path of least resistance when developing electoral strategies.
"Trying to convert people who don't think their civic duty is to vote, to voting is a big physical leap," he said.
But taking someone who has only voted once for the Conservatives and convincing them that they should vote the other way is an easier leap to make.
"It would be nice if you could make both happen, but investing in youth voters showing up has failed in every single campaign in Canada," Bricker said.
If the Liberals and the NDP are betting on young people to carry them to power "that's a big hope."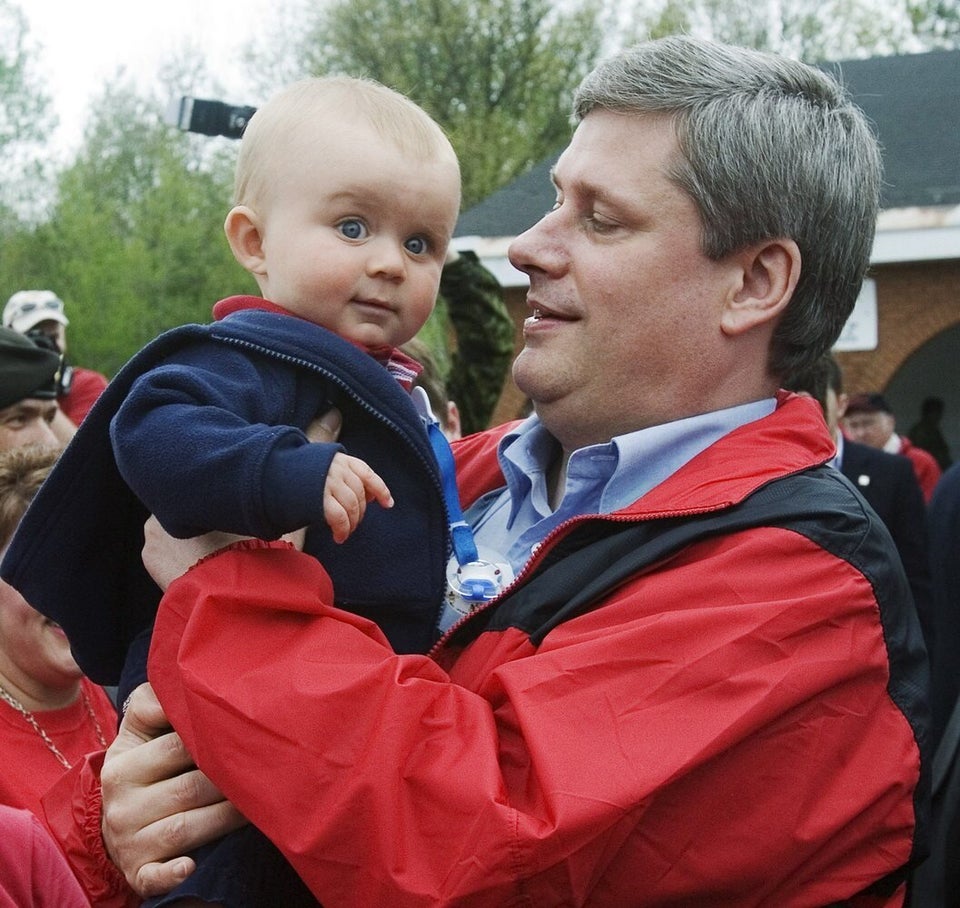 Canadian Politicians & Kids