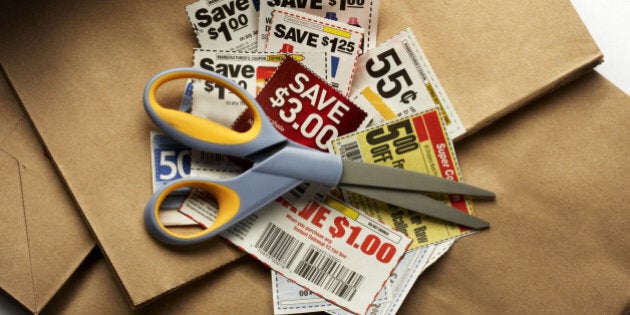 As a dad and an entrepreneur, I'm always looking for ideas to save money at home. And when those ideas also help me grow my business? I tend to get pretty excited.
So what money-saving, business growing idea has me excited right now? Coupons. Yes, you read that right. But I'm not talking about your mother's coupons, the ones that came in the Sunday paper that she clipped and redeemed with the weekly grocery shopping trip.
I'm talking about digital coupons that you can use to expand your business and be more profitable. Whether the coupons are distributed on a "daily deals" site or an affiliate site that offers promo codes to its readers, in a newsletter or on social media -- or even in print -- businesses everywhere are increasingly turning to coupons to drive business. "When a business adds coupons to its marketing strategy, it's a win-win-win situation," says Couponbox.com Country Manager Shane Forster. "Coupons are an excellent way for retailers to extend their reach and increase sales; consumers save time and money shopping for their favorite products. But only the best, most relevant offers will get traction with new customers and provide retailers with the extra reach they seek."
And with the advent of mobile coupons that can be redeemed in store or online, the flexibility of digital coupons makes them a great way to market across multiple platforms.
Many people think "clipping coupons" is just for people who can't afford full price, or people with too much time on their hands. But the fact is, coupons are increasingly popular with shoppers online. They're a major factor in many consumer purchase decisions. Studies even show that lack of a coupon or promo code is a leading cause of shopping cart abandonment.
What's so great about coupons?
1) Customers love coupons -- In a recent survey, the National Retail Federation reported that 54 per cent of online back to school shoppers gave coupons as their reason for shopping at one store versus another. More than half of online shoppers indicate using coupons from an email (64 per cent) or a web site (57 per cent); that's almost as many as those who say they use coupons from an ad insert (74 per cent) or sources such as a magazine or newspaper (63 per cent).
2) Coupons are easy to use -- Most people are familiar with the idea of a coupon, so it's not hard to get customers to use them. In fact, redeeming coupons is just about as easy and user friendly as it gets. Ease of use is an important part of the online user experience, which is the emotional assessment of how we interact with a product or brand. Basically, coupons generate positive feelings in consumers. Offering them is also easy; since coupons can be offered on your website, in email, on social media -- wherever you have a presence online.
3) Coupons attract new customers -- You can also extend beyond your own online presence and place your coupons on sites that have heavy traffic from the types of consumers that are most likely to want your product. You can also leverage them more broadly to attract new customers, using coupon aggregation sites like CouponBox.com. CouponBox is an online coupon portal that allows consumers to search for businesses that are offering discounts, as well as to search for coupons and promo codes by particular types of items. Hungry for pizza? Search for "pizza" and several different pizza coupons will pop up. If your business is among them, consumers can select and download the coupon or copy the code, encouraging them to visit online or in person.
4) Coupons influence purchase decisions -- Coupons aren't just for bringing in new customers or getting old customers to come back. They can also help guide customers to buy specific products. So they can be used to clear old inventory before new items arrive.
5) Coupons drive add-on sales -- Customers often come for the coupon but then purchase other items too, which drives down the cost of offering the coupon in the first place. And coupons generate traffic: customers may come for the coupon and ultimately opt not to redeem it. This can happen for instance, if the coupon expires or the item they ultimately choose to buy isn't part of the promotion.
Coupons are becoming increasingly popular with dads and entrepreneurs alike: of the 52 per cent of dads who say they are the primary shopper for their families, nearly 53 per cent say they use coupons. So if you're looking to drive traffic to your website or business through your doors -- or if you just want to save some money for your family -- give digital coupons a try.
Follow HuffPost Canada Blogs on Facebook