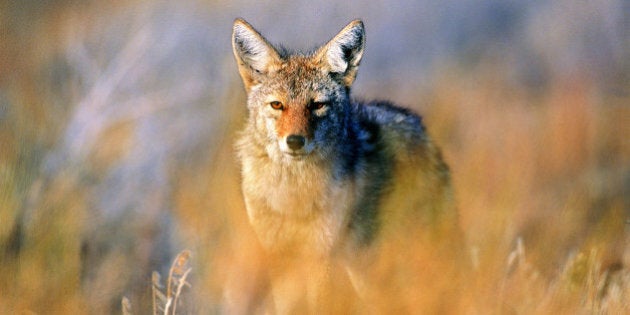 An annual contest to kill as many coyotes as possible in a single day has drawn the ire of environmentalists, who call its cash prizes "reckless" and unnecessary.
Teams of two hunters pay a $50 entry fee and are then permitted to come onto a property and kill as many coyotes as they can.
The winners take home 50 per cent of the proceeds, the second-place team pulls in 30 per cent and the third-place team 20 per cent.
Hunters can also claim cash prizes of $5 per person for each of the biggest, smallest, mangiest, and "wild card" animals killed in the contest.
The teams ride two to a vehicle and cannot claim prizes for any coyotes that have been trapped, poisoned, snared or road killed.
Paul, the man running this tournament (who did not want his full name used) said he has received death threats from people "hiding behind computers" and writing "nasty posts" on social media.
He argued that people are not aware of the harm that coyotes can do to the environment.
"Our other populations are getting depleted to the point where I'm on the land every day in my business and I don't see rabbit tracks every day, like I should be doing," he told the network.
"The only thing that seems to be prospering in our area are coyotes."
But some environmentalists call contests like this "mass killing," The Edmonton Journal reported.
"Having a contest where people kill the biggest, smallest and mangiest coyote — what does that do to help farmers and ranchers?" Lesley Sampson, director of Ontario-based organization Coyote Watch Canada, told the newspaper.
She was joined in her concerns by Canmore-based wildlife photographer John Marriott, who said on Twiitter that the contest shows Alberta is a "backwoods province."
He urged people to tweet at Environment Minister Kyle Fawcett to stop the tournament.
A spokesman for Alberta Environment and Sustainable Resource Development told the Journal that the government is not involved in the contest.
"We don't endorse or condone these hunts, but also realize they are not illegal," Duncan MacDonnell said.
"From our perspective, every animal has a place, and coyotes are part of the natural ecological balance."
He added that the province isn't concerned about the tournament impacting the province's coyote population.
But while the government doesn't support this activity, it has given full backing to a hunt for boars, offering $50 for every pair of animal ears in an effort to stop them from ravaging farms.
The province last year extended the bounty for boar ears into 2017.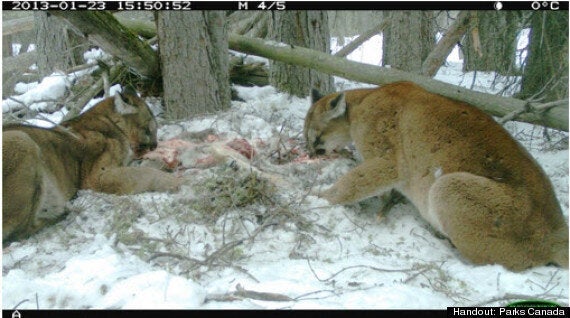 Wild Alberta: Animals Captured On Camera