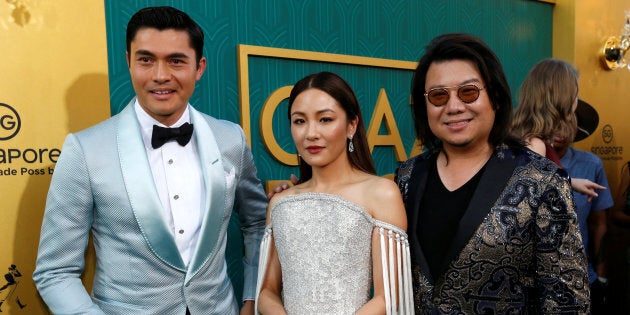 "It's funny because someone had asked me, 'Oh do you feel a lot of pressure as a woman in this industry?' Yes, of course, but strangely I feel more pressure culturally because there's less of it on-screen," Wan told HuffPost Canada in a phone interview.
"There's more pressure from so many different kinds of Asians to get it right and there's no way that you can get it right for every person. And if you don't get it right then it's like, 'Well, there was only one of you and you failed.' And it becomes really scary."
The incredible hype disproves the age-old argument that audiences "can't relate" to protagonists of colour, "Second Jen" co-creator Joy told HuffPost Canada over the phone.
"For somebody to finance the film to get it made — not just made, but a mainstream wide-release film [that's] well produced — I think it's showing that there's more faith in the bankability of the protagonists of colour and actors of colour," the Filipino-Canadian actress said.
Representation helps change public perception
"Crazy Rich Asians" is a milestone moment for the Asian community. The last Hollywood film to star an Asian-majority cast was 1993's "Joy Luck Club," and before that was 1961's "Flower Drum Song."
"Second Jen" stars Samantha Wan and Amanda Joy.
Although Wan saw Asian heroes on screen in the form of Mulan (from the 1998 Disney film) and world-famous actor Jackie Chan, neither filled the role of a strong, real-life Asian woman — and this specifically affected Wan's beauty ideals.
"I grew up only thinking that blond, blue-eyed was the prettiest version," the Toronto-based actress said.
For Joy, things were a little different as she couldn't relate to the limited Asian characters in film or TV, and didn't see her Filipino heritage reflected on screen either.
"You had your choice of Lucy Liu or Kristin Kreuk, Sandra Oh, and I didn't necessarily want to be a doctor or didn't want to date superman," she said. "But [also], there were no Filipinos in media."
In her early acting days, Joy said she was warned by agents not to tell people she was Filipino out of fear of being typecast as a nanny or a maid.
"It was treated like it was OK and diverse and fun to show East Asians, but for some reason Southeast Asians were still taboo or seen as lesser than or less worthy of being on TV," Joy explained.
Asian representation on screen not only shows the Asian experience, but it also demonstrates that not all Asians fit the stereotypes of how they should look or act.
"I have a few actor friends who are mixed race who have trouble finding work because they don't look white enough, or they don't look Asian enough, or some who look too modern when they expect South Asian women to be more conservative looking," Joy said.
"We're still fighting against these stereotypes in more subtle ways, but it's thankfully not like it was when we first came up with ['Second Jen' in 2013-2014], which, at that time, [Wan and I] were both auditioning for geishas and medical students and karaoke singers."
Carving a space for Asian stories
Wan and Joy's sitcom "Second Jen" tackles the millennial experience of growing up with immigrant parents in Canada. While Season 1 touched on cultural issues and moving out of your parents' home for the first time, their latest season — which premiered Aug. 4 — gets a little grittier with discussions about sexual harassment in the workplace and friendship tensions.
The creators said the feedback from the show has been overwhelmingly positive, with viewers thanking them for their relatability and for bringing visibility to Asian cultures.
"The reason we created the show is because our experiences weren't being shared and so it felt natural thinking, 'Well, how come I don't see this?'" Wan said. "It felt really necessary and really important to stay true to our experiences [on the show] so that other people could feel that their experiences were normal, too."
However, the lack of representation in front of the camera isn't the only problem.
"You can have stories starring people of colour or about people of colour still written by 50-year-old white men, and there's some authenticity that's lost," Joy explained. "There's some space that's lost that could be taken up by a person of colour telling a truthful story based on their experiences."
Despite this, the "Second Jen" stars recognize that the industry has made some strides when it comes to improving representation and diversity on screen. And while both are nervous for "Crazy Rich Asians" because of the public's high expectations, they hope viewers remember to keep an open mind.
"It's going to be what it's going to be," Wan said. "It can't be representative of every single Asian experience that we expect it to because then it'll just be stuck in mediocrity. I hope that it's specific and its own thing."
"Crazy Rich Asians" hits theatres Aug. 15, and "Second Jen" airs Saturdays at 8:30 p.m. EST on OMNI 2 Television.
Born And Raised is an ongoing series by HuffPost Canada that shares the experiences of second-generation Canadians. Part reflection, part storytelling, this series on the children of immigrants explores what it means to be born and raised in Canada. We want to hear your stories — join the conversation on Twitter at #BornandRaised or send us an email at bornandraised@huffpost.com.