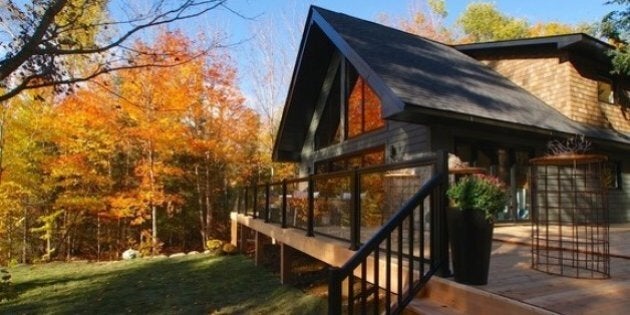 Simultaneous deck installation and landscaping work best, say Colin and Justin, when all parties pull together...
Hello? Warmer weather? While we absolutely don't want to jinx climatic matters by suggesting the mercury's vertiginous ascent has begun, it certainly seems that way. Yup, it's getting warmer in cottage country. Fact. Little-by-little, the hellish, frigid snow is abating (not gonna lie: sick of it now) and the benign, thick ice is finally melting. Are we being overly enthusiastic? We hope not. The worst of everything is behind us, right? Hmm...if we keep saying that, it must be true.
Before long, God willing, we'll be enjoying glorious summery sunsets and oohing and aahing as dramatic displays of rich, buttery yellow and vibrant, blush-red fill previously ominous skies. Hoorah, soon we'll be outside, filling our Scottish lungs with pure lake air. Sartorially, we're thinking board shorts and swan feet (those wee vinyl slippers into which we squeeze our delicate tootsies) to protect against anything that might be lurking, just waiting to grab us, in the silt. You know, dormant crocodiles, sharks. That kinda thing. Nervous Nellies? Us? Nah...
Counting down the weeks till spring yields to her summery sibling, we're casting eyes at our wrap around deck which is slowly emerging from several feet of relentless snow. Built by our superstar contractor Randy Blain (seriously -- we can't sing his praises highly enough: we have never worked with such a master) and lovingly crafted from Western Red Cedar, it's sustainable to the max and derived from forestry businesses that respect the landscape. It's a hugely stable genus and, in this regard, we can be assured it hasn't been undermined by the perilous white stuff under which it has lain, concealed, these last few months.
So what, in "usability" terms, makes a good deck? Well, just like any aspect of an interior scheme, it's all about preparation and quality workmanship. Randy spent the best part of a week (ably assisted by his excavating colleague Jeff) preparing for and then laying ours. And the results (seen below, but photographed at the end of last season) speak for themselves.
But a really good deck doesn't stop at the luxuriant lumber from which it is constructed. To bring any deck (patio or terrace) alive it needs subsequent "layers." In precisely the same manner in which décor and accessories will alternate interior "beat," so too can visual and physical tricks make your exterior scheme look "considered."
And so, the science of decorative planning at the forefront of our minds, we opted to change the woodsy 'beat' at our deck's perimeter. To do this, we employed Sunspace glass and metal railings, built by the team at Nortech with whom we worked closely to appraise various options, colours and finishes.
In hot pursuit of "visual drama," we specified a black frame and glass railing system. The eye catching ebony toned metalwork that wraps around the glazing is visually satisfying and literally "frames" sightlines to the exterior as viewed from the living room beyond.
When the time came to add furniture, we demarcated separate zones. In the first instance, we located a huge dining area (which we'll reveal in a subsequent epistle) and a "bar" zone lovingly attired with circular metal framed tables featuring Acacia surfaces. These came from Artemano and serve as a wonderfully convenient hospitality zone during social gatherings.
Next on our wish list was the establishment of a tempting seating area. To facilitate this, we installed a faux wicker patio set from Casual Life attired with washable covers in soft, creamy linen, its position -- directly in front of the sliding Euro Vinyl portals -- appears to "stretch" the living quarters from inside to out.
Further embellished with cushions made up using Robert Allan fabrics -- and a sunny yellow throw from Homesense -- it feels seasonally relevant. Jeesh, appraising this photographic library we can hardly wait for summer to return. In the meantime, we're already using the terrace, albeit warmed by the Solus firebowl which, powered from a propane tank below deck, is an asset that comes into its own at night when the dark Haliburton skies play host to constellation after constellation of twinkling stars.
With our new deck complete, it was time to turn our attentions to landscaping. To this end, we hired Greg Brown Construction (discover a little of the company's history by exploring their website) on the recommendation of friends who'd been utterly blown away by their professionalism and creativity. For our friends, the hardworking team installed a septic system (which they also did as part of our project's remit) and made such a good job of neatening the site (post dig) that they were immediately hired to work on other aspects of landscaping and gardening.
An absolutely delightful family company (father Greg herds three sons Benton, Andrew and Jordan, while mom Kim takes care of administration, resources and book keeping), GBC worked wonders, within the tough constraints of a tough TV schedule. Through shockingly dire weather (Mother Nature, damn her, played hardball revealing, as she did, a full climatic repertoire of rain, hail and sleet) they kept going.
The landscape across which the Browns navigated, it should be reported, resembled a war zone but even this onslaught didn't dampen their ardour. Were we to suggest we've never worked with more capable landscapers, we'd be doing Greg and his boys a disservice. Diversely experienced as they are, they're a one stop shop for all things build related -- indoors and out.
At our behest they even plucked a derelict concrete drainpipe from the water's edge, which we subsequently turned into a fire pit. Dressed with rocks and circled with 20 buck, second-hand Lloyd Loom chairs, it's the bee's knees on cold evenings. The perfect place, indeed, to bake our s'mores and toast our mallows.
As the Brown family masterpiece concluded, we stood at the water's edge surveying the refurbished domain that gently rises toward the cottage. As salty wells gathered in our eyes we remained silent. But then our stoic resolve collapsed as salty streams poured forth. And we gave thanks. Greg had overseen a transformation of almost biblical proportions. His familial apostles literally made the earth move for us. And with it perhaps 100 tonnes of boulders, which they dotted around the gently tiered garden area.
And so it came to pass that, as the last vestiges of Haliburton snow continue melting, we can finally discern the future. And, as the ice abates, we're thinking summery thoughts. It won't be long, it won't be long...
Colin and Justin's Cabin Pressure airs on Cottage Life at 9pm, Sundays. The TV network is currently in FREE preview.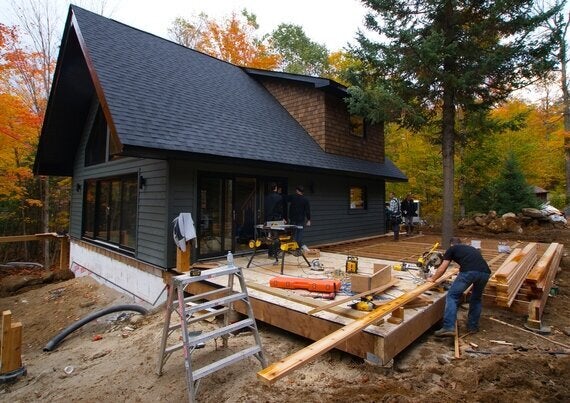 Greg & Benton Brown prepare for the day ahead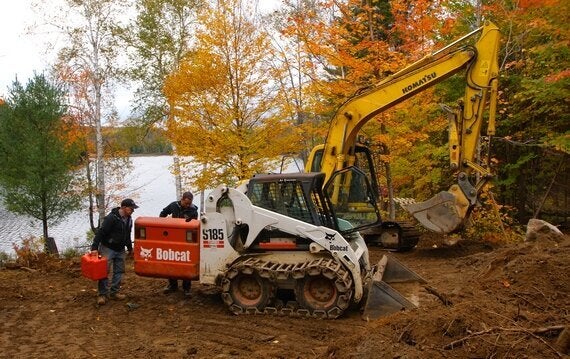 Andrew Brown makes the earth move...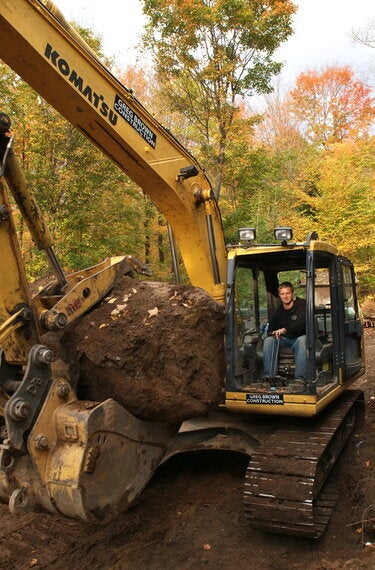 The railings are installed and our firebowl awaits...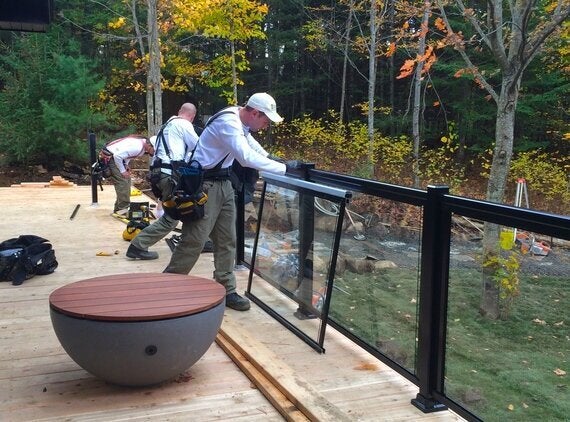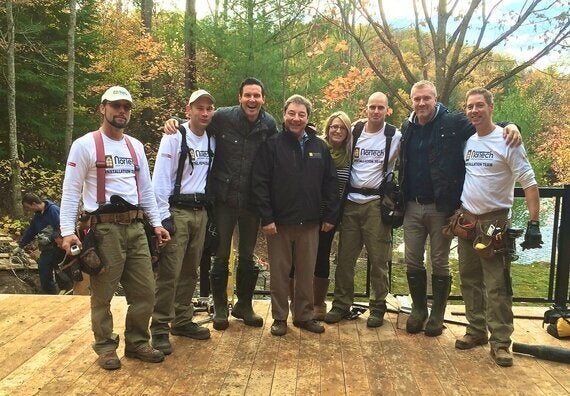 At last -- the fire's on and the furniture's in place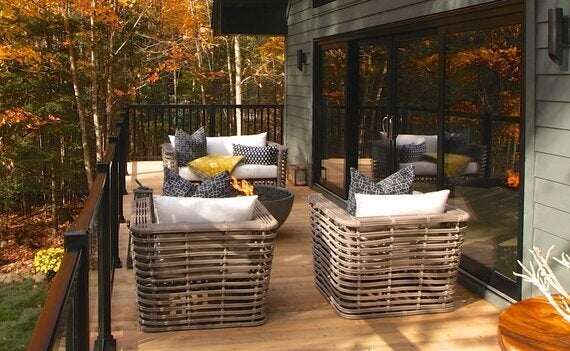 The black and glass railings and Western Red Cedar deck echo the interior style of the cottage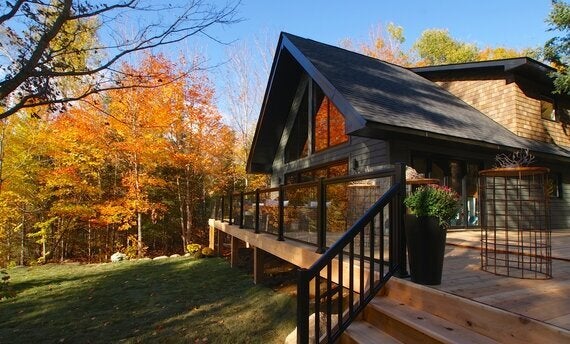 Ready for s'more? With the landscaping complete, here's to many years of plant maturation as our cottage garden takes shape...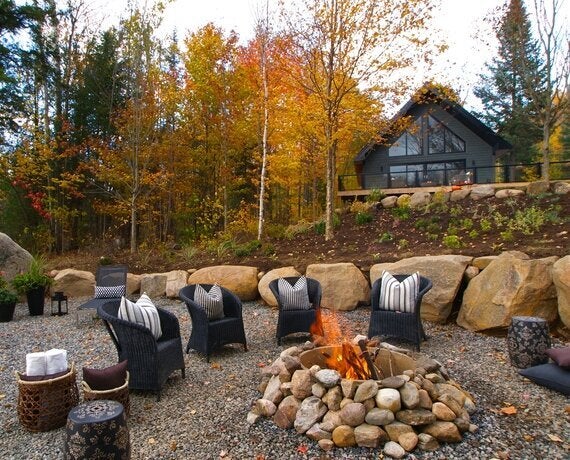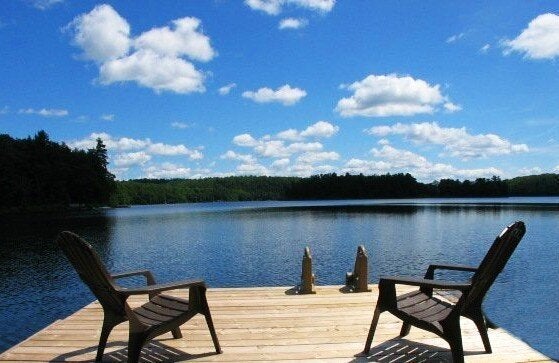 Most Expensive Cottage Countries In Canada (2014)
Popular in the Community