TMZ reports his wife and sister-in-law phoned 911 in order to prevent it from possibly happening. TMZ also released a two-minute and sixteen-second audio clip of the call (see above).
The call begins with the relatives stating they need to speak with a sheriff about a "family member that's very, very ill" and was recently released from a mental facility. "He's off of the drugs but he's going crazy and he's on a bike, he's not wearing a shirt, he's got long hair," the relative says.
When the dispatcher asks the relative what makes her think he's a potential danger, the relative reveals what Stapp might be planning. "He thinks he's part of the CIA, he thinks they're trying to kill him and he has paperwork in his backpack that says he's a CIA agent and he was supposed to assassinate Obama."
The dispatcher then tries to get a bit more information which the relative -- who describes Stapp as suffering from paranoid schizophrenia. The relative also says he has a bunch of tools in his backpack before adding he's been arrested a lot. "He's been in rehab about eight to ten times, a lot of arrests," she said. "But I stood by him because we know he's ill."
The phone call, which was approximately 40-minutes-long, included Stapp's wife Jaclyn Stapp telling the dispatcher the musician had somewhere between 400 to 600 pages of CIA documents which he found online.
Stapp posted a video in late November stating the IRS had frozen his bank accounts to leave him "penniless" while adding he conducted an audit of his record company and his personal finances. "A lot of money was stolen from me or royalties not paid and that's when all hell began to break loose," Stapp said in the rambling video.
Stapp's wife has filed documents hoping to put Stapp in a psychiatric hold for 60 days, adding he was using marijuana, cocaine and amphetamines.
In 2012, Stapp appeared on the FOX News program Fox & Friends saying he wouldn't vote for Obama days before the Presidential election. "I'm just disappointed," Stapp said at the time. "I had very high hopes and expectations and was really inspired by President Obama. And I still am, he's an amazing speaker. But in my opinion, his admiration [made] a lot of promises, but no real delivery."
Recently he spoke to Toronto's KiSS 92.5's The Roz and Mocha Show and said, "I believe the IRS situation is definitely a result of me expressing my dissatisfaction with President Obama. Absolutely, 100 percent."
As for Creed, the band toured in 2012 and were in the early stages of writing a fifth studio album when plans for the record were shelved. The group's last studio album was 2009's "Full Circle." Creed guitarist Mark Tremonti tweeted the following after Stapp's initial video was posted: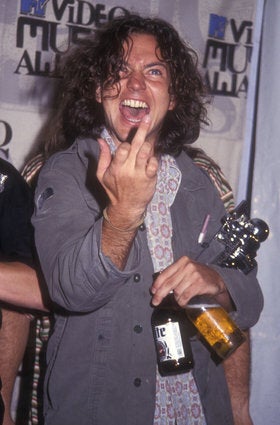 '90s Alt-Rocker: Then and Now
Popular in the Community