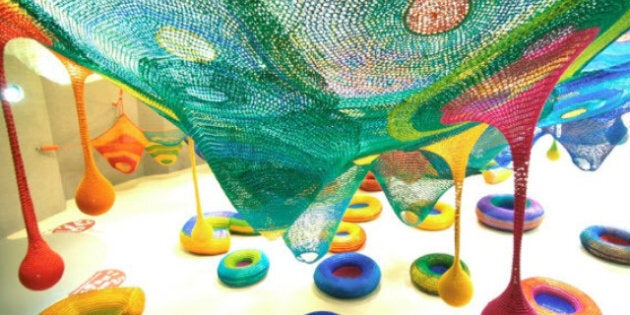 There are few things that bring joy to a child's eyes the way a really awesome playground can -- so just imagine how they'd feel approaching a massive exhibit made of string that looks like something out of Willy Wonka's Chocolate Factory that's meant to be played upon.
These structures, strewn across Japan, Singapore, Shanghai and Spain, are the brainchild of Japanese-born Toshiko Horiuchi MacAdam and her Canadian husband Charles MacAdam, who construct each one from thousands of pieces of nylon, crochet them together into braids over the course of months and then construct them in the chosen location.
"Sports are good for some people, but not every child. They should use their bodies and have fun," Toshiko explained to The Huffington Post Canada from her home in Nova Scotia.
Despite initial hesitation from the government -- she was, after all, talking about putting kids on playgrounds made of string -- she began creating her pieces in Japan, most recently forming the massive Niji-no-su Dome in Sapporo's Takino Suzuran National Park, which took her three years to complete.
SEE: Images from Toshiko Horiuchi MacAdam's playground in Sapporo. Story continues below: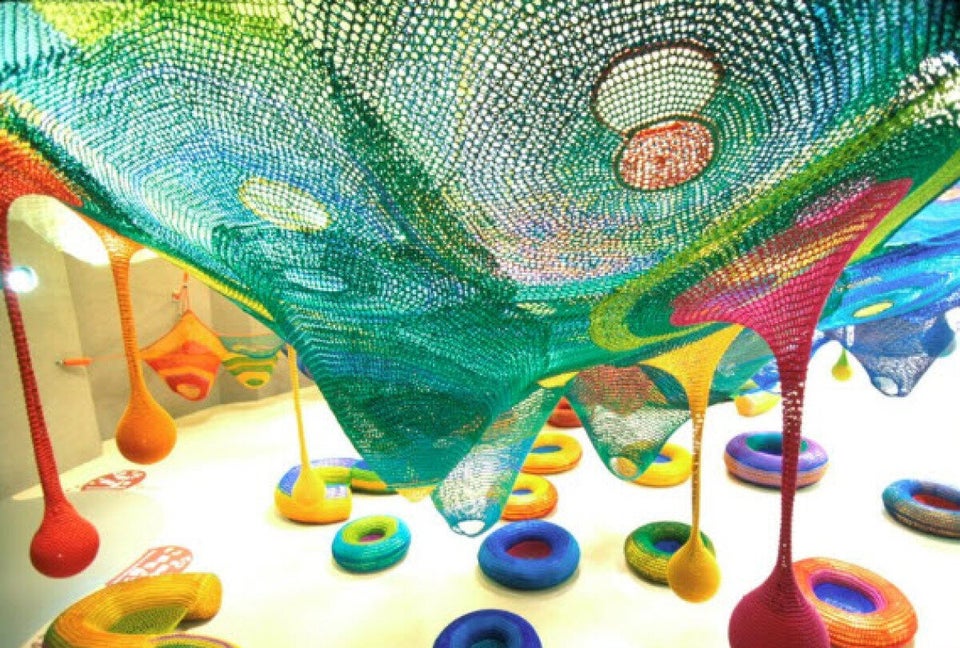 Playgrounds Made Of Nylon
There is an element of risk, Toshiko admits, but it doesn't stem from the material, which is easily strong enough to hold children, but instead, from the wiggling motion it makes and the twists children can take.
Toshiko stresses her concern for children as part of her inspiration, citing the tendency -- particularly in Japan -- for kids to stay by their computers.
"Kids should play together with others, not just on their own," she says.
North Americans, however, might not get to enjoy playing on one of these sculptures any time soon.
"There suing and things to worry about," she explains. "In Japan, responsibility is your own. If your kids play, it's your responsibility."
Despite interest from cities like Toronto and Vancouver, Toshiko believes the cultural difference may just be too distinct. For now, we'll just have to call it art and admire these playgrounds from afar.