Vancouver has jumped on the cronut bandwagon with its own version, the frissant.
Hoping to claim the first version in Canada, Vancouver's Swiss Bakery is busy frying up 200 pastries a day to cope with the local frenzy.
The "frissant" was created through trial and error, Swiss Bakery operations manager Annette Siu told The Huffington Post B.C.
"We have never tried the original cronut," she admits. "We don't know how it really tastes. But we've been making donuts and croissants since we opened in 1993, so we thought we could figure it out."
She describes the frissant as light like a croissant, but with a crispy, fried exterior. Though she is quick to point out it's not as simple as tossing the breakfast pastry into the deep-fryer.
"You have to completely re-work the dough," she says. "Otherwise you'd have butter bleeding out into the oil. This is a completely different product."
After around 15 tries, the bakers were satisfied they had a good pastry, and quietly added to their morning workflow. They started producing three dozen a day a month ago. Then in the middle of June, they turned to Facebook and Twitter.
"We decided to make a double batch that day, just in case," Siu recalls. "People were lining up outside the door before we opened at 7 a.m. — and that's never happened before."
Now they limit sales of the $4 frissant to six per person. They make two flavours, vanilla bean and chocolate custard creme and may start ramping that up in July, depending on how demand goes.
That goes for a trademark too, Siu says: "This is Vancouver, we have to see if this is a sustainable trend. Maybe if we see people start scalping pastries it'll be time to go for a trademark then."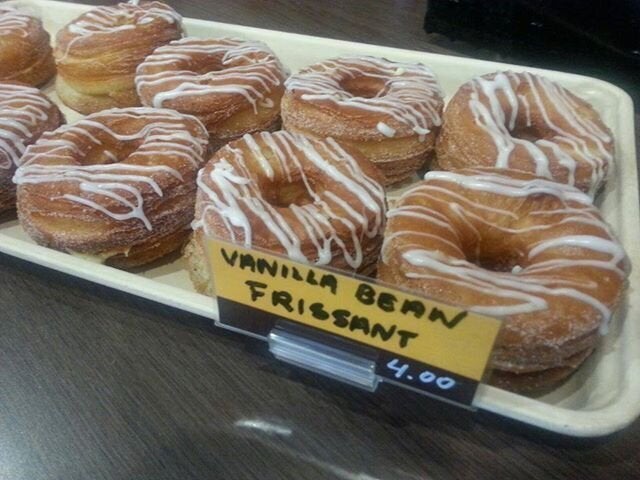 Intoducing The Frissant, Vancouver's Cronut