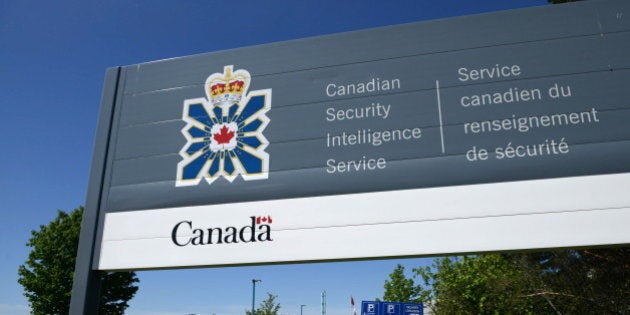 Over the past two months, our organization, the International Civil Liberties Monitoring Group (ICLMG) has been contacted on three different occasions by three Muslim men complaining about Canadian Security Intelligence Service (CSIS) officers who visited ( or called) them either at work or at home to ask them questions.
The three cases were not related but I felt that there was a common sense of frustration by the three individuals and many unanswered questions by them?
Why am I being targeted? Why do they come to my home? Why do they come to my workplace?
It is not new and unheard of to have CSIS officers make surprise workplace visits. A memo declassified in 2005 mentioned that "the spy service's policy on unannounced workplace visits was drafted by Jack Hooper, then CSIS deputy director of operations."
According to CSIS officers, the practice is a legitimate investigative strategy. But for Paul Champ, an Ottawa labour lawyer who represented individual targeted by CSIS and several cases related to national security, it's "a strategy to make people uncomfortable and to coerce them into speaking to CSIS. I think that's clearly the intent of the policy."
But even visiting people in their home isn't less intimidating or frightening. This is what Ken Stone, an anti-war activist, had to say when CSIS officer showed at his door steps in 2013:
"I felt there was something terribly wrong about the CSIS visit to my home. First of all, I was surprised, shocked and a bit alarmed by the visit. After all, it is scary when the security police show up at your door unannounced."
With additional extraordinary powers granted to CSIS since the passing of Bill C51, one only can wonder whether these visits are becoming the norm rather than the exceptions. The disruption powers included in Bill C-51 allow CSIS to seize documents or computers, enter people's properties, spy on them without a judicial warrant. These powers, no matter how intrusive they look, have been legal since the Anti-Terrorism Act 2015 was passed.
According to the director of the agency, when he testified last spring in front of the standing Senate committee on national security and defence, these powers have been used almost 24 times since last fall 2015. Despite several criticisms by lawyers and legal experts considering this provision as likely unconstitutional opening the door for the judicial branch to pre-authorize the violation of the Constitution, the Liberal government didn't introduce any legislation to repeal it. (Needless to say that C-51 is a series of problematic provisions.)
In the past years, many people I spoke to and who have been visited by CSIS officers kept repeating that that they have nothing to hide so their first reaction would be to accept to sit down with CSIS officers and talk. Unfortunately, it is not about the fact of "having things to hide or not" it is about our rights as Canadian citizens.
People should understand that CSIS is not a law-enforcement agency (even if with the newly acquired disruption powers from C-51, it is overstepping in the policing field) and that the officers don't have power of arrest. Their tactics of intimidating and taking advantage of the "cultural fear" of some communities toward police or intelligence authorities in general, should be confronted and denounced.
Moreover, it has been recently reported in the media that two audits conducted respectively in 2014 and 2011 found that none of CSIS's senior managers were indigenous or visible minorities, and only 17 per cent are women, a decrease of 13 per cent since 2009.
So the situation is not new and this has been going for many years. This lack of diversity would not totally explain the "racial profile" bias that would make some communities feel more targeted, but it can be useful in understanding some of CSIS's actions and this blatant lack of cultural sensitivity.
Before the end of the legislative session, Minister of Public Safety Ralph Goodale announced with the introduction of the new legislation Bill C-22, the creation of an oversight parliamentary committee that is supposed to oversee the actions of close to 20 agencies related to national security, including of course CSIS. Even if we believe that this is a long overdue move that would align Canada with other democracies, our concerns regarding the experience and the relevancy of the committee especially on how to tackle these problematic policies of CSIS: unannounced home and office visit, over targeting Muslim individuals, lack of diversity, remain valid but unfortunately so far ignored by the government.
Follow HuffPost Canada Blogs on Facebook
Popular in the Community