Won't somebody please think of the children!
Well, producers at one Fox affiliate station did just that when putting together a report on Picasso's "Women of Algiers" painting on Wednesday. The segment went to air at 10 p.m., breasts blurred.
Here's the image viewers saw: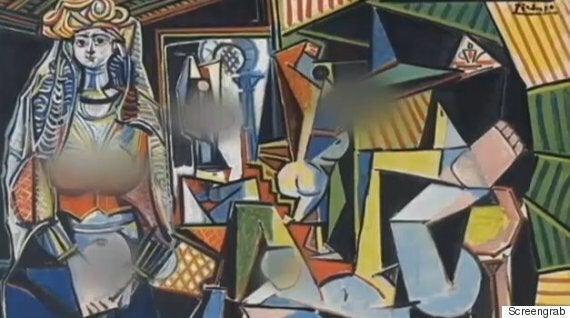 And here's what the 20th-century masterpiece actually looks like:
New York Magazine's senior art critic Jerry Saltz was not impressed, criticizing the station on Wednesday.
Some joined him in his frustration.
At least one person saw a silver lining.
Others urged the station to #freethenipple.
One host on Fox5's morning show "Good Day New York" acknowledged the station's "ridiculous" ways on Thursday, and poked fun at the furor at his colleagues' expense.
"The 10 o'clock news, some of the producers are cuckoo," said co-host Greg Kelly. "The nipple, they thought it was too much, kids might get the wrong idea at home."
In a redemption segment, they aired the Picasso painting again — no nipples blurred.
On Monday, the bright, cubist masterpiece set a new record when it was sold at auction for $179.4 million, making it the most expensive painting in the world.