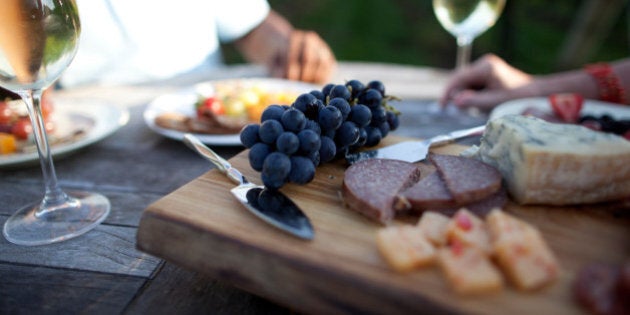 Sipping and nibbling through Ontario's Southwest has ample rewards. With its abundance of farms, maple syrup producers, craft brewers, restaurants, wineries and cheesemakers, your exploration of the region will satisfy your appetite and the ultimate quest for Insta-worthy dining experiences.
Oxford County has long been the dairy capital of Canada, and that tradition continues today with a number of cheese producers creating fantastic varieties. One favourite stop along the cheese trail is the award-winning Gunn's Hill Artisan Cheese, where visitors can book a tour through the aging rooms with rows and rows of cheese, which makes for an interesting insta-snap.
Twin Pines Orchards, Cider House and Estate Winery in Thedford, Ont., wins the award for deliciousness and beauty. Try the award-winning Hammberbent Red, an easy-drinking ice cider made from three varieties of apples. There's also non-alcoholic cider available for non-drinkers and youngsters. In September and October, plan an apple-picking day where you can select from 10 types of fruit and take selfies in the orchard.
It's always a good time for maple syrup and Ontario's Southwest produces lots of it. At Richardson's Farm in Dunnville, there are always photo ops to be had. In spring, it's the boiling of the sap and in other months you can take an overhead shot of a bottle or two, alongside whatever fresh produce might be in season, from corn to strawberries.
Come summertime, the fields at Steed & Co Lavender in Elgin County are a sea of purple when the rows of plants are in full bloom. It's a gorgeous sight that just begs to be photographed. Inside the retail shop, visitors can buy a culinary variety of lavender, good for adding flavour to things like lemonade and shortbread.
Port Dover has been a draw for beach lovers for decades. Located on the shores of Lake Erie, it also attracts those who love old-school eats, from foot-long hotdogs from The Arbor to fried perch and celery bread (grilled and sprinkled with celery salt) from the Erie Beach Hotel. For those who long for a taste of nostalgia, this is the place to be.
Here's a news flash: Some of the best pizza around comes from Windsor. Its pizzerias are frequent winners at international competitions, cited for their robust tasting sauce and perfect crust. And yes, there really are distinct differences for the local 'za. One thing you might notice is that the pepperoni is shredded. Enthusiasts far and wide hit local joints like Capri Pizzeria to grab a slice or six.
Ontario is one thirsty place. Its craft beer scene has taken off in a big way, especially in the southwest part of the province. Craft breweries are raising the bar when it comes to artisan creations. Railway City Brewing Co. in St. Thomas has won over many thirsty sippers for its handcrafted creations, including its very popular Dead Elephant Ale. Tours and tastings make desirable fodder on social media.
Before heading out this summer to snap the best of Ontario's food and drink scene, check out Next Stop Taste for profiles of local producers sharing behind-the-scenes stories about their wine, beer and food ventures in Ontario's Southwest. Then hit the road on your own mouth-watering journey... and don't forget to bring your camera!