Are you snacker like me? Well, I've got just the thing for you!
Contrary to popular belief, snacking is a healthy practice -- as long as you're choosing the right snacks. These roasted chickpeas are so simple, healthy, and most importantly, delicious! Once they are roasted, chickpeas become crunchy and flavourful, which makes them the perfect pop-in-your-mouth snack.
The high protein and high fibre benefits of chickpeas help to control hunger by keeping you feeling full and satisfied. Their high amount of soluble fibre helps to reduce cholesterol levels, and they also offer a good dose of both iron and folate.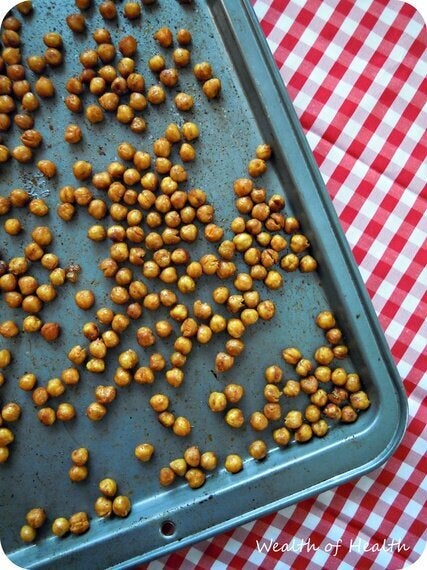 Pack in airtight containers for work/school lunches or on-the-road snacks. You can also freeze them in an airtight container and re-roast for five to 10 minutes.
1 19 oz can chickpeas, drained and rinsed
1/2 tsp Camelina oil (or any oil of your choice)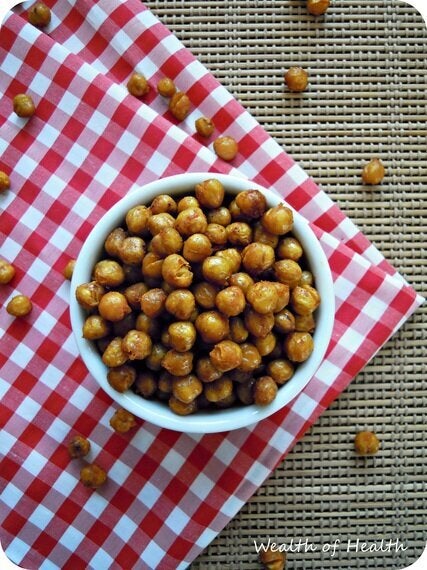 1. Preheat oven to 400 F (200 C)
2. Pour the rinsed and drained chickpeas onto a tea towel on the counter. Place another tea towel on top and gently roll around until the chickpeas are dry. Transfer the chickpeas to a dry cookie sheet
3. Combine the oil and spices in a small bowl. Pour the mixture over the chickpeas and stir around until chickpeas are coated. Be sure that the chickpeas are spread evenly on the cookie sheet in a single layer
4. Roast until golden and crispy, 25 to 30 minutes, shaking the tray to toss after 15 minutes. Remove the baking sheet from the oven and transfer the chickpeas to a serving bowl