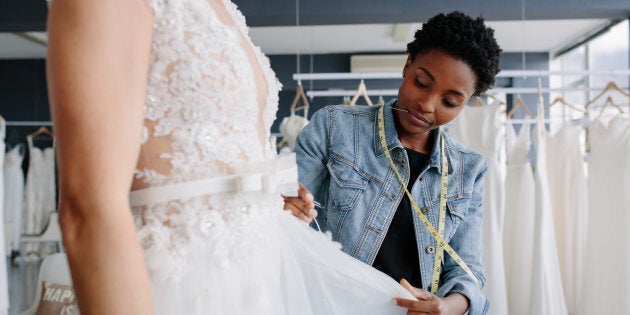 Ideally, every wedding dress shopping experience should include endless glasses of champagne, ample fawning by your loved ones and enthusiastic stylists willing to help you shop for your body type.
But as much as we hope that's what the experience will be like, the reality is the process isn't always that idyllic. And if you're a curvy bride, the experience can be shockingly different from what you expect.
Roxy Earle, a former star on the "Real Housewives of Toronto," can speak to this firsthand. The 32-year-old, who got married in 2015, was taken aback when a sales associate made her feel ashamed about her body while shopping for her dream gown.
"I was really, really excited and I had called [the boutique] ahead," Earle, who was a size 14 at the time, told HuffPost Canada. "I had this designer in my mind like most girls do. I was expecting this incredible welcoming, and instead [the sales associate] just took one look at me and said, 'We don't have anything that will fit your body.'"'
"This moment that was supposed to be really celebratory and really amazing was turned into this experience where, because of my body, I was made to feel less than I should," she continued. "I started apologizing for how I looked all of a sudden. That's just so backwards to me."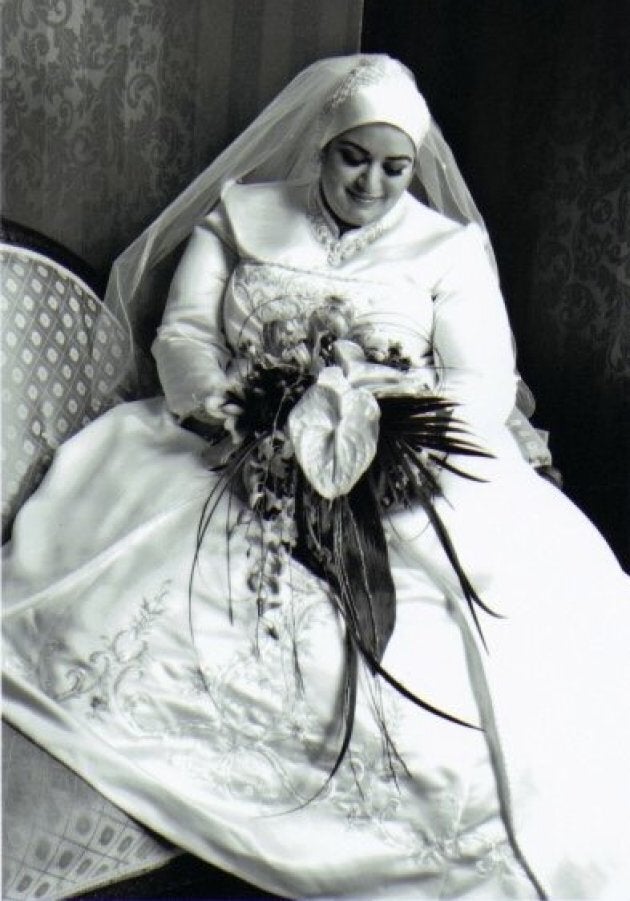 Aseel Ahmad, a 33-year-old legal assistant from Newmarket, Ont., had a similar experience when shopping for the perfect dress in 2008.
"My experience was anything but a dream," Ahmad told HuffPost Canada in an email. "I didn't fit into the sample size [which is a] size 16 bridal. I was a size 18 to 20 [but] bridal fits smaller."
"Even though the dresses were beautiful, I felt ugly in them and self-conscious," she said. "I felt like I was being judged when I came out of the dressing room because the dresses didn't fit. The sales ladies kept saying to imagine what the dress will fit like when it comes in my size. I felt deflated and upset and I just didn't want to try on anymore."
Sizing isn't the only problem
The lack of sample sizes available at bridal stores force some women to buy their gown without trying anything on. That means the special experience of trying on dresses in front of select family, friends and bridesmaids is "taken away from most brides," Earle said.
And when sizes are available for curvy women, the style selection is often out-of-date.
"[I was told] that they don't carry a lot of modern styles in my size. This is totally not something a bride-to-be wants to hear on day one of dress shopping," Ahmad said of her experience.
To top that all off, cost becomes a hugely limiting factor for curvy brides trying to find their dream dress. Both Earle and Ahmad revealed that they have heard time and again that it will cost extra for a "plus-size" gown because it requires more fabric, and this charge can range from $100 to $200 extra, Brides.com notes.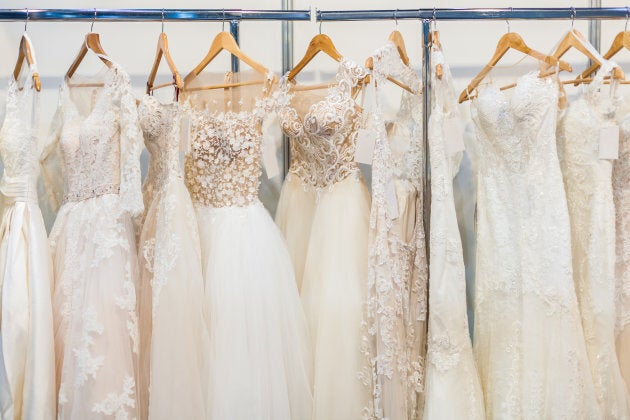 What are retailers doing to change the game?
"For many years, I let fashion tell me what I should be and let it fill me with anxiety and insecurity," she said. "I just had a moment in my life where I decided, I want – not I want, I deserve – to be able to feel fabulous and wear stylish clothes."
The three wedding gowns in Earle's collection are the types of dresses she dreamed about wearing to walk down the aisle but wasn't able to find. The dresses are modern and accessible to the average bride, with the highest price point being $695.
"I think this is the first time I've seen where you can walk into the same store and shop off the same rack regardless of size," Earle said of her collection. "That's the major moment for me. There are other brands who are doing it, but they are just 'plus-size.' To me, it's really important to be inclusive and break down that barrier between the sizes."
When asked, both Earle and Ahmad couldn't think of bridal stores that carry wedding dresses for curvy women, either exclusively or not.
HuffPost Canada has reached out to the company to confirm its range of sizes and price point to see how accessible they are to the average bride.
Fighting the "plus-size" stigma
While it's obvious that more retailers need to expand their sizes to be more inclusive of all body types, it's important to note that the stigma around "plus-size" needs to change, too.
"I think that when you use the word 'plus-size,' you're putting all these women into a category: 'You don't eat well.' 'You don't work out.' 'You could care less about your body.' 'You're insecure.' 'You have no confidence,'" Graham explained.
"Curvy models are becoming more and more vocal about the isolating nature of the term 'plus-size,'" she continued. "We are calling ourselves what we want to be called — women, with shapes that are our own."
Earle completely agrees with Graham, which is why she also started her own movement to reclaim the conversation around her body. On social media, she started using the hashtag #MySizeRox, and the trend has caught on among her followers.
"I had never identified as plus-size. I self-identified as my own size," Earle said. "I am my size and my size bra, and I started hashtagging it as a way of owning the conversation, so instead of having some negative conversation about my body, I wanted it to be positive."
So what's Earle's best advice for women to own their bodies?
"You really need to just start loving yourself and to love yourself, you need to love yourself enough to take care of yourself. Once you start ... your mind will shift and you will begin to see beauty rather than blemishes."
Popular in the Community