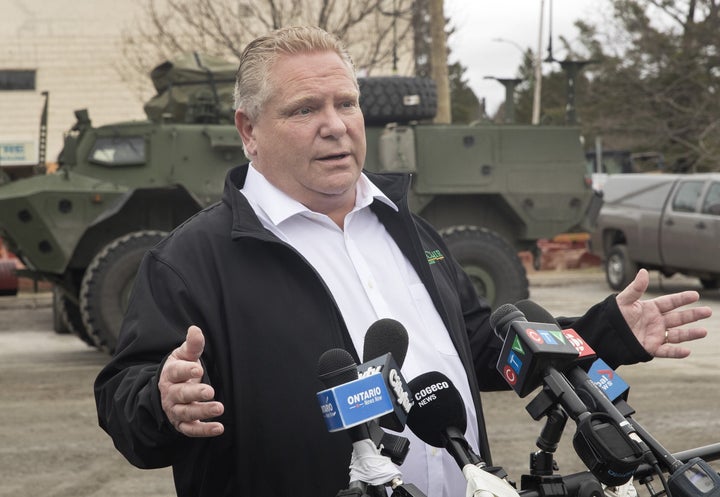 A Kitchener, Ont. father says he felt "a little bit threatened" when he received a voicemail from Premier Doug Ford warning him to be careful about accusing the government of corruption.
Michael Cole told HuffPost Canada he texts the premier from time to time because Ford gives out his cell phone number and encourages constituents to message him.
Cole is upset with the government because his six-year-old twin boys, who both have autism, lost their government-funded therapy when the Progressive Conservatives changed the Ontario Autism Program.
On Thursday, Cole sent Ford a message noting the results of a poll from Mainstreet Research that found the premier is now less popular than former premier Kathleen Wynne was at the end of her final term.
"How long did it take the Provincial liberals to become this unpopular? It's almost like it's a province wide case of buyers remorse," Cole's message to the premier said.
"(Hint: we wanted liberal policy without corruption, you gave us corruption with incompetent policy.)"
"Michael, you gotta be very, very careful when you tell someone that they're corrupt. Very, very, very careful."
Ford called him back and left a voicemail.
"You know something, I love those polls. They make me laugh," Ford says in the voicemail, a recording of which Cole posted online.
"But Michael, you gotta be very, very careful when you tell someone that they're corrupt. Very, very, very careful. OK, my friend?"
Ford's staff did not respond to HuffPost's request for comment but confirmed to Global News that the voicemail is authentic.
"The Premier was referring to potential legal action," spokeswoman Ivana Yelich said in a statement.
Cole said he doesn't expect Ford will actually sue him.
"I'm no political operative, but that would be a really bad idea," he said. "By the way newspapers, the premier of Ontario is suing an average citizen. It's going to look positively awful."
Cole said he believes the government is corrupt because of an attempt to make Ford's longtime friend head of the provincial police. Ron Taverner did not initially meet the requirements of the job, but two days after the position was posted, the requirements changed.
He said his message for the government now is to go back to the former autism plan if they can't provide something better.
"At least those plans were doing some good," he said.
"I guess it goes back to my original text. We want the Liberal policies, we just don't want the corruption … You're the literal worst of both worlds."