Less than 24 hours after the polls closed, Canada's incoming prime minister had already inspired the hashtag #DaddyTrudeau.
According to Bloomberg's Kim Fox, the hashtag came from Liberal leader Justin Trudeau's victory speech Monday night, in which he told his children, "And I can tell you now, there will be some tough times for you as children of a prime minister, but daddy will be there for you."
Typing in the prime-minister-elect's full name into a Twitter search yields the options "Justin Trudeau's liberals," immediately followed by "Justin Trudeau daddy."
As Vocativ pointed out, it's ironic that Trudeau was born during his own father's stint as prime minister, and will now be moving back into his childhood home, 24 Sussex.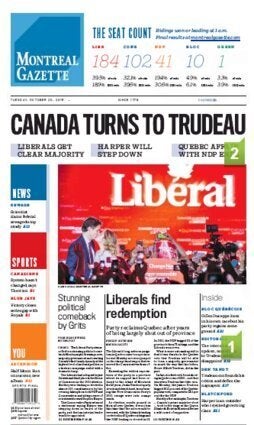 Trudeau Newspaper Front Pages