Stephen Colbert has taken to staging an annual StePhest Colbchella musical extravaganza. Last year featured The Flaming Lips, Grizzly Bear, Santigold, fun. and Grandmaster Flash, with Colbert even climbing into Wayne Coyne's giant hamster ball.
But this year, Colbert raised the bar with his promised celebration of "the song of the summer of the century" by booking French electro icons Daft Punk for their first TV appearance since releasing "Random Access Memories" and (re)taking over the world with their monster hit "Get Lucky."
But instead of the reclusive robots performing their smash single, Stephen Colbert revealed on air that MTV had contractually banned the duo from performing on TV prior to their not-yet-announced (until last night, anyway) MTV VMA appearance.
"We booked click and clack over here about a month ago but there was a problem," explained Colbert. "See, this network [Comedy Central] is owned by Viacom, which is also the owner of MTV. Well apparently, and this is a deeply guarded secret, so shhh... Daft Punk are going to make a surprise appearance on the MTV Video Music Awards. Spoiler alert. Don't tell anybody, cause fun fact: no one told me until 2:00 yesterday."
But the episode "featuring the artist formally booked as Daft Punk" was hardly a disaster despite the cancellation which happened only the day before. "I don't care what MTV allows," Colbert proclaimed. "My audience gets the song of the summer if they want it and I don't even need Daft Punk to choose my show over the VMAs to get it. This is Colbchella, goddamnit, and it is time to dance."
So Colbert called in an insane amount of favours. First he brought out a trucker hat-adorned Ashton Kutcher to find out if he'd been Daft Punk'd. ("No," Kutcher replied, "you got f--k'd.") Then he started dancing and lip syncing to "Get Lucky" and was joined by Hugh Laurie, Jeff Bridges, the Rockettes, Matt Damon, Jimmy Fallon and the "Breaking Bad" cast, led by Bryan Cranston on roller skates.
Oh, and then since Daft Punk's cancellation put Colbert in a bad place with his Colbchella sponsor -- "Not delivering the song of the summer is a real kick in my balls... brought to you by Hyundai" -- he pulled Robin Thicke out of the audience to play the other song of the summer, 'Blurred Lines.'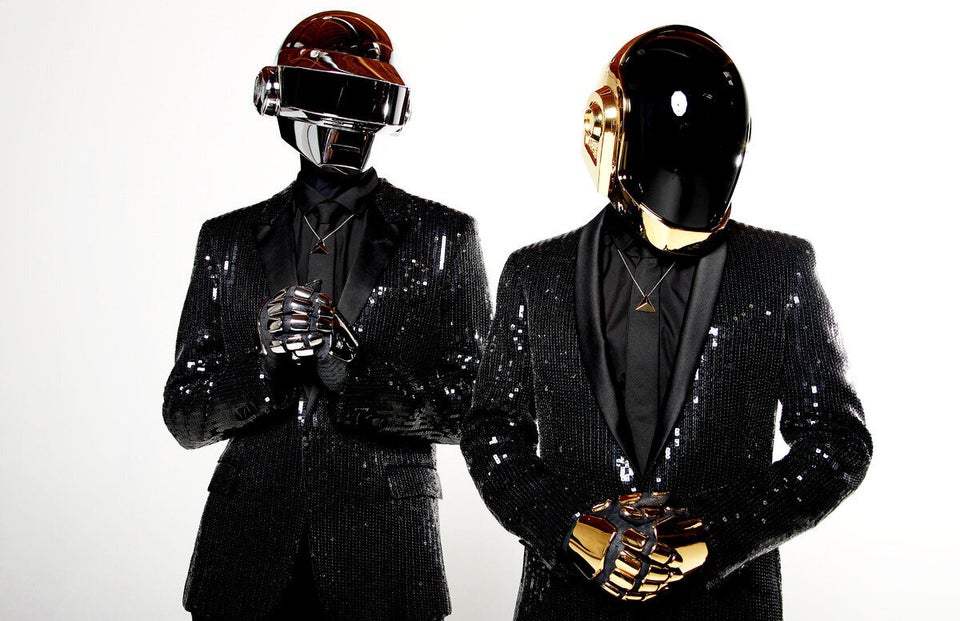 Daft Punk Frenzy